Google Slapped With Record $5 Billion Fine: Why it matters, and what happens now?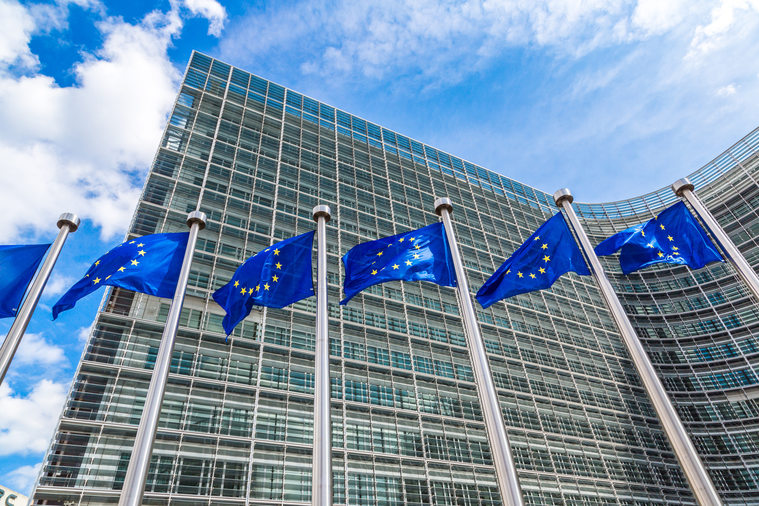 Listen to this article now
This week, Google was slapped with a massive $5B fine by EU regulators in a landmark antitrust case.
What you need to know:
Per The Verge:
"Google has been hit with a record-breaking €4.3 billion ($5 billion) fine by EU regulators for breaking antitrust laws. The European Commission says Google has abused its Android market dominance in three key areas. Google has been bundling its search engine and Chrome apps into the operating system. Google has also blocked phone makers from creating devices that run forked versions of Android, and it 'made payments to certain large manufacturers and mobile network operators' to exclusively bundle the Google search app on handsets."
As reported by CNN.com:
"'Google has used Android as a vehicle to cement the dominance of its search engine,' Margrethe Vestager, Europe's top antitrust official, said in a statement. 'They have denied European consumers the benefits of effective competition in the important mobile sphere,' she added."
Quick Analysis:
Google will have to stop forcing manufacturers to pre-install Chrome and Google search as a prerequisite for offering Google Play Store (Google's app store) on handsets.
Google will also no longer be allowed to prevent handset makers from using "forked" versions of Android. (Instead of running OEM versions of Android, like the ones you might find on Samsung or LG devices, "forked" versions of Android refer to open-source versions of Android. Same source code, but leaner. "Forked" versions of Android refer to the Android Open Source Project – or AOSP for short.)
This ruling allows Android handset makers to essentially unbundle some of Google's services from their devices, and have more freedom with regard to the types of user experiences they want to create through their handsets.
Per the Commission, Google "did not provide any credible evidence that Android forks would be affected by technical failures or fail to support apps." That remains to be seen. For the record, Google's (now-ruled-illegal) payments related to app-bundling ended around 2015, when EU regulators started to look into the matter.
Why this matters:
For Google, this could mean a potential reduction in its European install base for some of its most critical Android-based services, namely its browser and search engine, which Google derives significant annual revenue from. For a better glimpse into how important mobile search and mobile ads are to Google, this handy graphic from Statista, which plots Google's annual mobile ad revenue from 2014 to 2018 (estimated), should clarify things a bit.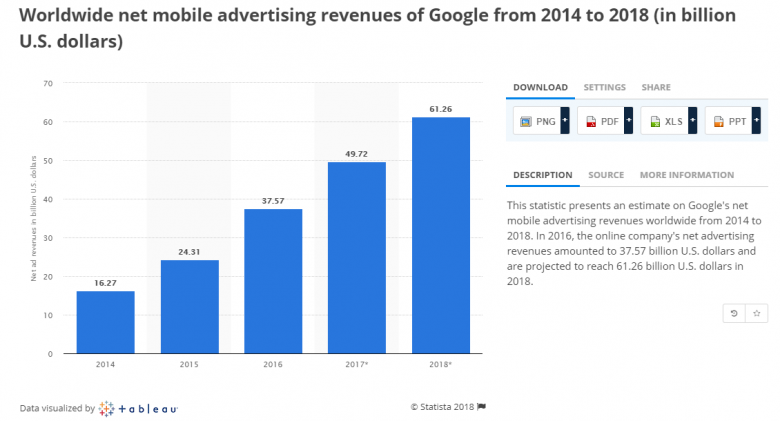 If you aren't sure how mobile search plays into mobile ads, you may want to look into PLAs (Product Listing Ads) to get a glimpse into the ever-evolving connective tissue between the two. More broadly, earlier this year, Alphabet CFO Ruth Porat stated that mobile search was leading Alphabet's strong growth. We estimate that mobile ad revenue from European Android users may amount to 10% of Google's global mobile ad revenue.
Why this may not matter a whole lot:
As I just mentioned, European numbers only constitute a portion of Google's global numbers. To put things in perspective, here are some more numbers for you to play with:
In 2017, global smartphone sales amounted to roughly 1.5 Billion units.
Also in 2017, 1.3 Billion of these units were Android devices. (215 Million were iOS devices.)
While we could see a decline in global handset sales in 2018, those numbers help illustrate the size of the global mobile handset market, and Android's dominance in it.
Europe should account for roughly 125 to 150 Million new handsets annually, or about 10% of Android sales worldwide.
For reference, here is a snapshot of Android vs iOS market share in Europe, courtesy of gs.statcounter. The ratio is roughly 74% (Android) vs 24% (iOS).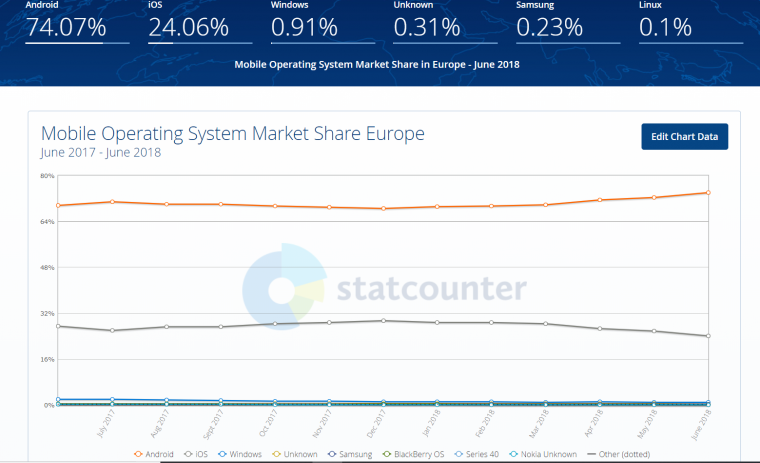 This suggests that, in a worst-case scenario, the portion of Google's $60+ Billion global mobile ad revenue estimate that could be impacted by the Commission's ruling is roughly 7-10% of that amount, or somewhere between $4 Billion to $6 Billion (annually). To be clear, that isn't to say that Google stands to lose $4 Billion to $6 Billion in mobile ad revenue every year. That $4 Billion to $6 Billion range is merely the portion of Google's annual mobile ad revenue that the Commission's ruling targets. (A rough estimate of the total amount of mobile ad revenue that Google will presumably generate in Europe this year).
Thus, in a hypothetical exercise in which Google might see a 10% drop in mobile ad revenue in the EU next year because of this ruling (and there is no indication that it will – this is only an exercise), that "loss" would only amount to somewhere around $400 Million to 600 Million, or somewhere south of 1% of its global mobile ad revenue. In short: Big fine, but nothing to panic about.
Additional Observations:
The fine is the largest ever imposed by EU regulators, and Google has 90 days to respond.
It is significant to note that this is not Google's first bit of record-breaking trouble with EU regulators: 13 months ago, Google was already slapped with a $2.7 billion fine for illegally favoring its own comparison shopping site over competitors. At the time, that was the largest antitrust fine imposed by the Commission against a company for allegedly abusing a dominant market position.
What's next?
In the next six months, keep an eye on three things:
1) Will Google look for a way around this ruling? (In my opinion, no. See my next answers for why Google may not really have to.)
2) How will this ruling affect product management decisions regarding Android handsets sold in Europe in H2 of 2018, 2019, and beyond? Will we see more "forked" handsets turn up? (Yes, but I think that handset makers will test the market before making any big bets on forked handsets.) Will handset makers leverage their newly-found freedom to push lower-priced Android handsets in markets in which smartphone sales have softened in recent quarters? (Yes. I think that handset makers would be foolish not to at least test those waters.) Will we notice any change at all? (If so, only marginally. Expect to see a few interesting product offerings, but no major sea change in 2019.)
3) Will this ruling have any noticeable impact on Google's mobile ad revenue in Europe? (As I outlined above, I don't think that we will see a major disruption in those numbers. If we do start to notice a visible softening of Google's mobile ad revenue YoY trending, let's revisit the question. Until then, I expect Google's mobile ad revenue numbers globally to keep tracking towards the $70B mark, and hit it sometime around the start of 2020.
That's it for now. You've been briefed.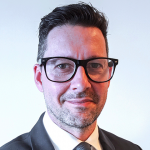 Olivier Blanchard has extensive experience managing product innovation, technology adoption, digital integration, and change management for industry leaders in the B2B, B2C, B2G sectors, and the IT channel. His passion is helping decision-makers and their organizations understand the many risks and opportunities of technology-driven disruption, and leverage innovation to build stronger, better, more competitive companies.  Read Full Bio.