Google Cloud Next: Impressive Customer Wins Indicate Momentum For Google Cloud
Listen to this article now
The cloud market is increasingly competitive, and while AWS and Microsoft have been the leaders by market share, we have seen in recent times names like Oracle, IBM, and Google, all ambitiously working to compete in the cloud marketplace with each finding footing as cloud adoption continues to proliferate.
Recently at Google Cloud Next '22, the tech giant unveiled an array of announcements to its infrastructure, data, workspace, and security offerings while also leaning heavily into several new or expanded partnerships with diverse enterprises that will take customer experiences, from social media to automotive, to the next level. Under the leadership of Google Cloud CEO Thomas Kurian, the company has been aggressively positioning its cloud offering with the ambition of catching the leaders and rapidly scaling the business as it seeks to become not only a large unit within Google, but a profitable one as well.
During the multilocation event, the company's updates also focused a lot on its successful expansion into several key verticals where it can now claim to service eight or more of the top ten companies in retail, telco, retail banking, and healthcare and life sciences. Serving as both evidence of the growing adoption of multi cloud, but also the company's successful inroads into more enterprises in a diverse subset of industries.
With Cloud being so competitive, and the leading players all having a diverse set of strategic capabilities, its certain that partnership and customer wins will continue to be a standout metric in Googles growth story. Furthermore, the company was clear that its partnerships are a key differentiator. During Google Cloud Next, there were four of these customer and partnership announcements that caught my attention warranting further analysis.
4 Key Customer Wins Announced at Google Cloud Next
Social Media and Data Collection. On the social media front, Google Cloud announced an expanded partnership with Snap Inc., the company behind Snapchat. As part of the partnership, Snap will use Google's data, AI, ML and analytics to keep growing its social machine and make experiences more personalized. Snap will be able to gather insights about its community, ecosystem and partner network — which is crucial data in today's environment.
Google and Snap have been working together for 10 years now, so the partnership itself isn't new. What the announcement indicates is another large enterprise with intensive data requirements leaning into Google Cloud more heavily for its analytics and insights capabilities in order to improve the platform's user experience—data intensive transitions in the cloud continue to be a sweet spot for Google Cloud.
Transforming 5G Solutions. Social isn't the only area benefiting from Google Cloud's capabilities. T-Mobile also recently announced plans to transform customer experience for T-Mobile's wireless customers using Google Cloud's analytics, AI, ML, and 5G/edge solutions. The goal is to deliver more personalized and just plain better customer experience to create better (more loyal) relationships with customers. Using Google Cloud's BigQuery and BigQuery ML, T-Mobile will be better able to predict usage trends and customer sentiment, improve contact center interactions, and generally take more actions on the insights they receive. All of which, should provide a boost for consumers and T-Mobile both, especially in an industry not typically known for positive customer sentiment. With T-Mobile now serving as the largest wireless carrier in the U.S., this continued alignment can be seen as further market validation for Google Cloud's claims of winning a share of cloud revenue from the most important companies in the telco industry.
Online Retail Wins Big. Another big move announced within the past two days is Google Cloud's partnership with Wayfair. Wayfair is already one of the biggest websites in the world for home furnishings. As part of the press release, Google Cloud announced it had already completed a full migration of Wayfair's former data center apps and services to its cloud platform with 100 percent of its apps and services were moved to Google Cloud. I see this as a big validation for Google, winning the entire enterprise cloud requirement. Wayfair hopes the move will allow it to be more agile, better detect fraud issues and provide a more personalized customer experience. Customer experience is playing a key role here, are you seeing a pattern? The migration was completed in 16 months with zero customer disruption, which is impressive for a company with more than 30 million active customers.
Legacy Pharmacy Embracing the Digital Age. In addition to the above announcements, Rite Aid and Google Cloud announced just yesterday a multi-year partnership to make Rite Aid pharmacies more data-driven and personalized. All of Rite Aid's apps will move to Google Cloud's Anthos platform, which is used for things like ML analytics, security, and team collaboration. The company will also be moving its vaccine scheduling app, customer messaging and digital engagement platforms to Google Cloud, something many of us wish it could have done a couple years ago. In other words: Rite Aid is (finally) going all in. They see that the future of customer engagement—even for necessary services like pharmaceuticals and vaccines—is digital and personal. Taking this leap is going to be critical to the company's long term competitive positioning as we see more and more digital driven healthcare experiences competing with traditional retail offerings.
There's a lot of information out there now about how AI and ML can help make the customer experience better. Google Cloud's VP of Retail and Consumer Solutions, Carrie Tharp, recently shared her own perspectives on why these technologies can be so valuable in the retail space. But what it comes down to is that the future of everything customer-facing is here. The entire data ecosystem needs to be available and that means having the data in an open ecosystem with tools that can ingest and quickly generate actions and insights. While the data lifecycle is complex, with the mass of first and third party data available, there are few, if any, good excuses to be made for not understanding what customers want, want they need, or why they aren't happy. We've been talking about customer experience as king for years now, but many companies haven't taken the leap to use the available tools to put that sentiment into action. Google Cloud's many recent partnerships provide some insights into the data haves and have nots, and the data continues to prove that the haves will outperform the market nearly every time.
Wrapping Up – Partnerships and Customer Wins Indicate Momentum for Google Cloud
As I see it, Google Cloud was able to effectively demonstrate its technology in action at this year's Google Cloud Next, and while the advancements in its Data Cloud, Workspace, and Security were all impressive, what struck me the most was the consistent customer wins and partnerships validating the scale of multi cloud adoption and the company's differentiation that is helping it win more customers whether entering as the second hyperscale cloud or as the primary cloud provider—either way, part of a growing story for Google as it seeks to play a bigger role in the cloud.
Disclosure: Futurum Research is a research and advisory firm that engages or has engaged in research, analysis, and advisory services with many technology companies, including those mentioned in this article. The author does not hold any equity positions with any company mentioned in this article.
Analysis and opinions expressed herein are specific to the analyst individually and data and other information that might have been provided for validation, not those of Futurum Research as a whole.
The original version of this article was first published on Forbes.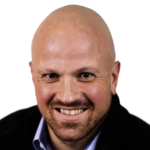 Daniel Newman is the Chief Analyst of Futurum Research and the CEO of The Futurum Group. Living his life at the intersection of people and technology, Daniel works with the world's largest technology brands exploring Digital Transformation and how it is influencing the enterprise. Read Full Bio