Rapid Growth and a Global Pandemic Fueled Genpact's Move to Tanium — Cost Savings, Ease of Use, and Increased Endpoint Visibility are the Benefits They are Reaping
Rapid Growth and a Global Pandemic Fueled Genpact's Move to Tanium — Cost Savings, Ease of Use, and Increased Endpoint Visibility are the Benefits They are Reaping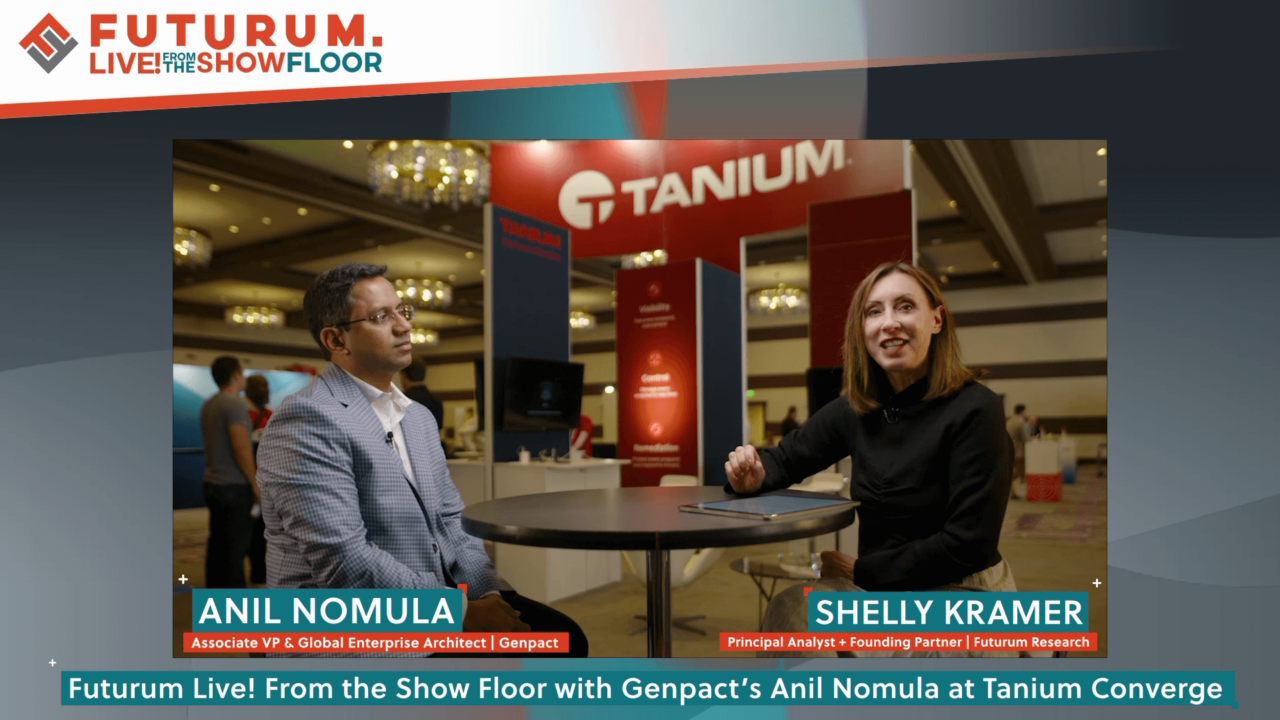 In this Futurum Live! From the Show Floor at Tanium Converge 2022 Anil Nomula, Associate Vice President and Global Enterprise Architect for Genpact, joins Futurum principal analyst Shelly Kramer. Their conversation centered on how the professional services organization — which has experienced incredibly rapid growth over the last decade plus, growing from 19,000 employees in 2005 to over 100,000 in 2021 — managed to pivot quickly and securely support a global workforce with over 100,000 endpoints in 70 locations around the world in a short period of time using Tanium's cloud-based suite. The pivot wasn't without challenges, which Anil shared, but it did manage to drastically reduce the number of sleepless nights he and his team experienced, which is very good news. In addition, the cost savings Genpact has experienced, the ease of use of the Tanium offerings, and increased endpoint visibility are benefits they greatly enjoy.
For more on Genpact's story, and a deeper look at how Tanium has helped Genpact save 75% of network and hosting costs, check out this customer spotlight case study.
Watch the show here:

Or grab the audio here:

If you've not yet subscribed to the Futurum Tech Webcast, hit the 'subscribe' button while you're there and you won't miss an episode.
Disclaimer: The Futurum Tech Webcast is for information and entertainment purposes only. Over the course of this webcast, we may talk about companies that are publicly traded and we may even reference that fact and their equity share price, but please do not take anything that we say as a recommendation about what you should do with your investment dollars. We are not investment advisors and we do not ask that you treat us as such.
Transcript:
Shelly Kramer: Hello. I'm Shelly Kramer, Principal Analyst at Futurum Research, and welcome to this episode of Live! From the Show Floor. Today I am at a Tanium event, Tanium Converge here in Austin, Texas, and I am so thrilled to be able to introduce my guest today, Anil Nomula, and he is with Genpact. Anil is an associate vice president and global enterprise architect at Genpact. Welcome.
Anil Nomula: Happy to be here. Thank you for having me.
Shelly Kramer: Absolutely. Well, I got a chance to see your presentation on the keynotes this morning, and it was absolutely fantastic. I love the insights that you shared.
Anil Nomula: Thank you.
Shelly Kramer: So what I want to talk about today is we have navigated over the course of the last couple of years, obviously a global pandemic that has required many, many rapid shifts for organizations and thinking about from an IT standpoint, thinking about things that we didn't have to think about before. So what I would love to hear from you is talk with me a little bit, if you would, about some of the challenges that IT teams have had to navigate and how you've been perplexed by those things.
Anil Nomula: Oh yeah. So pandemic was not an easy time. Genpact is a very large organization. We have 75 offices globally. We operate out of 25 plus countries around the world, 100,000 employees. So we had to mobilize all of that workforce to go work from home. It was not an easy challenge. I remember there were days where I only slept for a couple of days in a week, and it was really, really challenging to get all of that done.
Part of the problem was until the pandemic, many organizations like Genpact were relying on some legacy tools and technology. And when we put them to test, when we made them a little more internet facing and tried to manage some endpoints, tried to do some pilots and everything else, they did not work as expected. So the biggest challenge of mobilizing all of that workforce home was we had to first set up all of that remote technology there first, do a very quick POC pilot in a matter of days, and then we had to start moving and migrating people home. So it was a really challenging time. It was also a good time. So typically some of the technology we set up would take about four to six weeks.
Shelly Kramer: Right. We learned to do things very quickly.
Anil Nomula: Very quick. And the bad part about that is now my leaders and my-
Shelly Kramer: Expect everything.
Anil Nomula: Expect it every time with the [inaudible 00:02:44].
Shelly Kramer: Isn't that always the way it works, right?
Anil Nomula: Absolutely.
Shelly Kramer: And I think that when you think about shifting a distributed workforce and you think about shifting, there are many, many nuances, but I think the thing that most ordinary, average people and business leaders don't think about is the most important thing, security.
Anil Nomula: Correct.
Shelly Kramer: And so you have all these distributed endpoints. And a lot of times too, my experience, we did this rapid shift. We pivoted to getting people set up to work from home. Did you find that sometimes there were solutions that were being used that were just like, "This makes me very nervous, but we're going to go with this for now?"
Anil Nomula: Yeah.
Shelly Kramer: And sleepless nights for security people for sure.
Anil Nomula: Absolutely. Everything was nerve-racking, again, during the pandemic and during that whole migration we were doing. Genpact is a managed services company. We have 700 companies in one company. While we were setting up all of this, while we were migrating a lot of those users home, we were also interfacing with external auditors and auditors from our customers and everything else. So very challenging. So while we were setting up and we were doing all of this validation, we had somebody externally also validating us. So it was very complicated.
Shelly Kramer: Stress free.
Anil Nomula: Absolutely not.
Shelly Kramer: Oh my gosh. Oh my gosh. I think to me, this goes without saying, but talk a little bit about endpoint security and why it is just so, so critically important.
Anil Nomula: Yeah. So I am traditionally from an operations and engineering background. Unlike other people at this event, I'm not part of core security team. But a lot of what I've been doing on the operations side is primarily security, sending, pushing policies down to the endpoint, making sure our next gen antivirus agents and everything else are installed properly and penetrated well into the organization and everything else. It is extremely critical for operations to have that security view, and for security in general, it's a very important aspect of how we want IT in the organization. So with all of these people working from home, the notion of perimeter was completely eliminated. What this meant was anybody who could have a compromised device in their home could really-
Shelly Kramer: Impact the whole organization.
Anil Nomula: Impact the whole organization, or at least one person who is working at home. And that person could have sensitive data or whatever going on at that endpoint. So there were a lot of sleepless nights, working through making sure our security tools are well penetrated, working okay on the endpoints, policy postures are working fine, passing those audits that I talked about earlier and everything else. So all of that put together, we did more security work than the security guys for a short amount of time.
Shelly Kramer: We won't tell them that. So what I'd love to know more about is your relationship with Tanium and how you were able to leverage Tanium to help accomplish what it is you wanted to accomplish.
Anil Nomula: Oh, Tanium was a big blessing in disguise. Prior to the pandemic, almost 90% of our workforce was working out of the office. We bought Tanium for its endpoint visibility, how you could get results faster. And when you have machines concentrated in one place, you get results a lot faster. We did not think Tanium was going to be effective when people went home, but we found that was not true. So again, I talked about some of the legacy technologies we were banking on. We tried those out, did not work. We tried some of the newer stuff too, like internet facing SCCM as an example, that did not do the trick for us either. So finally we used Tanium and Tanium zone server capability and everything else to start sending these people home. And we didn't have to do anything. A lot of that architecture was already there. All of the machines started talking to Tanium. We started taking actions based on what we were seeing on the endpoints and setting up automation routines to manage any configuration drifts. Anything funky we'd see on the endpoint, we were using Tanium heavily to fix all of that.
Shelly Kramer: So it happened really quickly. It seems like that's a key part of the value proposition there.
Anil Nomula: Absolutely. Absolutely. It's a very reliable platform overall. We've been a Tanium customer for a little over four and a half years. And again, if we have used it that long, then something is working in the platform for us.
Shelly Kramer: That's awesome. That's awesome. Well, thank you so much for spending time with me today and sharing your brilliant gray matter. I appreciate it. And so for our audience, thanks for hanging out with us. It's been terrific, and we'll talk with you again.
Anil Nomula: Thank you so much, Shelly.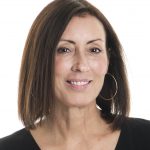 Shelly Kramer is a Principal Analyst and Founding Partner at Futurum Research. A serial entrepreneur with a technology centric focus, she has worked alongside some of the world's largest brands to embrace disruption and spur innovation, understand and address the realities of the connected customer, and help navigate the process of digital transformation. She brings 20 years' experience as a brand strategist to her work at Futurum, and has deep experience helping global companies with marketing challenges, GTM strategies, messaging development, and driving strategy and digital transformation for B2B brands across multiple verticals. Shelly's coverage areas include Collaboration/CX/SaaS, platforms, ESG, and Cybersecurity, as well as topics and trends related to the Future of Work, the transformation of the workplace and how people and technology are driving that transformation. A transplanted New Yorker, she has learned to love life in the Midwest, and has firsthand experience that some of the most innovative minds and most successful companies in the world also happen to live in "flyover country."