Rakuten's Moves in the 5G Market Throw Down the Gauntlet in the CSP Ecosystem – Futurum Tech Webcast
Rakuten's Moves in the 5G Market Throw Down the Gauntlet in the CSP Ecosystem – Futurum Tech Webcast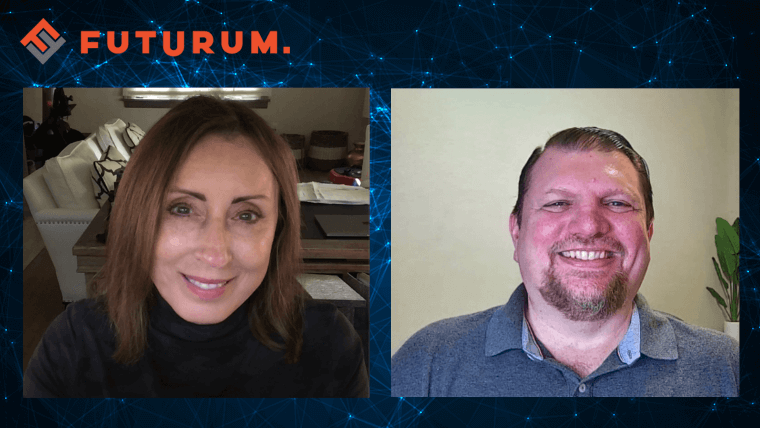 In this newest episode of the Futurum Tech Webcast, analysts Ron Westfall and Shelly Kramer discuss Rakuten's moves in the 5G market and how the company is essentially throwing down the gauntlet for the rest of the CSP ecosystem. In this conversation, we cover the benefits of the early mover advantage for CSPs, along with the implications for the Open RAN segment and the overall 5G market developments of the last week.
Some of the things we touched in this 5G-focused webcast included:
Why Rakuten's acquisition of $1B acquisition of Altiostar is a 5G game changer. Rakuten is raising the competitive stakes across the entire 5G ecosystem. With this $1 billion acquisition of an Open RAN specialist, Rakuten is providing a template for how Communications Service Providers (CSPs) can gain a strategic competitive edge in the cloud-based 5G ecosystem – own more of the software assets key to long-term 5G build and innovation.
Some highlights from the research out of IBM's Institute for Business Value (presented in a recent episode of our show) on the serious advantages that exist for fast-moving CSPs in the current market. Find the research report from IBM Institute for Business Value here: The end of communications services as we know them, focused on how 5G and edge will help define who wins in the booming digital economy.
The strategic impact on the overall Open RAN market segment of Altiostar agreeing to merge with Rakuten to lock-in its long-term competitiveness. As an independent Open RAN supplier, Altiostar was more vulnerable to any delays in CSP deployment of Open RAN technology as well as increasing pressure from incumbent RAN players, such as Ericsson, Nokia, and Samsung, increasing their targeting of the Open RAN space.
How the Rakuten acquisition of Altiostar epitomizes the approach many CSPs should adopt, which is the strategic acquisition of telco-specific and cloud-specific software assets.
The market significance of Rakuten and 1&1 AG partnering to build Germany's fourth mobile network based on a fully virtualized mobile network using Open RAN technology.
Why the formation of the Rakuten Symphony unit, combining Rakuten Communications Platform (RCP), Open RAN software, and Rakuten's international telco solutions, can accelerate ecosystem adoption of Open RAN and Open 5G technology.
Watch the video of our conversation here, and if you're not yet a subscriber to the Futurum Research YouTube channel, hit that button.
You can also listen below or stream the audio on your favorite podcast platform — and if you've not yet subscribed, let's fix that!
Don't Miss An Episode – Subscribe Below:
Disclaimer: The Futurum Tech Webcast is for information and entertainment purposes only. Over the course of this webcast, we may talk about companies that are publicly traded and we may even reference that fact and their equity share price, but please do not take anything that we say as a recommendation about what you should do with your investment dollars. We are not investment advisors and we do not ask that you treat us as such. 
Other insights from the Futurum team:
Rakuten's Acquisition of Aliostar is a 5G Game Changer
Marvell Ups Its Cloud Data Center Game with $1.1 Billion Acquisition of Innovium
AT&T Preps for 5G Coming to Life at WarnerMedia Innovation Lab
Transcript:
Shelly Kramer: Hello, and welcome to this episode of the Futurum Tech Webcast, whether you listen to this in webcast form, video, I'm going to start over, because I didn't like that, but we do have a challenge sometimes, like people on our team, not knowing that we do this in podcast form. So, forget that, I'm going to start over.
Hello, and welcome to this episode of the Futurum Tech Webcast. I'm your host, Shelly Kramer. I'm an analyst here at Futurum Research and I'm joined today by my colleague and fellow analyst, Ron Westfall. And today we're going to talk about 5G and we're in, actually, this is a part of a new series that we're doing, focused on 5G, that Ron and I'll be doing. So, if that's your jam, you'll definitely want to tune into more of those. But today we're going to talk about Rakuten's acquisition, a billion dollar acquisition of Altiostar, and why that's a 5G game changer. Ron, welcome.
Ron Westfall: Well, thank you. Great to be here, taking a break from the Tokyo Olympics and talk about the 5G Olympics, equally momentous and exciting.
Shelly Kramer: Absolutely. Well, it is always interesting to see what's going on in the world of 5G. We've talked a lot about that this week as a matter of fact. So, these recent moves in the 5G market, they're really a big deal. Talk with us a little bit, if you would, about why this acquisition by Rakuten of Altiostar is really such a big deal.
Ron Westfall: Yes, I think a great starting point is to provide a little foregrounding. The two knew each other very well. For example, Rakuten already invested in Altiostar back in May of 2019, got US approval for that particular move, because Altiostar is based here in the US, specifically headquartered in Tewksbury, Massachusetts. And subsequently, they collaborated together and Rakuten really got its cloud native virtualized mobile network up and running in early 2020 in Japan. It was Altiostar that provided the kicker in September of 2020, that is providing a container-based cloud data 5G RAN capability, which is really taking 5G innovation to the next level in a production type of network.
So, the groundwork was clearly there for Rakuten to go ahead and pull the trigger and acquire Altiostar for a billion dollars plus, a very, I think, robust evaluation. It certainly will be good news for any Open RAN specialists out there in terms of being a potential acquisition target. But what I think is also important to note here is that Altiostar is also operating in other major networks.
So, for example, Airtel in India, DISH here in the US, and this move also definitely strengthens Rakuten's relationship with Telefonica, for example, with networks in both Europe and throughout Latin America. What I think is also key here is that the move strengthens Rakuten's Communications Platform also known as RCP, which is now a major component of the newly formed Symphony Unit.
But what's important about RCP is that Rakuten is showing that a carrier can sell into other carriers a clearly differentiated purpose-built platform that enables them to get, they're in 5G, not only network up and running on a cloud basis, but also figuring out how to monetize 5G capabilities in a very streamlined way on the on demand software as a service type of approach, et cetera.
So, this is definitely stirring up the competitive mix throughout the 5G landscape. So, this move is significant. It shows, I believe, that for the first time a CSP is going to buy Open RAN assets to move their outcomes forward, to move their objectives strategically in this manner. So, this is definitely, as you put it so eloquently, a game changer.
Shelly Kramer: Yeah. I know that you were around for a conversation that I had earlier this week with Chad Andrews of the IBM Institute for Business Value. So, they're a research arm of IBM and in a recently report that they did that was just focused on 5G and edge and what the market landscape looks like today, what it's going to look like by 2024, 2025, the massive amount of opportunities there for CSPs and really kind of a look, what we talked about a little bit in our conversation was really the fact that their research and our research shows that, in many instances, CSPs are behind the eight ball when it comes to understanding the opportunities ahead of them, understanding the strategic business needs that they need to embrace and fund and move forward with.
So, it really seems to me like this is Rakuten just saying, "This is how you do it, boys and girls. This is how you do it, and we're not going to wait. We're not going to sit around and wait to figure out what our competitive edge is. We're going to go do it."
Ron Westfall: Right on.
Shelly Kramer: Yeah, and I think that, that, and again, going back to my conversation with Chad, it's like early adopters to understanding the importance of doing exactly this kind of thing, early adopters are seeing and are going to see a huge financial benefit as a result. And the CSPs who are sitting around and waiting for the right time are going to end up being the Blockbuster videos of the CSP world, and who can afford that?
Ron Westfall: Right on. And perhaps a more apps analogy these days would be Uber or perhaps Netflix, like when the 4G networks were first deployed, who knew those were going to be the innovative business cases and the same thing with the 5G, you just have to be more ready, more prepared. And I fully agree. I think this is something that the communication service providers should have done sooner, and that is simply control more of the software assets that is important for them to not only transform their back office, their OSS and BSS capabilities, but also quite fundamentally become more adept at using cloud capabilities. Whether partnering with a public cloud partner like AWS or Microsoft Azure or Google Cloud, but also easing hybrid cloud implementations and multi-cloud implementations, which are pretty much the destiny of operators anyway.
This is something that I think is important to notice is that Rakuten is already selling into operators within the UAE, Saudi Arabia and the US, again, with the Ligado Network. And what this is demonstrating, in addition to adding on those Altiostar customers, and further strengthening that Telefonica relationship, this is something that another carrier can do. This is not unique to Rakuten.
So, clearly, I think the old business model of, oh, a carrier not being able to sell to another carrier, it's pretty much out the door when it comes to international markets. When it comes to home markets, that could be too far a field for that to really happen. But when you're talking about a carrier in Japan selling into a carrier in the Mid-East or the US, this is something that's already happened and it's going to happen even more. And Rakuten clearly is augmenting its ability to do that.
And I think another important aspect here is that it's not just about controlling, say, the Open RAN software assets and being able to be the master of your destiny in terms of an Open RAN build and thus an overall 5G build. But it's also, again, about that supply chain. Now, Rakuten could have much more confidence about being able to fulfill their business objectives, whereas you still have top tier operators hectoring the ecosystem, we need you to accelerate Open RAN developments, you have regulatory bodies saying, "We support it, we'll even subsidize it." That's kind of shoehorning it, forcing it more.
It's to reason, because obviously the top tier telcos are becoming less enamored with traditional proprietary RAN implementations. They've worked fine in terms of enabling the 4G LTE deployments and business cases, and they're secure, but the writing's on the wall, they're just less flexible. They don't allow operators a great deal of flexibility combining their preferred software capability with their preferred supplier within the entire network.
So, the RAN is definitely going to be the place where a lot of this is going to break out, who is going to be the operator that's going to emulate Rakuten and be more bold about acquiring these assets? For example, I used the AT&T example of acquiring Mavenir, another Open RAN specialist, because, for one, they both are headquartered in the same area at the Dallas, Texas area. Also it's, again, showing that this is a way to control your overall destiny.
Likewise, when it comes to looking at DriveNets, which is supporting AT&T's disaggregated core network, because, well, AT&T is working with Microsoft Azure in terms of building out their overall 5G networks, starting with the 5G core, they're still better off fundamentally owning these assets, because they're also working with Google Cloud on the edge. Who knows what else can pop up?
And my favorite example is like, well, how did Elon Musk become so successful so rapidly penetrating some of those hidebound industries, that is the auto industry and the space exploration industries. One thing that he understood fundamentally is you have to control as much of the supply chain as possible to really make these innovations streamlined, to really be able to challenge the well-entrenched Incumbents.
Everybody talks about Tesla and SpaceX, as a matter of fact, those were tremendous challenges and it's not easy, but it's something that is definitely worth making the effort to do, because it's proving out over and over the more the supply chain you can control, the better off you'll be in terms of competitiveness long-term.
Shelly Kramer: Well, look no further than the small little company called Amazon. Right?
Ron Westfall: Right on. It's very true.
Shelly Kramer: Look at Amazon Web Services and look at logistics. It used to be, there were UPS and FedEx trucks driving around all over the place all day, every day, delivering your Amazon packages. And now, in many instances, if not most instances, what the brand is on the side of those trucks? Amazon. And Amazon Healthcare and Amazon… I mean, come on, the list is seemingly infinite.
But it really is another great example of just owning the parts of your ecosystem and your supply chain and that… Not depending on those things from somebody else. In this instance, too, I think the hyperscalers, and we talked about this, Chad and I talked about this in our conversation, relying on services in general from hyperscalers is great, because it's the easy button, but at some point in time, you really have to stop and look at, "What's the best foundation for my business overall? Is it giving them the power or is it me retaining the power and the control and the data and everything else?" I think that all plays a very big role here.
Did we touch on the strategic impact on the overall Open Ram market? Really, I know that part of this to be able to lock in long-term competitiveness. Are there other elements here that play a role? And my question is kind of multi-pronged, how does this, there's other players in this space, there's Ericsson, Nokia, Samsung, and they're all targeting the Open RAN space. So, how does this move play in that sandbox?
Ron Westfall: Excellent question. Yeah, this is definitely going to cause turbulence than the Open RAN segment, because as you pointed out, Shelly, already had the incumbent RAN vendors, Ericsson, Nokia, and Samsung already, at least, paying lip service to, we will support open RAN, because pretty much their customers are demanding it, the regulatory bodies are pointing in that direction. So, this is a process, it's not going to happen over night when it comes to many of the firmly established networks out there, but it will happen and they have to be prepared to make this happen as the market becomes better prepared to support Open RAN, because there are challenges.
As I noted before, with the incumbent proprietary RAN implementations, it was secure. So, there is a concern about the open up of the key parts of the RAN network, for example, the distribution unit, the radio unit, et cetera. That, it has a broader attack surface for hackers and so forth. So, that part definitely needs to be proven out, it needs to be thought through thoroughly.
Otherwise, you're getting a lot of benefits when it comes to that flexibility and agility that we all are fond of invoking, but those are at terms. For example, now the operators can disaggregate the software from the hardware, so not having to buy from one supplier both of these key components, they can actually now mix up the supply more and gain work bidding leverage and so forth, and more innovation possibilities from that approach.
So, that is certainly one important aspect of why Open RAN is so much different. But also, in terms of, what about the other Open RAN specialists, already talked about the Mavenir, there are other excellent ones like Parallel Wireless, as well as Radisys. And some ongoing homegrown efforts supported by the regulatory bodies of various countries, Europe comes to mind, the UK in particular. So, that still needs to flesh out more, but it definitely raises the valuation of those existing independent Open RAN vendors.
I can see, then becoming targets, I can see another CSP emulating what Rakuten did. I can see also established networking players like Cisco and Juniper looking to buy one of these Open RAN vendors to up their 5G ecosystem credentials. Likewise, again, the traditional RAN vendors looking at a way to catalyze their Open RAN capabilities is simply cut out and buy the skillset and the technology.
Also, we have to look at the cloud providers, already Microsoft has bought specifically Metaswitch and Affirmed Networks just for this very capability. And I believe dividends, look AT&T is already turning to them for their fundamental 5G built. So, this is something that is not farfetched at all.
Finally you have Intel, the Silicon provider, if you will, the trailblazer in terms of enabling a lot of these 5G capabilities when it comes to disaggregated networking, because it's based on their Silicon, that these servers will enable this white box networking and so forth, that is a lot more flexible and cost-effective than the proprietary approach. So, you can't count them out either.
So, this is just going to make it a lot of fun for us, watching the market, but also it will be beneficial for all of the members of the 5G ecosystem. Certainly, the service providers, but also the customers, whether you're a consumer or enterprise, this is really the kind of advancement and innovation that we're definitely looking at. This is also something that will pretty much very likely happen. So, it's going to be a question of, who's going to be the next one to jump on this bandwagon and really push the needle forward.
It's also, I think, important to note here, all this is happening in Japan, US, Europe is following, and the other parts of the world that we talked about, what is actually in stark contrast is China. You're not hearing about Huawei and ZTE in this regard, because they pretty much are being mandated by the Chinese government to continue that proprietary closed approach. So, they're pretty much not players in this Open 5g, Open RAN competitive landscape.
So, while the China market can feel their revenues for a while, at least when it comes to mobile infrastructure, it's going to be interesting to see when that starts reaching that saturation point, is there a plan B? Can these major China suppliers cut over to Open RAN in the foreseeable future? It doesn't look like it.
So, this is interesting that Japan is kind of the vanguard for a lot of this Open RAN innovation and let alone cloud-based 5G networking. We're learning a lot of valuable lessons from it, and hopefully it will happen in the US with DISH, let alone Ligado, as well as other operators in other parts of the world.
Shelly Kramer: Right. Speaking of China, it's just such an interesting market to do business in these days across every sector, because you just never know. You never know when the… What do I want to say? When the floor is going to be knocked out from under you, like the huge ed tech sector in China, but specific to your comment, I was reading something this morning and I really didn't get a chance to dive too deeply into it at all, but it was about Huawei's earnings and how naturally they are significantly, everything that's happened is really kind of caught up with the company. So, it really is interesting to watch what's happening there and what's happening in the China market as well, and what's happening with Huawei and ZTE.
Ron Westfall: Oh yeah, no, it's astonishing. It really is. So, that's an excellent point, Shelly, because two years ago, before the trade restrictions really kicked in and we saw what happened to ZTE and that media near term that the company literally had to shut down, because they can no longer access US silicon components. Yes, it's definitely hit Huawei and that shows you that the geopolitical dimensions here are very substantial and that they are altering the competitive landscape.
So, yeah, it's bad news for Huawei and ZTE when it comes to the overall global revenue that they can buy in the China market, and they can buy specific countries that are still open to using China technology in their networks, but really, clearly the momentum is going the other direction, too many countries in the world are not going to take the risk of using China equipment and the strategic mobile network at least. And that is definitely creating new opportunities for the Ericssons and the Nokias. They've stated that, "Yes, we've gotten new opportunities because of this." But also it's opening up that open 5G push, it's really serving as an accelerant for that. So, there's just a great deal of back and forth. And yeah, it's a stark contrast and nobody would have seen this two years ago, just how much Huawei's reversal of fortune would happen because of this.
Shelly Kramer: I was on vacation in a horrible, horrible place a couple of weeks ago, Turks and Caicos, which is not at all horrible. And the modem in our rented Villa was a Huawei modem. It was so surprising because I just haven't seen, other than when I'm in China, a piece of equipment like that with a Huawei logo on it. So yeah, brief aside.
Ron Westfall: Yeah, you still see it Latin America and Africa and so forth.
Shelly Kramer: Yeah. For sure.
Ron Westfall: But after that, yeah, it's becoming more dubious, you're not going to see much Huawei equipment in India, for example, because, again, political tensions. So yeah.
Shelly Kramer: Well, speaking of other countries, I want to talk a little bit about Germany and the market significance of Rakuten and 1&1 AG partnering to build Germany's fourth mobile network. Talk a little bit about that.
Ron Westfall: Yeah. This has definitely been a whirlwind. So not only did Rakuten purchase Altiostar, the same day, basically, they announced that they will be the strategic supplier for 1&1's build out of a fourth mobile network in the German mobile market. So, today you have DT, Vodafone and Telefonica Germany all competing. One outcome was that 1&1 became a MVNO. So, they actually already have mobile networking experience reselling their service using, for example, the Telefonica and Vodafone networks. So, this is not going to be a complete stretch for them. Plus they already deploy fiber to the home, for example, and offer IPTV services, smart home services.
So, this is really going to be, I think, a shakeup of the German market in the same way that Rakuten is making inroads in the established Japan market. It's challenging directly the Japanese incumbents such as NTT and SoftBank. So, this is going to be very interesting to watch, because they're basically setting out to build, again, a fully virtualized cloud native 5G network. This is, I think, going to enable 1&1 to really differentiate themselves over the long-term and really make things very interesting in the German market, because they confuse it with their existing fixed access network, they already have, for example, 10 million plus mobile customers. So, their MVNO arrangement plus around 5 million fixed access customers. So, this is not something being done from scratch. This is something that is ready to go in many key ways and definitely Rakuten's RCP technology, I think, will provide an innovative difference to light that market on fire in terms of the 5G race.
Shelly Kramer: Yeah, absolutely. And speaking of Rakuten's RCP platform, let's talk for a minute about the formation of the Rakuten Symphony Unit. I think that, that can be how we wrap up this show. But I think that there's an important role there in terms of accelerating ecosystem adoption of Open RAN and that sort of thing. So, touch on that for us, will you?
Ron Westfall: Yeah. So, I think it's a very smart move from Rakuten, because it concentrates all these key assets we've touched on, certainly RCP, but also the newly acquired Open RAN assets, as well as their international telco assets into one unit headed by their high profile CTO Tareq Amin. So, that I think is definitely a powerful combination.
This is just demonstrating how committed Rakuten is to really moving the needle across the 5G ecosystem. It's through the Symphony unit that they can better sell into international markets, that they have a broader portfolio now. Now, they've combined all these pieces together. Because before they acquired Altiostar, they acquired a company called InnoEye and that's actually another company based in the US. And they have successfully integrated that into their RCP that enabled digital operations.
So, definitely Rakuten is showing that they're adept at this, and that when it comes to integrating Altiostar, which is also US-based, they already have experienced here, they already have that close relationship. So, all this is going to be definitely kick-starting the Symphony Unit's ability to present a clearly differentiated portfolio and sell it to other international markets beyond the ones that we talked about, obviously Germany is another one that they can add to their lists of success, but it'll be interesting to see where else they can actually make this profound difference. Already, they're doing it in the US, now they have a relationship with DISH through the Altiostar acquisition, but also they're working again with Ligado, the satellite-based 5G network and so forth. So, this is going to be, again, the 5G Olympics, who's going to rack up the most gold medals here over the next 12 to 24 months. And it's looking pretty good for Rakuten at this point.
Shelly Kramer: I think it is looking really good for Rakuten at this point. And I feel like, in many ways, this is a smart company throwing down the gauntlet, and I think it's exciting and look at all the different things that they're doing and all these different friends, and just think, this is amazing and I cannot wait to see what the other players in this ecosystem, in this market do. Like you said, there's just never, I think there's never a dearth of exciting goings on. And that's not going to change anytime soon, given what we know for sure is happening-
Ron Westfall: Thank goodness.
Shelly Kramer: … as of late in 5G. Yeah, absolutely. Well, with that, we're going to wrap up our show today. Thank you for those of you watching us on LinkedIn live or watching the video replay or listening to our podcast. We are always glad to have you, and always, I'm happy to share interesting news. So, we hope you'll like this new 5G series that we're launching and come back for more. If you haven't yet hit the subscribe button, whether it's to the podcast or to the YouTube channel, do that, because we'd love to have you here on a regular basis. And with that, Ron Westfall, thank you so much for your time today and for sharing your gray matter on a topic that we both love.
Ron Westfall: Well, thank you, Shelly. You bet.
Shelly Kramer: All right. Well, everybody, that's it for us today and we'll see you next time.