Opportunities for Innovation in the Life Sciences Industry – Futurum Tech Webcast Interview Series
Opportunities for Innovation in the Life Sciences Industry – Futurum Tech Webcast Interview Series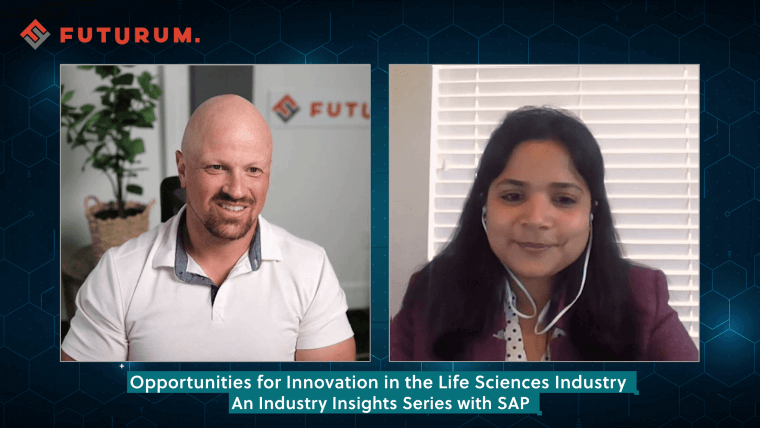 On this special episode of the Futurum Tech Webcast – Interview Series I am joined by Aparna Seksaria, Global Practice Lead R&D Solutions, Life Sciences at SAP. This is the second episode in a series — done in partnership with SAP — where I will be speaking with advisors and executives across several different industries on the state of their industry and what we can expect in the future.
In our conversation we discussed the following:
The areas of opportunities for the life sciences industry
A deep dive into how the life sciences organizations can use industry cloud solutions augmented with additional technologies to foster growth
A look into how life sciences organizations have tackled the value chain challenges brought about by the pandemic
An exploration into ways organizations can produce products faster and more sustainably while reducing costs
The life sciences industry, like many other industries, had to rapidly accelerate transformation processes throughout the pandemic and many organizations are still dealing with these changes. My conversation Aparna explores how these changes are playing out and the role technology is playing. It's definitely one you don't want to miss.
If you'd like to learn more about the industry, be sure to check out our research brief The Evolution of Life Sciences Organizations: How Embracing Innovation Technology Solutions is Critical to Success.
Watch our interview here:
Or listen to our interview on your favorite streaming platform here:
Don't Miss An Episode – Subscribe Below:
Disclaimer: The Futurum Tech Webcast is for information and entertainment purposes only. Over the course of this webcast, we may talk about companies that are publicly traded and we may even reference that fact and their equity share price, but please do not take anything that we say as a recommendation about what you should do with your investment dollars. We are not investment advisors and we do not ask that you treat us as such.
Transcript:
Daniel Newman: Hey, everybody, welcome to the Futurum Tech Webcast. I'm your host, Daniel Newman, principal analyst, founding partner at Futurum Research. Excited to be part of this multi episode podcast focused working with SAP on industry innovation and what's going on in markets. This time, we'll be talking to Aparna Seksaria with SAP. She leads the life sciences practice. Aparna, welcome to the show. How are you?
Aparna Seksaria: Thank you. Thank you. Hi everyone who are watching this episode. I'm Aparna, I lead R&D life sciences solutions in SAP for pharma med devices and biologics. And I'm also the solution manager for a couple of cloud solutions that we are offering. I've been with the life science industry for about 16 years, various hats on the consulting side, as well as on the product side and on the business side. Looking forward for this podcast and discussion.
Daniel Newman: Yeah, it's great to have you here. It's such an important topic and I love getting into industries. Over the last several years, I've noticed technology and industries have grown closer and closer, been more symbiotic. Especially as we've seen the rise of industry clouds, specialized APIs and connectors. And by the way, this stuff has always exist. It's always existed. It's just become more prominent as we figured out you can get more customization and personalization for an industry, but concurrently leverage platforms.
And that's something that SAP has always been extremely good at. We've worked closely with the company over the past several years, and you guys are extremely proficient at breaking industries down very granularly. I believe more than 20 that SAP pays attention to. And because of the critical nature that SAP solution have for industries, you've really gotten to the point where there's a really strong connection between SAP as a company and the industry clients that you work with. And so today, I want to spend some time talking about that because I think there's just a lot of value in seeing how SAP and your solutions across the portfolio work so closely with life science companies.
And so let's just start there. You spend every day working side by side with life sciences organizations. What are the big opportunities that you're hearing about and seeing and collaborating with these companies on?
Aparna Seksaria: Absolutely. I think we are hearing about changes in the life science industry post COVID, which is a common term. But there has been tremendous changes in this industry since the last year, I would say there were groundbreaking innovations and discoveries leading to this growth pretty much in all the fronts. Whether it is discovery of new therapeutic areas like cell therapy, gene therapies, immunotherapies, biologics. Or adoption of this new technologies like AI ML, machine learning, nanotechnology in biologics. They were all significant innovations in the treatments and diagnosis of diseases.
These breakthroughs are calling in for two full changes. One on the R&D and clinical side of the pharma, there is the drive for shortening the drug approval times, reducing cost of drug development without compromising the quality. While on the commercial and the tech transfer side, pharmas are demanding for seamless interoperability of systems. Both horizontally across the systems in process in a company, and also vertically across various business partners that interact with the company.
This, I see as a huge opportunity for IT vendors and system integrators to paint these industry-wide spaces and deliver great synergy between the clinical and commercial process. And SAP is heavily investing around certain opportunities like improving clinical supply chain, quality release process, therapy orchestration, enterprise product development, which can enable the recipe exchanges and also develop accurate recipes for phase wise clinical trials. We are also encouraging heavily the partner ecosystem to come and build with us, leveraging our technological platforms and strong foundations for manufacturing and supply chain core that we have established over the past 50 years. We just celebrated 50 years.
Daniel Newman: And you mentioned a bunch of things that caught my attention there. And so we're definitely going to dig into all of them, but a couple that I want to point out right away. You said the word supply chain. I think everyone's ears immediately peak when you say supply chain. The last couple years have just provided so much visibility to what's going on there and the importance of having that correct. And the role that ERP and other enterprise applications play in enabling the supply chain is massive. We've identified a future on that there is a marketable difference in between companies that have made the right technology investments, and those that have not in terms of how well they were able to weather the challenges.
But you also of course mentioned the technological advances, things like targeted cell and gene therapies. And there's a huge relationship between data, high performance computing, AI, and other technologies. And this is something that your organization is either working closely side by side with the other technology, the chip makers and the the HPC companies. And then of course, with your industry cloud itself, to make sure that all that data is readily available and it's part of these company's optimization processes. So let's dive into that a little bit. So as you're talking to life science companies about the utilization of industry cloud, how does that sort of enable the utilization of advanced technologies to help them transform, to help them leverage the opportunities that these life sciences have to grow?
Aparna Seksaria: Yep. That's a very good question. I mean, there is a lot of buzz around leveraging great technologies, whether it's AI or MLs and a lot of data points. But I would go back to the foundation of digital core framework. The foundation, where there is everything on the cloud and everything is interoperable. So SAP's digital core framework is bringing together integrated business process and realtime intergen insights and is enabling business to take faster and evidence based strategy decisions.
Once you have the core in place, then you will be able to add bells and whistles of how do I analyze this data? How do I bring in new technology? How do I use a self-service data discovery models or such? With digital core running on S/4HANA and digital innovation leading the way by the cloud applications, which we call from SAP as a business technology platform. SAP is actually integrating the manufacturing supply chain core manufacturing process, spend management process with industry solutions.
So adding a unique flavor to life sciences from the business technology platform and laying the foundation for digital transformation. Not digitization of processes, not just lift and shift from the core ERP or on-prem processes, but actually rethinking process in this digital age. So that's where we are enabling and building the strong foundation.
So once you have the strong foundation in place, there is a native integration offerings coming from the core S/4 modules to the SAP business technology platform. This has opened up a lot of opportunities and innovations around analytics, machine learning with integrated data points. So data is everywhere. Data is today I would say is achievable at a lot of places. But making sense of the data with usage of the right tools is the core differentiator.
So with the business technology platform on the public cloud, as well as on the S/4HANA, we are actually offering a lot of prebuilt data models, integration of AI with business processes, sales itself, service discovery, data discovery models, and planning analytic tools for pharmas in a very governed environment. Of course, that's that's core for life sense as well. So our technology, the platform coupled with the S/4 will help really jumpstart pharma industry cloud applications.
Daniel Newman: Hey, you covered a lot of ground there. The business technology platform is incredibly important as it's fueling this life sciences cloud, industry cloud, and also those other clouds that we sort of alluded to early on in the show. I do like that you also mentioned some of the emerging technologies. We mentioned a few times throughout about AI, but blockchain as well. That's a emerging technology that, of course we could see having a ton of practical applications in life science. That sort of chain of chain of custody and trust. Think about things like vaccines, making sure that we know if there's something wrong, being able to quickly get that into the data and be able to figure out exactly which ones might be at risk and how that could be taken out of commission before it could do any harm. I mean, these are just the kind of things that… and these things all have to be integrated.
To your point, Aparna, you can't have any of these things in isolation. It has to be designed around a platform so that it can be extensible and scalable to all the other applications that exist inside of a business. And so I mentioned vaccines. We've kind of talked about COVID, you touched on it in the beginning. But if there's a few silver linings out of what really was a very challenging and disturbing period of time, it's been the pull forward of digital transformation, the investments, and the kind of cooperation and collaboration, seeing how fast as a global society, we could take technology and life sciences, by the way, perfect partnership, academic enterprise, and of course government all working collaboratively to say, "Hey, how can we get solutions into the market that save lives, that end this horrible experience?" So you saw it, you experienced it. Talk a little bit though about what you saw over that two year period of time that you think will be sustained, and that will continue into the future and of course the role SAP played.
Aparna Seksaria: Yep, absolutely. I mean, the COVID has been a trigger to changing business processes at least evidently. But before that itself, there has been a lot of buzz around establishing networks so that there is a seamless exchange of information between whether it is CRO, CMOs, contract manufacturers, manufacturing entities. With cloud, if you look at how SAP has transformed this journey, with cloud native integration, we already invested directly and indirectly through partners for building life sciences apps. These apps are on the same platform like you mentioned, which is business technology platform, sharing same data standards and are leveraging the business networks and the partners and they're able to exchange all this information of data sets and information.
And we have seen tremendous applications of these networks in the last past five years, I would say, and more in the recent two to three years. Whether it's a procurement network, business network for logistics, that enable trade document exchange, shipment status collaboration, or even we call it as an information collaboration hub that enables exchange of drug serialization information across pharma partners, across multiple pharma partners.
And we also have seen a tremendous usage of asset intelligence network, which enables onboarding of a new equipment that is needed for manufacturing process so that you can smartly integrate your breakdown, prevented your maintenance. And so the applications of the networks has been huge and COVID has reinforced that. The seamless connectivity business between the business partners is a key. And now in the past one year, post COVID, or we are still not post COVID, but after the comeback of the COVID, we are looking at increased demand for CROs, contract research organizations, with seamless connectivity between the CROs and the manufacturing entities, so that they can exchange contracts, information, external procurement collaboration. So there is increased demand to have a very unique clinical network that can help CMOs, CROs and manufacturing entities to collaboratively exchange information.
We are also seeing an increased demand for a 3PL network. So once you have all this process in place, but you need to be able to collaborate well with the sites, with the site shipments who carry these vaccines, who carries these drugs at the temperature control, what is needed. So there is a huge collaboration need at the network 3PL network exchange as well.
So there is a huge runway to cover before pharma can successfully collaborate with their partners in the ecosystem. But at SAP, we already laid foundation for it. We established business networks. People are using it in different ways. There are beautiful business cases that we are hearing every day. So the foundation exists, now it's time to collaborate and exchange information across.
Daniel Newman: Which by the way, has always been a bit more of a challenge in healthcare and life science than other industries. Lots of compliance, challenges, data sovereignty, privacy, those are all challenging. And of course at the drug discovery and development slightly different than particularly in the individual healthcare. But still obviously patient data trials, all that stuff that goes in, creates challenges.
So the outward collaboration can expedite in getting trials through, to getting drugs in market, to potentially helping save lives and improve outcomes. We spent a lot of time talking about that over the last few years. Like I said, a little bit of a silver lining was just seeing all the collaboration, seeing all the companies put aside their individual ambitions for a period of time and saying, what technologies, what capabilities, what insights can we offer to solve a problem?
So it's always great to see that sort of collaboration take place. Hopefully it doesn't always take a black swan or some sort of world challenging contagion to get us to the table. Which I think is kind of what you're saying, is if we do this stuff proactively right now, Aparna, we can in the future, have these systems better laid out, better mapped out to be able to move even faster in the event of something happening.
Aparna Seksaria: Absolutely, absolutely. And earlier it has been more of a push market, meaning that, hey, we have networks, let's bring in the use cases, but now it's been a pool market, meaning companies are really do not want to innovate on IT. They don't want innovations or file exchange formats unique to each and every CRO or a CMO. They want generalization. So there has been a great call, everywhere we speak to a customer, there has been a need to actually unify this network or exchanging of information. Streamline this, we don't want to innovate formats and the data that needs to be exchanged. Pretty much all companies exchange information in a very similar fashion.
Daniel Newman: So that takes me to what I would say the big question in my mind. So a few times throughout this conversation, I have referenced the idea of faster discovery, quicker times to market, improved supply chain. So these are the problems I believe you're solving. These are the problems that you're being brought in to say, "Hey, how does technology enable us to solve those particular problems?"
So as you appeal to that audience of life science professionals that are listening right now, what are the technology angles to help them produce products faster, be more sustainable in their efforts and concurrently of course, manage costs as we're heading into an even more challenging macro environment? But these are things companies should be doing all the time.
Aparna Seksaria: Absolutely. So actually there are a couple of questions in the same question that you posed. So it's actually working on the efficiency of the supply chain and also moving towards sustainable supply chain. So the trends in the license industry are first move to S/4, move to the digital core, leverage the digital core, leverage the platform, leverage the pre-built in services and add industry specific enhancements on BDP.
And while you are leveraging this core and the industry specific enhancements, establish the network where you can seamlessly interact with multiple stakeholders. And also allowing your own systems and processes to talk to each other. Whether you have a different planning solution, different manufacturing solution, or a different labeling solution, all the systems should be able to talk to each other, which we call in IT world interoperability of systems.
So the first step is  the total cost of ownership by standardizing this process across various system architectures. And with biosimilars and technology access available to all, there is a huge pressure on margins for pharma companies. And we are noticing that companies now have, okay, now I have my digital core. I know how to operate on a cloud. I'm able to establish a network. What should I do more to reduce the overall pressure on margins? The trend we are seeing is establishing sustainability goals, reduction of carbon output, and also using those business networks to help reduce wastage in the operations.
That is something which is pretty uniquely come out with SAP in Oxford economic study that we did on sustainability and life sciences. I would say around 65 to 68% of the organizations have clearly communicated sustainability plans with the higher emphasis on operation efficiency. So leveraging the business networks to improve your operation efficiency, whether it is exchange of information between the partners or reducing the waste stage when there is an effective communication between the partners, there is a huge scope to reduce the waste stage or the byproducts that are produced in this process. And we are actually working with the industry to close what we call this is a green gap and helping the companies shape their sustainable strategies.
I would say to achieve the sustainability goals, the core idea is to identify right set of data that can really drive these policies. There is everywhere, like I said before, but identifying what is the right set of data that can improve your operational supply chain and work towards reducing the of byproducts. That would be the driver for meeting your sustainability goals. And we, as a corporate message from SAP also, or driving the sustainability goals and lane foundation for the sustainability across life sciences.
Daniel Newman: So a lot to unpack there. But as we tie all this together, what I liked that you said there, and I think if everyone out there can grasp this, is how all these things are interdependent. There's a relationship between the advancement of innovation and technologies, meaning the utilization of data, AI, cloud, and the technologies there, and concurrently solving really practical market and economic problems for businesses. It can be the supply chain challenges, it can be waste reduction.
We have a lot of discussion about sustainability and clearly it's something that companies need to be focused on. But there's a certain pragmatism to it, right? Reducing waste is good for the planet, and it's also good for business. And so I like how you sort of say, "We're going to solve problems by implementing the most innovative technologies the market offer, but also we're going to solve some very practical problems that companies, their employees, their shareholders and stakeholders all care a lot about." And you're going to do it at the same time in a very circular and contiguous manner. So if I'm getting that right, you're going to digitally transform, you're going to solve business and economic problems. And you're going to be able to innovate as a company by employing the technologies that are available in the market today. And obviously by using the right partners, the strategic partners in that process. Did I sort of summate that, Aparna?
Aparna Seksaria: Absolutely. Absolutely. So the foundation is your data. So unless you have the data right, which I think pretty much everyone in the license industry acknowledges to that. For the past two decades, the focus has been data. Getting the data, getting the right set of data. But identifying this data across the multiple stakeholders can really help eliminate a lot of green gap. So if I know that I'm not going to get a process order in the right time, I wouldn't be able to push it into packaging. So I don't have to do a GIT just in time, packaging, planning a little ahead in the curve.
So everything is interdependent in the license world. That with heavy focus on contract manufacturing, where the manufacturing it is actually outsourcing either the manufacturing process or the packaging process outward. There is a huge interdependence between the systems or between the partners. And this actually calls for a lot of wastage because you are anticipating something and you're preparing for a step forward without knowing when exactly you will receive something in between. So having the seamless interconnectivity between the systems, laying the foundation for the digital core and identifying the right set of data points can really help in reducing the wastage across the value chain.
Daniel Newman: Well, there you have it. I really enjoy this topic, it's so important. And by the way, I love that this has been brought into the mainstream. And I've said, just certain industries because of the chaotic past few years, there's been these little things that have happened that will be good for digital transformation, the awareness in the market of the importance of semiconductors, of AI and the relationship between technology and bio. And of course, how this has impacted and accelerated the life sciences space.
The digital transformation that was sort of a cliché, a buzzword. By the way, I've written books about it. So I'm not knocking it. I'm just saying, this was the real pragmatic opportunity to see what that really meant in the market. And this conversation really outlined in a very clear and concise way upon what this means.
So thank you so much for joining me here on the Futurum Tech Webcast here. Really appreciate the partnership with SAP and doing these episodes. Please check out the show notes, there's going to be some links. You can learn more about everything that we're working on here, the life sciences industry, and we'll have some additional information from SAP in those show notes. Appreciate you tuning in, hit that subscribe button, come back often as we're going to have more episodes of these industry focused with SAP. And of course all the Futurum Tech Webcast shows that we roll out all year long. Aparna, thank you so much.
Aparna Seksaria: Thank you. Thank you for this opportunity. Good discussion.
Daniel Newman: See you all later. Bye-bye now.
Aparna Seksaria: See you all. Thank you.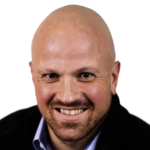 Daniel Newman is the Chief Analyst of Futurum Research and the CEO of The Futurum Group. Living his life at the intersection of people and technology, Daniel works with the world's largest technology brands exploring Digital Transformation and how it is influencing the enterprise. Read Full Bio