Futurum Live! From the Show Floor with Rocket Software at the SHARE Conference Columbus 2022
Futurum Live! From the Show Floor with Rocket Software at the SHARE Conference Columbus 2022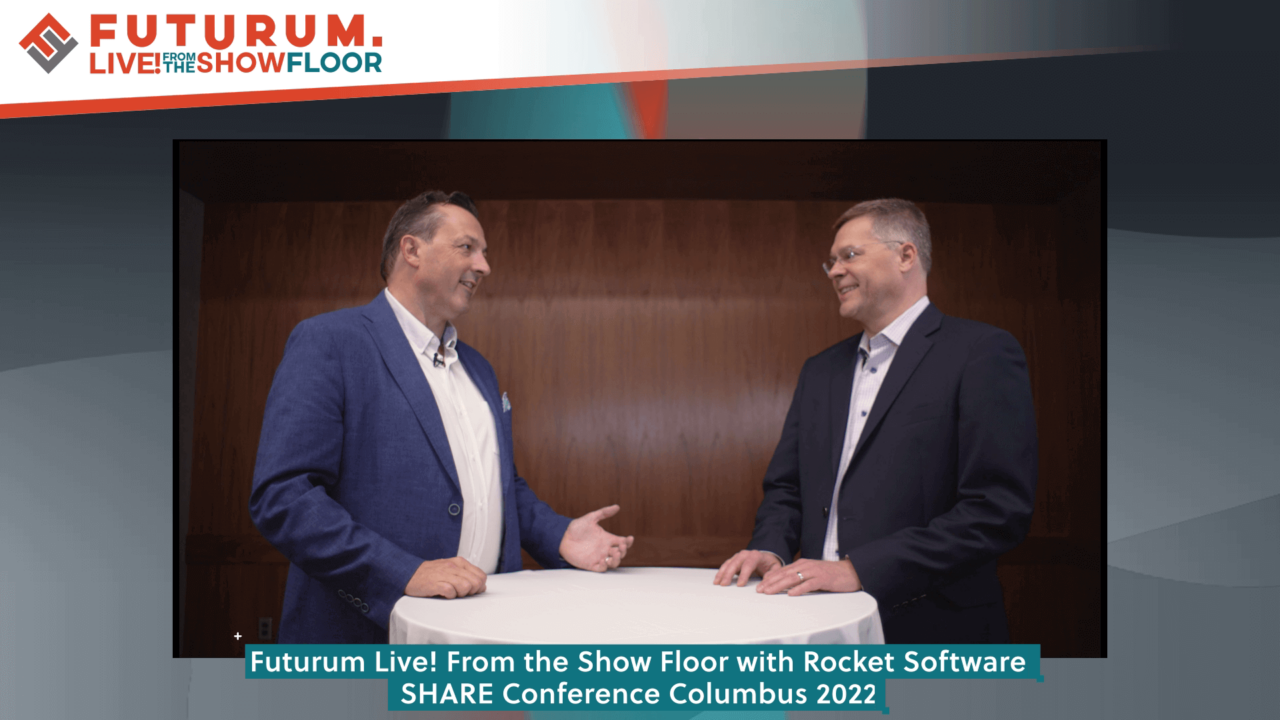 In this episode of the Futurum Live! From the Show Floor – Interview Series, Futurum's Senior Analyst and VP of Sales Steven Dickens was joined by Rocket Software's President, Infrastructure Modernization Business Unit Phil Buckellew during the SHARE Conference in Columbus. Their conversation touched on infrastructure modernization, the mainframe tools they offer their customers, and the expansion and transformation the company has been experiencing.
To learn more about Rocket Software visit their website.
Watch the full episode of my conversation with Rocket Software's Phil Buckellew here:
Or grab the audio by way of your favorite streaming platform:
Don't Miss An Episode – Subscribe Below:
Disclaimer: The Futurum Tech Webcast is for information and entertainment purposes only. Over the course of this webcast, we may talk about companies that are publicly traded and we may even reference that fact and their equity share price, but please do not take anything that we say as a recommendation about what you should do with your investment dollars. We are not investment advisors and we do not ask that you treat us as such.
Transcript:
Steven Dickens: Hello and welcome. My name's Steven Dickens, welcoming you to another Futurum Tech Webcast live on the road from SHARE in Columbus. I'm joined by Phil Buckellew from Rocket Software. How are you Phil? Welcome to the show.
Phil Buckellew: Hey Steve, how you doing? It's great to be here.
Steven Dickens: It's great to be back in person, right?
Phil Buckellew: It's awesome to be at SHARE. This is the first time I've been at SHARE and it's been a wonderful experience to get the-
Steven Dickens: Are you a first time at the show?
Phil Buckellew: I am a first timer at the show this time.
Steven Dickens: It's a great little event, isn't it?
Phil Buckellew: It's a fantastic community. There's a lot of people that are really tightly knit here, and it's a great space. I'm really enjoying my time so far.
Steven Dickens: So, tell our listeners and viewers a little bit about what you do for Rocket, and then we'll get into who Rocket are and explain that.
Phil Buckellew: Yeah, sure. So, I lead our Infrastructure Modernization Business Unit. That's kind of a long way of saying we focus on all the infrastructure and the tools, the mainframe tools that help our customers to be able to get their work done.
Steven Dickens: So, I've been working with Rocket for a number of years, know you guys inside and out, know Milan, know your business, but for our viewers and listeners who are maybe not familiar with Rocket Software, tell us a little bit about what the business does. I know there's a bit of a reboot going on, so the new Rocket, tell us a little bit about the business.
Phil Buckellew: Well, Rocket, it's a great company. There's about 2,500 people there, most of which are developers. We've got about 1,750 developers across our shop. And we're really focused on the tooling, the products that help our clients that are using the mainframe in a number of different spaces, from storage to monitoring, to workload automation, workload scheduling. We've got offices around 13 countries around the world. And we're also a great place to work, certified and around.
Steven Dickens: I saw that.
Phil Buckellew: Indeed.
Steven Dickens: Always good to get that recognition.
Phil Buckellew: Absolutely.
Steven Dickens: So, you mentioned there, you went fast through a number of things that Rocket does in the mainframe space, not a lot of those potentially people will associate with the brand name, drill down for me, if you would.
Phil Buckellew: Right. Well, we've had some products in the market because Rocket's been around for around 30 years. And a large part of our history was in making products for other companies like IBM. We provide a lot of the core technology that's in the Db2 tools and utilities. We provide the technology that's underneath OMEGAMON from a system's management point of view. But we've also got a number of Rocket branded products as well, that service different spaces like storage and workload automation and content management, some of which were acquired with through some of our mini acquisitions, we've had around 60 acquisitions. The most recent of which was ASG, which brought us the Mobius business and the TMON business and a few others.
Steven Dickens: So, you guys have been on a transformation, I know with the various acquisitions that you've made, that's changing the business model up a little bit. Tell me about the new Rocket and what you guys are doing to go to market that's maybe a little bit different than it has been in the past.
Phil Buckellew: Well, it all comes from our core strength with the technology and really being able to help our clients with the technology. And that just doesn't include building the products themselves. We've got 96% favorability rating for our customer support initiative. Most of our support engineers have been around almost a decade. And so, there's really good technical strength at Rocket, but on top of that, we provide the capability to do a lot of services and support to help clients, be they doing particular migrations or particular work with applications. And really all of those pieces coming together are really what have helped Rocket build our way forward, which is not just being that technology organization, but also promoting our brand and selling direct to clients and working with a lot of the other partners in the ecosystem. So, we're really excited about where we are and where we're going.
Steven Dickens: So, I got to spend some time with Milan recently, your still relatively new CEO. What do you think his vision is for the business? Chance to sort of pick up from where Andy Youniss had taken it, how do you think that's going to transform the business going forward?
Phil Buckellew: Well, Milan is really focused on value and on trying to help our customers where they need our help to grow. We recently reorganized our business from focusing on platforms like the mainframe or the i series and other applications, to really kind of look at things more from the perspective of the work that they're trying to do with their infrastructure or their data or their applications themselves, in finding ways in building modernization tools. And that's really what it's largely about for our clients is helping them take the tools they want and grow with how the rest of the environment is moving around them.
Steven Dickens: We're hearing a lot about modernization. We'll hear a lot about it this week at the show. There's a lot going on in the industry generally about mainframe modernization. What does that mean for Rocket, do you think? What are the journeys you're seeing your clients go on?
Phil Buckellew: Modernization is largely about being able to do kind of what you've always done, but to be able to make it better and to work with a lot of the things that are around you. A couple of examples, in the storage space, being able to be able to have that secondary storage that protects you from cyber resiliency issues and the like is really important. There are ways to do that. Not just the way it's always been done, but by leveraging public clouds for example. We're also helping clients that want to be able to see and monitor their environments through other tools, and see not just the mainframe, but also the mainframe in context with all the other parts of a transaction.
For developers, modernization is about developing in new ways and using new tools. Rocket provides a number of open-source packages that we support for clients. And we plug in to modern DevOps tooling, so that the developers can use those modern workflows and approaches, but they can do it while still bringing along those core applications that are so critical to their business in the mainframe.
Steven Dickens: One of the things that was key in what you just said there was that hybrid component. We're hearing a lot about hybrid. It's not either public cloud or on premises infrastructure. It's that combination of both. Are you seeing that as a sort of key theme?
Phil Buckellew: Absolutely. And I think it's important to understand that the mainframe is really the best in the world at secure, reliable transaction processing. And even the public clouds, as much investment as they've done, they're still not as advanced as a lot of the capabilities in that core space on the mainframe. But the elasticity, the ability to have much greater agility, having a lot of capabilities added as a service, those are benefits from public clouds. And being able to have each side kind of do what they're good at is something that our clients have really been asking us for more and more solutions on.
And so, I think as you see this whole industry move forward, you'll continue to see the mainframe really holding down its strength in that transaction processing space, but having a lot of other workloads that surround that area, some of which benefit from elasticity for machine learning and the like. Those things will happen increasingly on public cloud, and Rocket is really working to enable that to be a lot easier and simpler and more secure.
Steven Dickens: The other thing you mentioned going back a couple of minutes there was around open-source. I know Rocket's been particularly invested in open-source on the mainframe platform with the great work you're doing with Zowe and the Linux Foundation there. I've recently got briefed on the stuff you're doing in the open-source community to bring some of those open-source packages. Where do you see that playing in the mainframe? I think if we'd have said maybe five or six years ago, open-source on the mainframe, that have been with some startled looks. You hear it talked about now, and we've moved past that, and people are starting to deploy open-source tools even into z/OS and into their most mission critical environments. Where are you seeing that dynamic from a Rocket perspective?
Phil Buckellew: It's all about what the developers want. You really have to be able to serve the development community. And the development community is very interested in using those latest open-source packages, be it capabilities to leverage GitHub or Python or curl, there's a lot of other packages. What clients need is to be able to have the support and the security and the confidence that those packages have, as they've been poured into the mainframe are something that can be kept secure, so that if a CVE happens in one place, we're able to address it. So, having that environment that developers want and making it conform to all the requirements of security and compliance for an organization, that's a key area for us in addition to all the work around Zowe and being able to have those new interfaces, as well as the APIs and others that developers can really depend on.
Steven Dickens: So, it's not either or from an open-source or mainframe, it's bringing those two together.
Phil Buckellew: In many ways, it's like the hybrid cloud environment. It's being able to do both, do the things that you've always done, allow you to do things the way people have been doing them for 20 or 30 years, but also be able to do things in new ways, securely, safely with the kind of reliability that's needed for the types of workloads that run on the mainframe.
Steven Dickens: So, what should customers be taking away from coming to the Rocket booth, engaging with your team that you've got here once they reach a chair, what should they be taking away? What are those key take aways?
Phil Buckellew: I think in many ways it comes back to our values. Rocket is a company that Andy started. It's built on the values of empathy, humanity, trust, and love. And those kind of values are somewhat rarer in the world today in the technology space, but they're values that Rocketeers live by. And if clients have problems in the spaces that we serve, we're going to bring our full selves to them and work to help them address their problems in the best possible way.
Steven Dickens: That's been fantastic. I think really great session here. Really good to understand what Rocket's been doing. Thank you for joining us. You've been listening to the Futurum Tech Webcast. My name's Steven Dickens. We'll see you next time.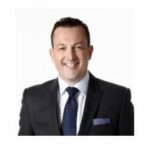 Steven Dickens is Vice President of Sales and Business Development and Senior Analyst at Futurum Research. Operating at the crossroads of technology and disruption, Steven engages with the world's largest technology brands exploring new operating models and how they drive innovation and competitive edge for the enterprise.  Read Full Bio.