Futurum Live! From the Show Floor with Broadcom's David Stokes and Deborah Carbo at the SHARE Conference Columbus 2022
Futurum Live! From the Show Floor with Broadcom's David Stokes and Deborah Carbo at the SHARE Conference Columbus 2022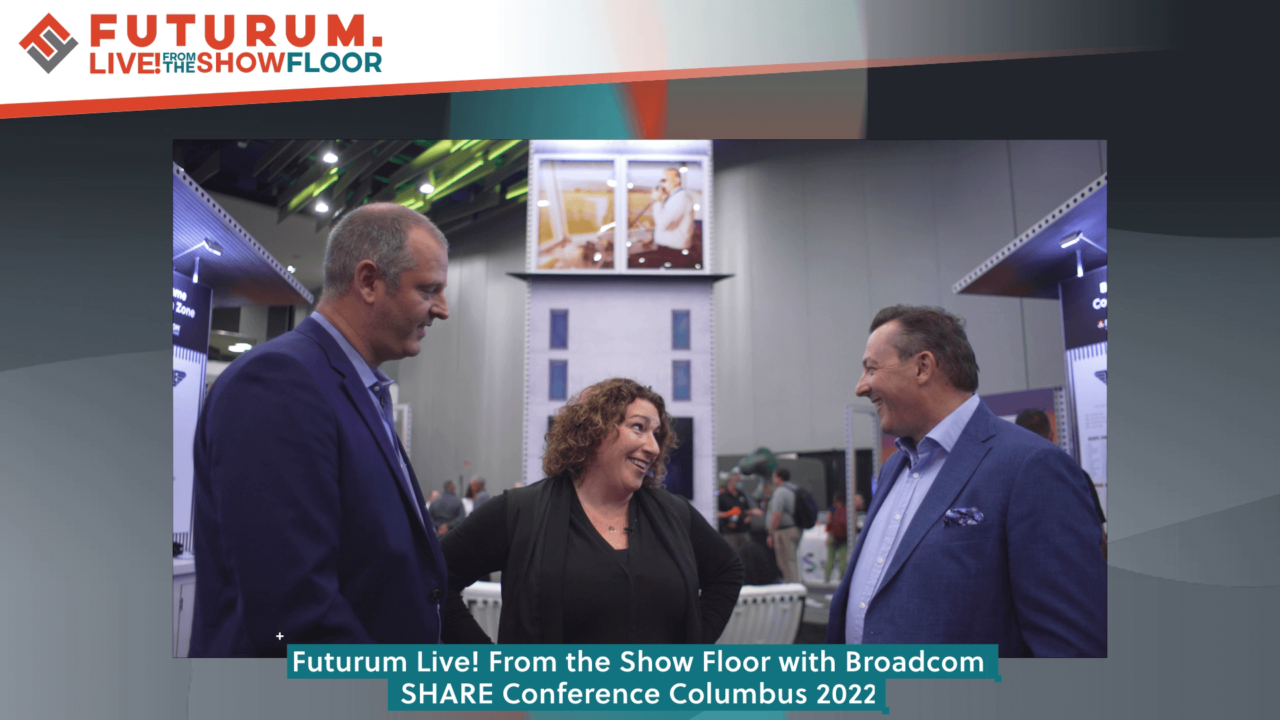 In this episode of Futurum Live! From the Show Floor, Futurum Research Senior Analyst and VP of Sales Steven Dickens talks with Broadcom's Director of Product Management and Strategy Deborah Carbo and David Stokes, Senior Director, Engineering during the SHARE Conference in Columbus. Their conversation focused on Broadcom's CA 1® FlexibleStorage™ solution, the newest addition to their mainframe software portfolio, how the new solution provides secure, cost-effective mainframe data storage options for hybrid IT environments, and what Broadcom is doing to help their customers leverage a hybrid cloud strategy.
To learn more about Broadcom visit their website.
Watch the full episode of Steven's conversation with Broadcom's Deborah Carbo and David Stokes here:
Or grab the audio by way of your favorite streaming platform:
Don't Miss An Episode – Subscribe Below:
Disclaimer: The Futurum Tech Webcast is for information and entertainment purposes only. Over the course of this webcast, we may talk about companies that are publicly traded and we may even reference that fact and their equity share price, but please do not take anything that we say as a recommendation about what you should do with your investment dollars. We are not investment advisors and we do not ask that you treat us as such.
Transcript:
Steven Dickens: Hello, and welcome to the Futurum Tech Webcast, Live from the Show Floor here at SHARE in Columbus. We're on the Broadcom stand and I'm joined by Deb Carbo and Dave Stokes. Welcome to the show.
Deborah Carbo: Thank you so much.
David Stokes: Thank you, Steve. Great to be here.
Steven Dickens: Great to be back in person. The buzz this week. We've got people back in person. It's so good, I think.
Deborah Carbo: It feels great to be around the community. It's such a supportive community and we've got so much education material here at SHARE.
Steven Dickens: So let's get the viewers and listeners orientated. Deb, lets, first off, do some introductions. What do you do for Broadcom?
Deborah Carbo: Well, I'm responsible for product management and strategy for our data management area, and that includes databases, database tools, storage, output management. Of course, I contribute as an executive here at Broadcom to the overall strategy for the division.
Steven Dickens: Fantastic. And there's lots to come back to in that. David, what do you do for the organization?
David Stokes: So a similar role to Deb, I lead engineering for our data management group.
Steven Dickens: Fantastic. So some great announcements here at the show this week. Know you've been doing a lot, particularly in the data and storage space. What are some of the things that you've launched this week that our viewers and listeners should be aware of?
Deborah Carbo: So one of the things that we hear from our customers is how they want to leverage a hybrid cloud strategy. It's critically important for several reasons, but also because they have their leadership team leaning into the infrastructure management to build cloud into a mainframe story. So we've launched CA 1 Flexible Storage, and this CA 1 Flexible Storage offering is providing our customers with tremendous flexibility on where to move their data for long term storage, and that includes the cloud.
David Stokes: And one of the beautiful things about that, it does it without having to make any operational changes to what you're doing today in your environment. So it gives you the flexibility to go.
Steven Dickens: I mean, we hear so much about innovation and there's kind of throwing away the old to get to the new. And when I got briefed on the CA 1 sort of announcements, that was one thing I wanted to understand more. You mentioned hybrid. We'll come back to that. But tell us a little bit more about that not needing to change what you've got on. Because I think that's key.
David Stokes: That's exactly right. So you don't have to throw away the old to get to the new. CA 1 is a part of hundreds and hundreds of mainframe customers' environments. It's part of their day-to-day operations. So as we look to leverage the hybrid cloud, we want to find opportunities to leverage existing technology with new technologies like cloud-based storage services. And what we've done with CA 1 is enhance it to give you the cloud as a target platform for your storage, for backing up your tapes and archiving. And it's already a part of your processes and systems so you don't really have to change in order to take advantage of that, like maybe other solutions.
Steven Dickens: So Deb, we're hearing a lot about hybrid. We've been here for a day and a half. That's a big term.
Deborah Carbo: Yes, it is.
Steven Dickens: That's a huge term. And it gets banded around this industry by guys like me and by product vendors alike. What does hybrid mean in the context of flexible storage?
Deborah Carbo: So the mainframe is a critical part of the enterprise. And we need the mainframe to be connected to all the other aspects that run that business. By enabling archival storage to move into a cloud environment, we give our customers flexibility in cost and they can reduce their overall cost, because it costs a lot to have…
Steven Dickens: That's key. That's key for lots of customers.
Deborah Carbo: … proprietary hardware on the floor and resources to manage that. But in addition, we give them the opportunity to think about the kind of data that they're archiving and choose the landing place that makes the most sense, depending on the qualities of service that you need for that data.
Steven Dickens: I mean, the cloud-
David Stokes: It's right in the name. Flexibility.
Steven Dickens: I was going to go there. That flexibility's just so key. So I think whoever came up with the name did a great job. Flexible Storage. I mean, am I reading that right?
David Stokes: No, you're exactly right. You pick where you want to store. You pick what kind of storage do you want to use. Do you want to go to the cloud? Do you want to keep it on premises? Do you want on disc? Do you want archive out to tape?
Deborah Carbo: In addition, I'd add from a security perspective, there is a tremendous increase in value from tightening the security from a volume level, which is what you see in the market today when you do your backups, all the way to the file level. And what CA 1 Flexible Storage is doing, it's taking advantage of what's available on the mainframe and the properties that customers have already invested in, such as pervasive encryption, quantum safe.
David Stokes: And I would add worm capabilities. So write once, read many. So it gives you an immutable quality at the file level to that data.
Steven Dickens: Fantastic. So you've made those announcements this week. What's been the reaction of clients? We're on the booth. It looks pretty packed. What have people been saying as they come on to the booth?
David Stokes: When can you get it to me?
Deborah Carbo: I needed it yesterday.
Steven Dickens: That's the product management feedback you want right there.
Deborah Carbo: Yes. Exactly. And it addresses a core use case of ransomware, which is holding companies hostage by locking their data. And that can be protected through this solution.
Steven Dickens: And is that the ability to put that out onto the cloud, gives you that offsite-
David Stokes: Immutability, qualities of the data, whether you're going to keep that inside, somewhere air gapped or in a cloud storage facility.
Steven Dickens: That sort of third copy that you can keep gives you that additional…
David Stokes: Can't be altered. Can't be changed.
Deborah Carbo: Yes. Exactly.
Steven Dickens: So literally to summarize your feedback, you're like, get it me now. Has that been the reaction?
David Stokes: That's exactly right.
Deborah Carbo: We are already partnering with our customers. They are actively assisting us in the development and the qualities that they want to see as we GA this in the next few weeks.
David Stokes: And the great thing, it's for customers who already have CA 1. So they're going to get the benefit of this innovation.
Steven Dickens: That was something I was going to bring you back to. This is included in CA 1? Is there an extra licensing? Kind of tell me a little bit about how that model's going to look.
David Stokes: It's a part of CA 1. So they get it through their entitlement for CA 1. So if you're a CA 1 customer, as we deliver this, this is going to be something you can take advantage.
Deborah Carbo: There's no contractual change to the license agreement. If you're already licensed and entitled to CA 1, all of this is yours now.
David Stokes: And we want them to be able to take advantage of it at day one.
Steven Dickens: I mean, we hear a lot in this industry, particularly in the mainframe space, about lack of innovation potentially. We talk about people, from a vendor point of view, locking customers. That's not what I hear from Broadcom. You guys are adding value, bringing extra, adding new capability into an existing framework.
David Stokes: And not just CA1; across the entire portfolio.
Deborah Carbo: That's right.
David Stokes: We continue to hire engineers, product management. We invest across the entire organization and the entire portfolio.
Deborah Carbo: And beyond code. So we're talking about code and the value in the products that are so well loved and used in the market. But we're focused on skills. We're focusing on other types of services that ease the pain and the burden of modernizing our customers in environment. They want to modernize, but they don't have resources. So we invest there as well.
Steven Dickens: I've been briefed on the beyond code. I think that's a fantastic investment you're making, not just in the products, but also in your customers.
Deborah Carbo: Yes. Yes.
David Stokes: Yes. And in the people. It helps develop the next generation of system programmers, application developers, DBAs. It's a fantastic program that we're really proud of.
Steven Dickens: So we've got to start to wrap this up. The booth's getting busy. They're starting to give away drinks to our left. So I think we're going to get a more crowded booth. What would the key takeaway? So if people aren't able to come to the show, what would you have them take away from maybe this short video, if they've only seen this, as they're looking to get an update from leaders like you?
Deborah Carbo: I would want them to contact us to ask us about what CA 1 offerings are, how it's changing. How is CA 1 changing with this flexible storage solution? I'd want them to contact us to help us understand what their needs are when it comes to opening the mainframe and enabling all of their application developers to have access to this data. Those are the kinds of things we want to hear from our customers.
David Stokes: It's simple. We're here to help. Reach out, work with us. We want to solve problems.
Steven Dickens: Is that engaged by your client teams, engaged…
David Stokes: Client teams. Reach out to us directly through our website, through your client teams.
Deborah Carbo: Our communities. We have excellent community support on our website.
Steven Dickens: So that's been fantastic. Really great interview. Lots going on. Great to be on the booth. Thank you very much for being on the show.
My name's Steven Dickens. You've been here with us at the Futurum Tech Webcast, brought to you live from SHARE in Columbus. Please click and subscribe for more content and we'll see you next time.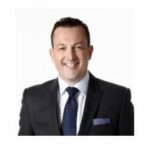 Steven Dickens is Vice President of Growth and Business Development and Senior Analyst at Futurum Research. Operating at the crossroads of technology and disruption, Steven engages with the world's largest technology brands exploring new operating models and how they drive innovation and competitive edge for the enterprise.  Read Full Bio.