Futurum Live! from the Show Floor with 21st Century Software at SHARE Dallas 2022
Futurum Live! from the Show Floor with 21st Century Software at SHARE Dallas 2022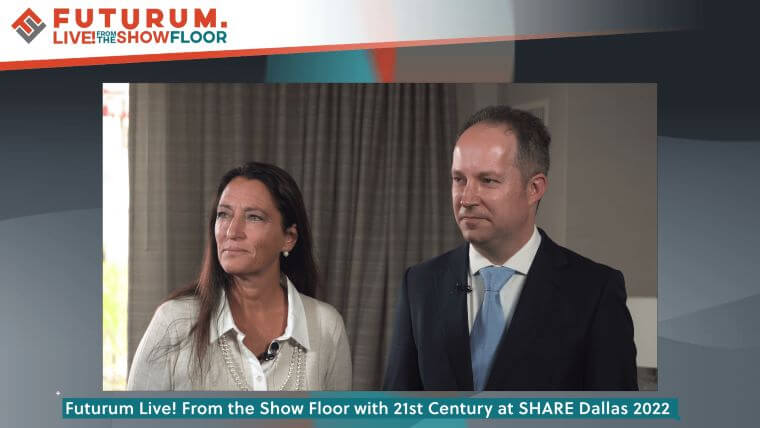 Futurum Research Senior Analyst and VP of Sales Steven Dickens talks with Rebecca Levesque, CEO of 21st Century Software, and Gonzalo Muelas Serrano, the company's VP of Research and Development for VSEn, during the SHARE Conference in Dallas. They covered 21st Century's growth, some of the interesting things they've been doing in the mainframe space, and what their latest announcement, VSEn, means for their customers.
Check out their website to learn more.
You can watch the video of their conversation here (and subscribe to our YouTube channel while you're there):
Or listen to the interview on your favorite streaming platform here:
Don't Miss An Episode – Subscribe Below:
Disclaimer: The Futurum Tech Webcast is for information and entertainment purposes only. Over the course of this webcast, we may talk about companies that are publicly traded and we may even reference that fact and their equity share price, but please do not take anything that we say as a recommendation about what you should do with your investment dollars. We are not investment advisors and we do not ask that you treat us as such.
Transcript:
Steven Dickens: Hello and welcome my name's Steven Dickens, and we're coming to you from SHARE in Dallas. For a future and live from the show floor. I'm joined by Rebecca and Gonzalo from 21st century. Welcome to the show.
Rebecca Levesque: Thank you.
Gonzalo Muelas Serrano: Thank you, Steven.
Steven Dickens: It's great to have in person events back.
Rebecca Levesque: I know, it's great.
Steven Dickens: You can feel the energy down there on the floor. People just good to, we bumped into each other last night. It's just good to be back in person. Don't you think?
Rebecca Levesque: Oh, absolutely. That's how you really can help and share. That's a whole point of SHARE, right?
Steven Dickens: We've been able to do this job remotely for the last couple of years, but it's so much better to be back, I think.
Rebecca Levesque: Absolutely.
Steven Dickens: So tell us a little bit, Rebecca, about 21st century, give us a bit of an overview for the listeners and the viewers.
Rebecca Levesque: So 21st century software, as many people know out there, has been around for many, many, many years, right? But I'm sure people have noticed a little bit of difference in the last few years we've been growing. We've been doing a lot of really interesting things.
And I think today we're going to talk mostly about what we just announced on Friday, which is VSEn, to the power of what is possible. Right.
Steven Dickens: And that's a segue to you Gonzalo. I know you've been in instrumental in that. Tell us a little bit about the announcement. Fantastic as that is before the show. Tell us little bit more.
Gonzalo Muelas Serrano: Right. So we need to step back and maybe recall what we announced first in June. In June, we announced last year that we had a source code license agreement with IBM. So we got the source code for IBM CVSE at that time. And with that, we have now the opportunity to create a derivative product that is totally compatible to what IBM has offered. And that's what we call VSEn version six dot three. And in that we're including the base part of the stack for the beginning, we call it OLTP, that's what IBM called kicks. VCDD, that's what IBM called VTAM and also TCPIPS tax that the customers are used to, and we'll be providing more functionality with the years. We have invested on new team, we have been doing skill transfer with IBM and that's working very fine.
Steven Dickens: I think this is a really foundational moment for the mainframe. VSE been a longstanding platform, and I think having 21st century as the steward of that going forward is really foundational. What's the reaction been from the clients? I know we're only a couple of days, but I can imagine your emails lit up already.
Gonzalo Muelas Serrano: So far the reaction has been very positive and I'm very excited how the rest has been moving forward. The customers of course want to understand what is it, why did we need to change the names? Those are some questions that we can very answer, but important is that those name changes, it just marketing product change of the names, but really the commands of the APIs have not been changed. So the customers should be totally compatible to the way they used to work with IBM CVSE now should be continue to be compatible.
Steven Dickens: So if there's anything from a JCL perspective or a coding perspective, it's same as it was?
Gonzalo Muelas Serrano: Correct.
Steven Dickens: Just marketing going forward, Rebecca.
Rebecca Levesque: One of the really nice things though that we're doing, and Gonzalo has done a really great job is when you go to and you see mature people who are really knowledgeable on VSE, and now they're training young people. And so what's happening is this revitalization and all of these people that are really interested. It's a lot of fun that team is fantastic that he's building and that's the support that we're starting with in learning and driving. So that's part of what we're doing with VSE. It's not just about functionality we would hope to get to, but it's also about making sure the ecosystem is strong and that Z is strong.
Steven Dickens: And that gives me a perfect segue. What can we be expecting next? Obviously, a lot of work, we spoke about it off camera. A lot of work's gone in over the last year or so to get to where we are today, but what can we expect going forward?
Gonzalo Muelas Serrano: Well, for sure, and we have put some part of it already in the announcement, but for sure we want to continue supporting IBMC new coming generation hardware. We want also work with public cloud providers to offer also a VSE on the public cloud. That should be also very important since lots of the companies, they have a cloud strategy where they want to have the choice that if they want some workload in the cloud, that they have the possibility to put it there, but it needs to be a cloud offering the Z capabilities. So that's also very important for us to choose the right provider there. And then of course, the rest of the stack, we have been enabling a minimum part of the stack and we will continue enabling the rest of the stack. And then there are different other things around security and also hybrid cloud that we will want to do as well.
Steven Dickens: Fantastic. Fantastic. Anything else from you, Rebecca, that you'd like to highlight in the future?
Rebecca Levesque: I think what's really important is that ZVSE now VSEn is in good hands and we're going to drive it forward in a very positive and Gonzalo is the right person to be driving this. He understands the ecosystem, he understands the product, and that is something that the customers can now feel good about and continue with their journey. And if they want to go towards cloud, that's part of our direction, if they want to keep it on prem, that's part of our direction, it's going to be flexible. And the customers have skilled people learning the products so that they can feel comfortable about the platform.
Steven Dickens: I think the big takeaway for me is the stewardship of VSE is now assured 21st centuries invested heavily in that over the last few months, and it's got a strong plan from some of our conversations to continue to invest. I think there is exciting times ahead. Fantastic summary, really excited by what's ahead. Really looking forward to what the future for VSE under 21st century stewardship. Thank you for joining us here. Live from the show floor at SHARE in Dallas. We'll see you next time.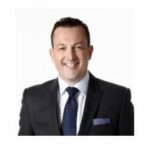 Steven Dickens is Vice President of Growth and Business Development and Senior Analyst at Futurum Research. Operating at the crossroads of technology and disruption, Steven engages with the world's largest technology brands exploring new operating models and how they drive innovation and competitive edge for the enterprise.  Read Full Bio.