Futurum Live! From the Show Floor at Enterprise Connect 2023 with Salesforce's Ryan Nichols, SVP & GM Contact Center
Futurum Live! From the Show Floor at Enterprise Connect 2023 with Salesforce's Ryan Nichols, SVP & GM Contact Center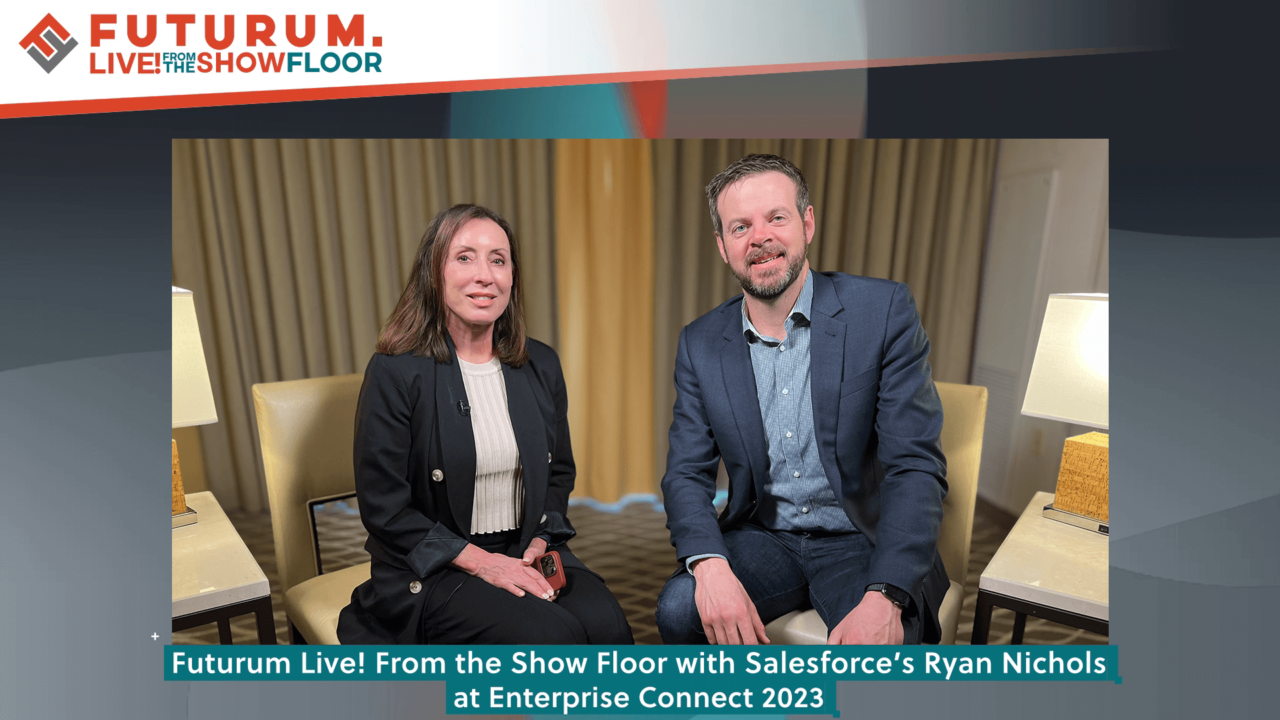 At Enterprise Connect 2023 held in Orlando last week, I had the opportunity to chat with Salesforce's Ryan Nichols, SVP & GM of Contact Center as part of our Futurum Live! From the Show Floor video interview series.
My conversation with Ryan was terrific and centered on the following:
This is a contact center show – what is Salesforce doing at Enterprise Connect?
Thoughts on what customers are looking for in Salesforce as it relates to all things customer engagement
What companies are thinking about — and perhaps should be considering — as they are considering utilizing and/or maximizing Salesforce's offerings (including Data Cloud, Marketing Cloud, Contact Center, etc.) and how these all can be woven together to help customers deliver on the customer experience front.
Watch the conversation here:
Or listen to the audio here:
If you've not yet subscribed to the Futurum Tech Webcast, hit the 'subscribe' button while you're there and you won't miss an episode.
Disclaimer: The Futurum Tech Webcast is for information and entertainment purposes only. Over the course of this webcast, we may talk about companies that are publicly traded and we may even reference that fact and their equity share price, but please do not take anything that we say as a recommendation about what you should do with your investment dollars. We are not investment advisors and we do not ask that you treat us as such.
Transcript:
Shelly Kramer: Hello, I'm Shelly Kramer, principal analyst at Futurum Research, and I'm here today with one of our Live! From the Show Floor video series interviews, coming to you from Enterprise Connect 2023 in sunny Orlando, Florida. And I am joined today by Ryan Nichols, who's the senior vice president and GM of Contact Center for Salesforce.
Hello, Ryan.
Ryan Nichols: Hello, Shelly. Thank you so much for having me.
Shelly Kramer: Absolutely. It's my pleasure. So, this is a contact-center show. What are you doing here?
Ryan Nichols: I appreciate the question. And it's a real one. Salesforce has had a vision for a while now of taking the technology that formed the root of a traditional contact center, which is really defined by the complexity of handling real-time phone channels and saying, "Well, what does that look like in a broader world? How do we use those same capabilities of three-letter acronyms, your IVR, your ACD, your CTI, and reinvent them for a world where the phone isn't the start of a conversation with your customer-"
Shelly Kramer: My goodness.
Ryan Nichols: … The customer journey starts… Everyone wants to help themselves, everyone wants to educate themselves, and the journey starts well before you pick up the phone call. And our approach to powering everything from when a customer is first exposed to your brand to when they go through a purchase experience to when they're using your product or service and having an issue, that's all one customer journey. We call that the Customer 360. And coming here and talking to our customers and partners about that vision and how to migrate from a traditional voice-centric contact center to a broader customer-engagement center, it's been my favorite conversation of the week.
Shelly Kramer: Yeah, absolutely. I think we talked about this a little bit this morning, too. We are so wired to do it yourself. I mean, the last thing I think about is making time or the effort to pick up the phone and call somebody. My customer journey is, I want to be able to quickly and easily navigate a process, figure it out. And we are morphing into… We've got another couple of generations in the workforce who are digital natives, who are used to figuring things out on their own. So it's really interesting to sort of see this contact-center evolution. And it really is all about giving customers what they want, when they want it rather than making them slog through old, legacy processes.
Ryan Nichols: There's certainly a role for a phone call. Nothing is more powerful than the human voice at conveying urgency and emotion. But let's have that be the escalation and not the start of a journey. And please, let's not force our customers to start over from scratch when they do get to that point of urgency where they pick up the phone because something is wrong and you're starting as if I haven't been spending the last 30 minutes waiting and trying to find my own answer on your self-service site and I'm frustrated and I'm stuck. The agent needs to be able to pick up right where the customer is in their journey.
Shelly Kramer: Right. Absolutely. I know you've been having a thousand conversations over the course of the last day and a half of this Enterprise Connect show. So tell me a little bit about what you're hearing. What is it that customers are really looking for from this platform in particular as it relates to engagement in this process?
Ryan Nichols: Well, especially in these times, with these macroeconomic conditions and so much uncertainty, I think every company here is being asked to do more with less.
Shelly Kramer: Right. We just talked about that with Sameer in an earlier conversation. That's like the theme song of 2023. "Let's do more with less." How can we-
Ryan Nichols: Saddest theme song, perhaps, but there's opportunity there because customers… Like, a low-effort process is a win-win. A low-effort process is a win for customers who just want help with their issue and it drives down cost to serve. So, that starts with connecting all these different parts of the experience together in seeing it as one journey. But then the next stage is shifting different parts of that journey to help you scale. So, take something that used to require a visit to the branch or the store or rolling out a truck to visit a customer on their site, and shifting that to a digital interaction instead. Just taking something that used to take a phone call and let's handle that via a modern messaging channel that's asynchronous so customers can engage with you on their time. And let's take something that used to take getting a live agent on the phone, and boy, if you can help a customer find their own answer, whether it's through a bot or through a self-service experience, each of those shifts drives a tremendous ROI, and customers love it.
Shelly Kramer: Right. Absolutely. Talk with me a little bit about… When we talk about this technology, these capabilities, it sounds like an investment. Talk to me a little bit about what that really looks like, because I think in times of do more with less, people want to know "What is this going to cost me?"
Ryan Nichols: Yeah. Well, you need a business case-driven roadmap to shift a scale. And connecting all your channels together and driving an ROI requires a different starting point depending on where you are with your customers. And for some companies, that's starting with the channels. Let's introduce a digital channel every time a customer is reaching out via phone. Let's offer them the chance to connect with their customers via SMS. Every time, wherever it is that they find your phone number to begin with, make sure there's a self-service experience there. Those type of experiences just pay for themselves. Sometimes it's the channel, sometimes it's automation. Bots don't need to be a major investment, right? You don't need a team of data scientists anymore in order to deploy a bot. Just a simple automated interaction that our customers are seeing incredible ROI on. Work with a major retailer who used to handle so many of their return requests in the contact center. And they've deployed a bot now that handles 80% of those return requests without talking to a person.
Shelly Kramer: Wow, talk about ROI there. Hello.
Ryan Nichols: Huge ROI, huge ROI.
Shelly Kramer: Wow.
Ryan Nichols: And then sometimes it does come back to agent productivity, where making people more productive is a challenge because as you invest in self-service and automation, the things that get through to the contact center are more complicated than ever. The simple stuff is now… The processing returns is now being handled by a bot, so it's the exceptions that come in. That means investing in your people, helping them develop the skills that they need, making sure that the right work is getting to the right person and that your agents are armed with all the context they need so that they can, again, pick up from the customer journey right where they let off and armed with the next best action.
That's why we're so passionate. Underneath all these different starting points, it's about bringing your data together and getting your entire customer journey into one spot. That's what we call data cloud. This is basically, instead of the traditional "Everything has to be in your CRM," we have a fundamentally-new data architecture for Salesforce where you can pipe in data from wherever your customers are engaging with you and then have that in the same system that powers intelligence recommendations for your agents, powers your bots, powers the Einstein GPT announcements that I know you've been talking to Sameer about. All of that is made possible by bringing your data together. So, data cloud is really the fundamental investment that unlocks all these high-ROI capabilities.
Shelly Kramer: Basically, you answered my first question again in a different way. Why Salesforce is here at Enterprise Connect that's basically a contact-center show? I mean, really, this weaves through everything with data being foundational. How do we access that data? How do we serve up better customer experiences? How do we decrease the load, the very heavy load that our contact-center agents are carrying? How do we take the mundane, banal tasks off of their plate and reserve them for the critical-thinking situations, the volatile situations where we really need that empathy and human action and everything else, right?
Ryan Nichols: That's exactly it. That's exactly it. I mean, one of the panel discussions that I had the privilege to be part of on Monday was what comes after CCaaS. And this was the heart of the conversation. Everyone on the panel, which included traditional contact-center vendors as well as traditional CRM vendors like Salesforce, we all agreed that what's past contact center as a service is whatever the acronym you choose, it's customer experience as a service. Putting those things together, that's what's most important.
Shelly Kramer: Yeah, absolutely. Well, I don't think I could have said it any better. Ryan Nichols from Salesforce, thank you so much for joining me. It's been a fabulous conversation. I knew it would be.
For those of you watching and listening to our Live! From the Show Floor series, thank you for joining us. And I can't wait to hear more about this as it continues to evolve.
Ryan Nichols: Still have some more days of the show to go. So, thank you, Shelly. Appreciate it.
Shelly Kramer: All right. Great. Thank you.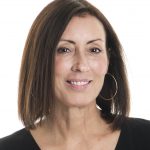 Shelly Kramer is a Principal Analyst and Founding Partner at Futurum Research. A serial entrepreneur with a technology centric focus, she has worked alongside some of the world's largest brands to embrace disruption and spur innovation, understand and address the realities of the connected customer, and help navigate the process of digital transformation. She brings 20 years' experience as a brand strategist to her work at Futurum, and has deep experience helping global companies with marketing challenges, GTM strategies, messaging development, and driving strategy and digital transformation for B2B brands across multiple verticals. Shelly's coverage areas include Collaboration/CX/SaaS, platforms, ESG, and Cybersecurity, as well as topics and trends related to the Future of Work, the transformation of the workplace and how people and technology are driving that transformation. A transplanted New Yorker, she has learned to love life in the Midwest, and has firsthand experience that some of the most innovative minds and most successful companies in the world also happen to live in "flyover country."