Digitizing HR Document Processes: A Gamechanger for HR Departments Everywhere – Futurum Tech Webcast Interview Series
Digitizing HR Document Processes: A Gamechanger for HR Departments Everywhere – Futurum Tech Webcast Interview Series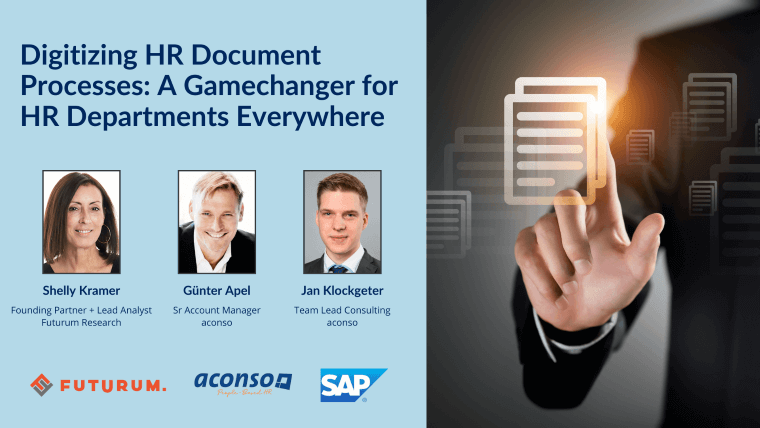 In this episode of the Futurum Tech Webcast, Interview Series, I'm joined today by Günter Apel, Senior Account Manager at aconso, and Jan Klockgeter, Team Lead Consulting at aconso, for a conversation about digitizing HR documents from recruitment to personnel files and the difference that can make for HR departments and organizations as a whole.
Our conversation started with a discussion about HR document management and what fully automated processes mean for HR pros (think document creation, document management, internal comms and more), as well as the role a digital personnel file can play.
Some Background on aconso
aconso is not new to this space, having long been regarded as a market leader and innovator for HR document management. The company has been setting new standards for digital HR departments with its vision of fully automating HR processes and a mission of enabling HR to focus more on the company's most important asset – the employees. aconso the inventor of the digital personnel file, and is deeply integrated in SAP SuccessFactors.
Günter walked us through some of the capabilities of the aconso offering, which include:
Enabling efficient collaboration between HR staff, employees and managers, thus reducing the administrative burden on the HR department.
Helping customers digitize document management, document creation and internal communication, including scanning and logistics, offering an all-round service from a single source.
The Challenges Presented By the Move to Digital Operations
Our discussion included a conversation around how the business world shifted last year during the pandemic, in some instances requiring a move to completely digital operations. We spoke about how this impacted HR processes and what aconso's customers have been experiencing in terms of challenges. Günter and Jan shared that as mobile work from home came into primary focus, that presented challenges to companies in managing paper-based processes in the organization. Examples of customer challenges on this front include:
Having both flexible and individual insight into personnel files for employees or management.
Receiving and archiving documents from HR processes like certificates (sickness, maternity leave, recruiting and onboarding documents…)
Affording a collaborative approval processes in heterogeneous environment.
Transparency for decision processes which are based on centralized information and documents.
Recurring creation and validation of documents by a team (contract creation and changing)
Jan shared some insights into customers and what roadblocks they have been seeing customers experiencing with HR document processing and storage. Organizations need to manage digitization efficiently, and it must also be aligned to global requirements. He also touched on how harmonization of the system landscape is important, especially with regard to investment protection and cost savings.
We also discussed the benefits of futureproofing and the lessons we learned over the course of the last 18 months or so as we navigated a global pandemic.
The aconso Digital Personnel File
Why is digital management of HR documents so critical for companies today? Günter shared some benefits of aconso's Digital Personnel File solution, including:
HR departments in enterprise organizations often have hundreds of files on employees, new hires, recruitment processes and more. Storing things in filing cabinets won't cut it in today's digital world. Digitizing everything and making it accessible through SuccessFactors improves management, collaboration, and transparency.
End-to-end digital processes – including automatic digital document creation of contracts, references and many more – account for tremendous time savings for our customers.
Follows global sustainable archiving standard and compliance rules.
Günter shared that the aconso Digital Personnel File integration enhances the solution by enabling enterprise organizations to manage all data and HR documents with a single tool. Organizations that use the aconso solution enjoy a seamless end-user experience within SAP® SuccessFactors® reducing the amount of time it takes to retrieve, create, and process a document.
Who Can Benefit the Most from a Digital Personnel File solution?
Our conversation shifted to what kinds of organizations might benefit the most from aconso's Digital Personnel File solution. Jan and Günther shared that aconso's customers tend to be large enterprises of all industries who have several sites and are dealing with a tremendous amount of HR documents.
One use case example they shared was a McDonald's in Germany with 60,00 employees and an annual revenue of approximately $3.8 billion USD. Using the aconso solution for contract creation, reference creation, and compliance for HR document completeness, the organization was able to save upwards of $1 million per year.
Another example was an aconso client in the pharmaceutical industry with over $50 billion USD in revenue and over 100,000 employees globally. Using aconso's solution for the harmonization of requirements and processes and streamlining individual training concepts for different locations, by way of a standardized global document archive, an SAP integration, location-individual document templates, and continuous digitization-service for documents the company was able to realize significant savings.
Need Speed? The Newest Iteration of aconso Digital Personnel File in SAP SuccessFactors is The Answer
We wrapped up the conversation today talking about new features and developments the team at aconso is excited about. Jan shared that aconso has just launched a new best-practice-introduction of the Digital Personnel File in SAP SuccessFactors. Even better, this starter solution is ready to use in just a few days, which enables customers to get started with HR digitization quickly and easily. Customers work in a familiar SuccessFactors environment with a full range of functions.
Optionally, customer-specific adaptations and processes can be implemented subsequently. Jan shred that aconso sees their cloud solutions significantly reduce the implementation time and therefore accelerate the digital transformation of HR departments.
Another interesting solution is aconso's HR document box, which provides employees with mobile access to pay slips, tax documents, or social security documents at any time, even after they have left the company.
You can watch our conversation on video here:
Or stream the audio on your player of choice here:
Don't Miss An Episode – Subscribe Below:
Disclaimer: The Futurum Tech Webcast is for information and entertainment purposes only. Over the course of this webcast, we may talk about companies that are publicly traded and we may even reference that fact and their equity share price, but please do not take anything that we say as a recommendation about what you should do with your investment dollars. We are not investment advisors and we do not ask that you treat us as such.
More insights from Futurum Research:
DISH Goes with IBM AI-Powered Assets to Advance Cloud-Native 5G Network Build
Amazon Expands Climate Pledge with 86 New Signatories including HP, Salesforce and Procter and Gamble
AT&T Phone-Unlocking Malware Scheme Costs Company $200 Million and Shines Light on Potential Threats
Transcript:
Shelly Kramer: Hello, and welcome to this episode of The Futurum Tech Webcast. I'm your host Shelly Kramer. And I'm joined today as part of our interview series by Günter Apel, the Senior Account Manager at aconso, and his colleague Jan Klockgeter Team Leader of Consulting at aconso.
And we're going to talk about something that I'm fascinated by, which is all things, HR and HR tech, and our conversation today is going to be about digitizing HR documents, ranging from recruitment files to personnel files and what a difference that could make for personnel departments and for their organizations as a whole. If you were interested in that, this is where you want to be and the conversation that you want to be a part of. So, gentlemen, welcome. It's great to have you.
Günter Apel: Thank you very much.
Shelly Kramer: Absolutely.
Jan Klockgeter: Thank you.
Shelly Kramer: Absolutely. So Günter, tell me a little bit, if you would, about your background, your career path, how you ended up where you are today at aconso.
Günter Apel: Okay. Yes. My role as a senior account executive at aconso. I'm managing the large and enterprise customers, and I'm responsible for the international business segment here out of Germany. So I've been with aconso for almost four years and provide many years of experience in the field of management consulting, IT consulting, especially in the HR and the HR IT area. So I'm supporting and advising my clients on the digitizing of document management, usually as a part of HR transformation engagement, which is already running at our customers.
Shelly Kramer: That's awesome. HR transformation. That's a big space, and there's a lot going on there. I've been involved in HR transformation for a decade. One more actually is the speed at which change happens is been going more rapidly and more rapidly and that's not going to slow down anytime soon. And that's exciting. So Jan, let's hear about you and your background.
Jan Klockgeter: Yes. My name is Jan, and I finished my studies eight years ago. I studied business administration in Germany and in Oklahoma, USA. My focus was human resources, and then I got my first job at an IT consultant company. Well, I missed the focus of HR consultancy at this point and therefore found with aconso a great employer that allows me to combine my focus for the human resource processes with my interests in the IT part. And therefore, I think I found the ideal combination of both interests here at aconso. Currently, I'm working as a team lead for our consulting department in Switzerland.
Shelly Kramer: That's awesome, Oklahoma. I heard that. I happen to be based in Kansas City, Missouri, which is not terribly far from Oklahoma. Both states squarely in what we like to call the flyover country here in the United States. But that's really great. Some day we'll have to talk offline about your journey from Germany to Oklahoma because that really is kind of the middle of nowhere.
Jan Klockgeter: Yeah. That's true.
Shelly Kramer: Very interesting. Very interesting. See why I love to do these conversations. I love to include background in these conversations because I think we just learned such interesting tidbits about one another. So we're going to talk now about HR document management and what fully automated processes mean for HR pros.
And by that, I mean, think about things like so many things, but just for starters, document creation, document management, internal communications, all of the pieces that comprise HR and HR operations that really touch employees, both in the recruitment process, the onboarding process, and then the process as they continue their employment with the organization.
There's just so many tiny little pieces and so many documents in an old-school fashion that we kind of have to chase around. So I'm really fascinated by what the aconso is doing and the role that a digital personnel file can play.
Even better, I know that aconso is not new to this space. This is not just a tech startup that just launched in the last few years. This is a company that's really been around for a significant period of time. So Günter to talk with us a little bit, if you would about aconso and how the digital personnel file came to be.
Günter Apel: Yes, of course. Aconso is the inventor of the digital personnel file and a market innovation leader for HR document management. And aconso solution has been deeply integrated into SuccessFactors, the SAP solution, HR out of the cloud. So since 2001, sorry, the aconso group has been setting new standards for the digital HR department, this vision of fully automatic HR processes.
So we enable HR to focus more on the company's most important asset. And I think this are the employees and we also enable efficient collaboration between HR staff, employees and managers and so far reducing the administrative burden on the HR department. Therefore, we help customize, digitize document management regarding document archiving, document creation, and also, what you mentioned before, internal code indications, including end-to-end scanning services of already existing or still existing paper.
Shelly Kramer: I am a big believer in the importance of culture, and happy employees are happy to get up in the morning and come to work and do their jobs. And it's a little bit about like Jan talking about how he had one job, but he missed another, he missed doing something else.
And so, work is a reality for most of us. But being able to do something that you love with company that you love and people you love and being able to focus on the work that you enjoy and that fulfills you and taking care of customers or whatever your role is within an organization.
I think that's a culture is a really big thing. And sometimes we get so immersed in things that we don't step back and realize the role that something like the administrative tasks that are part of HR operations that play a big role in how happy employees are.
Things shouldn't be difficult, whether it's, again, part of the recruitment process or onboarding or any kind of holiday requests or finding out information about insurance benefits or whatever. So there is just so much at play in HR as a whole. It's really, I think, important. And it's not difficult to see the connection between automation and digitization, and efficiencies of processes make a huge difference on everybody, not just on the HR team as a whole.
Günter Apel: Absolutely correct. Absolutely.
Shelly Kramer: We are in agreement there, aren't we?
Günter Apel: Yeah.
Shelly Kramer: So one thing I'd like to talk about, as we are all aware over the course of the last 18 months, the business world has shifted significantly as we've dealt globally with a pandemic. And in some instances, I would imagine this necessitated a very quick pivot on the part of some HR teams to completely digital operations.
And what I'm interested in is the impact of navigating a pandemic on HR processes. So what I'm looking for is share with us what your customers have experienced during this process. But what I'm also interested in is we saw many other organizations who were perhaps making plans to embrace some facet or another of digital transformation and budgeting to do that, but doing things with a mindset of like, "That's kind of nice to have, but we're not quite ready to do that."
And then what we saw, when a pandemic happened that nobody expected, was holy moly. That's a technical term. We've got to shift immediately. So I'm interested in how the events of the last year and a half impacted your customers. And then I'm also interested in did you see any kind of quick shifts that maybe customers weren't expecting to take that did take? I'd love to hear a little bit more from you about that?
Günter Apel: Mm-hmm. Yes.
Jan Klockgeter: Günter, do you want to answer that one? Or do you want me to reply to that?
Günter Apel: No. I think it's your part.
Shelly Kramer: Jan, don't be shy. Jump in there.
Jan Klockgeter: You're welcome. Now, I think that's really an interesting topic, and I quickly want to refer to the cultural aspect that you mentioned because the work culture is constantly changing and the pandemic accelerated this change even more. So nowadays where people are working in home office situation several hundred or a thousand miles apart from each other.
It is more and more important that papers and processes are accessible from all over the world. It's no longer impossible that all our employees come together at a certain spot and access documents or data only at this spot. So these facilities, the whole movement towards cloud solutions on the one hand. And this is just one aspect that was accelerated due to the pandemic situation.
Another aspect is, for example, our legal requirements that are also constantly. Basically, some people say that they are cost over administrative work, but at least they cause certain requirements that have to be met in the personal administration of company.
So, for example, today, we have to comply with data retention management. We have to comply with ISO norms, information and security governance, and so on and so forth. And these requirements can only be met by digital systems because no one will be able to destroy papers or data after individual retention times. No one ever does that. So, therefore, it's important that you have an automatic retention management established with a digital software solution.
Shelly Kramer: Yeah. Absolutely. Absolutely. I think the question that I'm lobbying to you so you can lobby it back to me if you want. Do you have instances over the course of the last year and a half where you saw customers who maybe weren't quite yet ready thinking they were quite yet ready to embrace this digitization process who had to kind of make a quick shift and realize, "Oh my gosh, we absolutely have to do this." Did you experience any of that?
Jan Klockgeter: Yes, definitely. Especially in the public sector. So I would say that the private sector was prepared for this situation because the shift towards cloud software is an ongoing process for quite some years now. But then the public sector, for example, public transport where we had some of our customers who are not prepared and they really had an issue the documentation was not available for employees. They did not know how to contact the HR department, for example. So we really had some issues there. Yes.
Shelly Kramer: And you were able to map out a plan?
Jan Klockgeter: Yeah, definitely. As Günter already mentioned, we also offer scanning solutions. So we were able to digitize documents and data for these customers. It was tricky for us because we have several customers at the same time, but in the end, it was a year with a lot of work for us, but it was also very successful and interesting.
Shelly Kramer: So one of the things that I really like to talk about a little bit more is that one of the realities for all of us is that we shifted to working from home and we became increasingly reliant on our mobile devices and being able to use our mobile devices to actually get things done. So talk with us a little bit Günter about that. And what you've seen as it relates to sort of that mobile work from home focus.
Günter Apel: Yes. Thank you. I think it's really important topic. We recognize the last two the last few years also regarding the pandemic globally, and other mobile work from home came into absolutely primary focus. And the challenges we have to manage on a paper-based process on an organization are divided in some, I think important criteria.
The first criteria is really to enable flexible insight into individual personal files for employees and management also because they are not able to go to the office. There needs to explain that to go in the home office. And this is one of the big topic to be flexible insight and just getting insight on a personal file.
The next step is also important. Archiving of documents provided by the employee lifecycle. As you mentioned before, that documents are really coming from the different area from different stages like recruiting, onboarding, and recruiting documents like contracts, CVs, or onboarding documents for providing IT environment, or just a fulfilling compliance documents for the new employee.
Also, learning certification anymore on any, this kind of documents. There needs to be really archived in a kind of fairly centralized manner. And this is important having this in place. Addition to these just archiving topics, the kind of also automatically creation and validation of documents by dedicated team comes in more and more in focus because this is absolutely not a TCO.
Total cost of ownership is also a return of investment topic in our organizations just really to automatically generating contracts, maternity letter, departments move and confirmations, all these things. What really causes lots of manual work at Teams. It can be really approved lots of this kind of business administration topics now.
Shelly Kramer: And really just making it easier for everybody. We've all sort of experienced slogging through a process or a document creation or whatever, but we've also experienced when you're doing something on this computer that you hold in your hands, and it's amazingly easy and efficient, and it does exactly what you want to do.
It just is a game-changer, so it's really great. I think that again, there are many silver linings to what we've been dealing through. There are many negative things, but I try to look for the silver linings that a pandemic has taught us. And I think that it's shift to mobile and the really primary role that mobile devices play in all of our lives and how we can empower them within an organization. I think that that, that is a really important thing.
Günter Apel: Absolutely correct. What you mentioned before, also just looking at the kind of cultural aspect is more and more important to having a kind of service-oriented and collaborative working environment in this kind of heterogenic environment, you know what I mean.
That people are really able to work just in the home office, but they have to feeling really are still together and have the kind of able ability to see each other, like we, and really to communicate between and have a kind of collaboration opportunities. I think is really important also from other solution side, having this kind of things in place.
Shelly Kramer: Absolutely. I think there's been a lot of research on that, especially over the last year and a half, but that human connection that we used to get and took for granted when we all went to an office every day and that the human connection and the collaboration and the ease of that, I think.
And again, we talked on this earlier, and Jan talked about this a little bit. It's just, culture is just a primary building block of any organization and helping to create processes and using technology in ways that streamline the onerous tasks. I think it's all about what makes a place a great place to work. And I think that's what people are looking for, right?
Günter Apel: I agree. Yeah. Absolutely. Yes.
Shelly Kramer: Absolutely. So I'd love to talk a little bit about customers and some of the roadblocks that you've seen customers experience in general, and maybe specifically over the course of the last 18 months or so with HR document processing and storage. Jan, do you have any thoughts on that?
Jan Klockgeter: Yes. So this is really an important topic. The roadblocks really where we're lying and the digital transition as such. So the goal has to make it fully digitized process. We call that 100% digitized process seamless flows without paper, and to reach that that's sometimes difficult.
And there different roadblocks from obstacles for this digital transformation, for example, there's legislation, and in some countries around the world, it's not allowed to use digital signatures for certain kinds of documentaries. Then you have to print out documents, and you do not have 100% digital workflow anymore. Of course, there that's a problem.
We can consult our customers regarding the legislation in different countries. And we always try to find a way to implement 100% digital processes. Furthermore, of course, we have an own development department, and we adapt to legislation changes. So, for example, if when Europe it was introduced that the data retention management is meant to be by law.
We equipped our software solutions with a retention management processes. So our customers can define for each document type when it should be deleted and the software does the job automatically.
Shelly Kramer: I think that's a huge thing. And essentially, I don't have to stay on top of the regulations and the changing rules and that sort of thing. I could rely on a software solution that does that for me.
Jan Klockgeter: Yes, absolutely. Correct. Yes. And therefore, this is basically then another benefit of digitization. So not only is the process way quicker than it was before, but you do also do not have to check the legislation and things like that.
Shelly Kramer: I think that's a really important part of this value proposition. So let's talk a little bit about the benefits of future-proofing. Again, another silver lining has come out of a pandemic is that organizations have realized the importance of business continuity, business resilience, and thinking ahead, and thinking about future-proofing their organizations. I'd love to talk a little bit about the future-proofing, a digitization roadmap that spans the entire HR system landscape. One of you want to tackle that one for me?
Jan Klockgeter: Günter, do you want?
Günter Apel: Yeah, at the one hand, it's my part. I think one important thing is IT departments. Enterprise organizations usually have hundreds of documents for employee and files, which has been accumulated over the years, and storing paper files in file cabinet won't cut in today's digital world.
I think this is one of the wonderful, most important thing, bringing a really all the things in the digital world. So digitizing everything by aconso and making it accessible through success factors improves management collaboration and also transparency in, and for HR to get to maintain interest with you to creating decision-making processes is important.
Shelly Kramer: That makes perfect sense.
Günter Apel: End-to-end digital processes accounts for tremendous time savings for our customers, so what we mentioned before and what also just Jan mentioned before is following global sustainable archiving standards and compliant rules comes more and more focused like GDPR. Jan mentioned before, ISO 27001 also having a look on the global market sub one and sub-two are important criteria which the organization needs to have in mind.
For aconso digital personal file integration enhance the solution by enabling enterprise organization to manage all data, agile documents and this, a single tool, and this from, I think, from a trusted advisor and with the use of the aconso solution, aconso choice seamless end-user experience was also important also from the end-user perspective integrating SuccessFactors, sorry, reducing the amount of time to take to retrieve to treat and process the documents. I think that's very important is to underline this.
Shelly Kramer: Mm-hmm (affirmative). I agree as well. So I'd love to know, is there a category of companies that can benefit the most from using a solution like the aconso solution? Or is it just across the board suitable for anyone?
Jan Klockgeter: Well, basically, we say our software is suitable for anyone, but referring to your question, I think the larger an enterprise is, the more it can profit because the administrative cost-saving potential that this software is enabling that is, of course, bigger with large enterprises. So we really focus on the market with 10,000 employees and above.
Shelly Kramer: Okay. That makes sense. That makes perfect sense. One of my favorite parts of any of these interviews series conversations is when I can convince you to share with me some customer use cases. Some success stories. Some examples of real-world of this technology in the wild and how it's working for customers. Do you have a story or two that you may be willing to share with us?
Jan Klockgeter: Yes. I think I can share two stories with you. The first, I think, is a company that everybody knows that's McDonald's. We had a great implementation project in Germany several years ago.
I was the project manager there, so that's why I remember quite clearly about the details. It was a 60,000 employees just in Germany, and we had special challenges there because McDonald's has special setup. We had to got three organizational dynamics. There was the headquarter organization with all the management and administrative staff. Then there were McDonald's-owned restaurants and their, of course, franchise stores.
So these three dimensions were not easy to combine because each had their own requirements, and each had their own wishes and expectations regarding a digital software administration. And this was really not easy, but in the end, we managed.
So we set a standard where possible and certain points where it was not possible to come up with a standardized solution. We allowed local or franchise individual customization. So, for example, of course, we implemented different working contracts for different stores. So it was not the way that McDonald's had one contract template, and everybody has to use it, but each franchise restaurant could decide which template it wants to use.
Shelly Kramer: That's nice.
Jan Klockgeter: And it really facilitated the acceptance of the software, our tools, and all in all, we really achieved the great cost-saving potential, therefore, for McDonald's.
I quickly want to outline another story from the pharmaceutical industry. I think I'm not allowed to mention the name here, but nevertheless, I want to give a short overview of this case. It's a company with more than 100,000 employees located in Switzerland. And the other challenge was that the software was introduced on the global scale directly with the implementation of the software, so we had a global project scope.
And we really had to combine the requirements of almost all countries of the world. And we managed that by establishing individual training concepts for different regions of the world and really integrating our software into SAP standard software so that the customer had the look and feel of one software solution.
This is very important aspect from our experiences that we made in the past. It's really important that the customer has one look and feel, and not to learn different usability, different usage workflows with different software tools because that only leads to frustration.
Shelly Kramer: It does. And frustration leads to a lack of adoption and all kinds of other challenges. So I very much see the importance there. Günter, do you have anything to add on this front?
Günter Apel: No. I think its fine.
Shelly Kramer: You think Jan got it?
Günter Apel: Yeah. He got it. Yes.
Shelly Kramer: So let's talk about what's ahead. Are there any new features, any new developments that you're excited about that you'd like to share here?
Jan Klockgeter: Yeah. I think we can just add to the last example that I gave because, as I said, the seamless integration is really important, and we see more and more standardized approach. We see that the pressure on digitization is growing also due to the pandemic situation. There was a huge pressure on organization. So the project timelines, they get shorter and shorter.
Shelly Kramer: They do.
Jan Klockgeter: Yeah, definitely. And we try to map this requirement by developing standardized software. So really easy to implement software in just a few days the customer can access the software and start using it. And then, later on, we try to customize and individualize the software according to the needs and requirements of our customers.
And this was different in the past because in the past, we really established a project timeline with the project scope, and then we started developing and customizing the software. And then, several months later, we implemented the software. But today, no one wants to wait several months until the purchase software can be used.
Shelly Kramer: I think actually that's a great example of innovation and the other thing that in my experience, a lot of times when you can dive right in and start using a solution that also leads you from a user experience standpoint to realize, "I'd like it if this worked differently or I think we really need this." Sometimes it's having conversations about what you want a solution to look like or do or behave in a certain way.
They're sort of esoteric when you're just sort of mapping it out on paper, but when you're really able to use the solution and use it quickly and really see it in action, I think that helps from an overall customization standpoint down the road.
Jan Klockgeter: Yes. You're absolutely right. And then, we also see that the customer's feedback that we are receiving is way, way better than before. And we save a lot of time for documentation things like that, which basically never leads to a point where customer really had an understanding of how the software looks like. So, therefore, this direct starting approach is way more practical and makes sense.
Shelly Kramer: I think that really makes a lot of sense. And again, we found ourselves in a situation where people didn't have the luxury of waiting months for a project to roll out. We had to put the solutions in place right away, and we're seeing a big benefit from it. So I think that's yet another pandemic-driven silver lining, right?
Jan Klockgeter: Yeah. It is.
Shelly Kramer: And I think the other part of this too beyond a global pandemic one of the things that I try to tell people all the time is that the pace of innovation and technology advancements and all of those things have sped up so much over the course of just the last five years, the last two years and there in no way is that going to slow down.
So I think that understanding that is a given and understanding that this rapid pace that we're all moving at is our norm and being agile and creating a situation where you can use a solution and then figure out some more customization options and things like that. I think that's really becoming a norm rather than an aberration.
And I think that understanding that from a business leadership standpoint and from an IT leadership standpoint, and from an HR leadership standpoint is really important because that's all part of the digital transformation process.
Günter Apel: And also, from the investment saving standpoint, absolutely important, investment safety investment, lower the risk and be more effective also on engagement side is important. Yes.
Shelly Kramer: Absolutely. Absolutely. You two have been a wealth of information, and I so appreciate your time today. I'd love to leave this conversation with some advice from you two for anybody watching, participating in this show, as we stream it to LinkedIn or watching it or listening into it later. What advice do you have for HR pros and tech leaders, any person involved in this decision for integrating technology solutions into HR operations? What's your advice?
Günter Apel: So probably I go first for this answer. I think the first and the most important topic is also based on the culture, involve the employees in a digitizing plan as the early stage. I think it's very important.
Bring your employees on board, bring your stakeholder on board. And really also the kind of change shifting having this kind of in mind. In Germany, we have worker's council in place. They are the protector for the employees. They also need to be involved in the early stage, and probably they should participate in the role. So they will be more engaged. That's important having this kind of things in mind. The cultural aspect is the first important thing.
Shelly Kramer: Absolutely. Our research on digital transformation has shown we published some research in the last year, and one of the things that we did in a particular research study was instead of only surveying senior and mid-level executives, we spoke with more frontline workers. And what they told us is that they understood that the company was going through processes of digital transformation, and they wanted to be involved in the processes.
They didn't feel like they were involved in the processes, and they didn't exactly know how they could get involved, but they were very much there raising their hands, saying, "Please involve us in the process is we think we can contribute." And so your advice there is spot on because it's such an important part of culture and adoption and success of these initiatives. So that's really awesome. Another piece of advice?
Günter Apel: To summarize this, also don't underestimate the change management process. I think this really goes along with the kind of digitizing plans, which means really having a change management just engagement or working package place because any HR processes which are digitized could impact the daily work of the employees dramatically. So because the most important asset are the employees, I think change management would be the second advice aligns to what Jan mentioned before involve the employees.
Shelly Kramer: That makes perfect sense. Makes perfect sense. Jan, do you have any words of wisdom?
Jan Klockgeter: Well, yes. I would like to add that you should not only involve your internal stakeholders but also the externals. And if you think your organization is not ready for the digital transformation process, then do not hesitate to contact external experts because they really can help, they have experience throughout different businesses, and they really can help you with their advice how to start with digitization.
Shelly Kramer: And I think that's a really important point that you make. Great relationships with trusted vendor partners is really the key to success. No matter what initiative it is you're trying to take on. And one of the things that we talk with clients about is that, for instance, if I'm considering doing this and I have a conversation with you and the team at aconso what you bring to my organization is all of the work that you've done over the course of the last couple of decades and all of the problems that you've solved for other clients.
So I don't have to reinvent the wheel. I'm learning from, and I have the benefit of working with somebody who really has probably navigated some incredibly difficult challenges and a part of nuances to challenges with customers and highly regulates spaces. So it really is, I think that's sage advice is don't underestimate the importance of reaching out to talking with working with a trusted vendor partner.
Günter Apel: And I think this is also one additional point, which fits to this, what you mentioned now is regarding the HR transformation engagements have a look on the architecture and the interfaces and on the system having really a kind of big picture regarding the differentiation between processes, data and, or documents.
So this will ensure to prevent overlaps and gaining a seamless and harmonization. So this also could support an external stakeholder on that because the experience could be really on the market and not in the organization itself.
Shelly Kramer: That makes perfect sense. Jan, is there any other advice that we have? Or have we covered it all?
Jan Klockgeter: Well, I think you also have to prioritize when you start with the digitization because there are so many processes and so many documents going around in an enterprise, and therefore you really have to prioritize which processes cost the most efforts or which are most relevant for the employees could also be the case will be a different approach. But prioritization is really key to success.
Shelly Kramer: And having strategy and a road map in place.
Günter Apel: I can really underline what Jan mentioned. So in the early stage, just establish a road map and earn the low-hanging fruits for every roadblock. This concurrently combined with our engagement model, but which we have approved. What Jan mentioned before, I think it's really kind of really effective approach to start or just managing the engagement. I can just underline is what may damage privatization is really very important to be focused and to have a clear scoping on that.
Shelly Kramer: Absolutely. My experience with that low-hanging fruit has also been when you're introducing something new into the work in environment when you can start with that low-hanging fruit and have some great results. It really impacts how people feel about the technology solution that you're introducing.
It creates excitement. It's like, "Oh my gosh that was so awesome. I want to be a part of that. Let's get that going in my department." And so, to me, that's really when the process is exciting. We know. We know going in that this is going to work, and this is going to be so awesome, and it is going to be life-changing for you and your team.
And then when we have those low-hanging fruit cases, and we can just quickly implement those, I always find it so exciting just to see the light in people's eyes and the excitement about I want to be a part of that. And I think that that's part of the path to this. Absolutely.
Günter Apel: And making the customer successful, I think is important having the internal stakeholder and the sponsorship when they are successful. I think we also successful. I think this kind of mind.
Shelly Kramer: Absolutely. Well, you couldn't have said it better. That's awesome. Well, Günter and Jan from aconso. Thank you so much for spending time with me today and for talking about your solution and just all that's going on in the HR technology space. It has been my pleasure, and I am sure we will meet again, gentlemen.
Günter Apel: I appreciate as well. Thank you very much. You're welcome.
Jan Klockgeter: Thank you very much. It was really interesting discussion. I appreciate it.
Shelly Kramer: That's great. Well, thanks guys.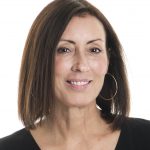 Shelly Kramer is a Principal Analyst and Founding Partner at Futurum Research. A serial entrepreneur with a technology centric focus, she has worked alongside some of the world's largest brands to embrace disruption and spur innovation, understand and address the realities of the connected customer, and help navigate the process of digital transformation. She brings 20 years' experience as a brand strategist to her work at Futurum, and has deep experience helping global companies with marketing challenges, GTM strategies, messaging development, and driving strategy and digital transformation for B2B brands across multiple verticals. Shelly's coverage areas include Collaboration/CX/SaaS, platforms, ESG, and Cybersecurity, as well as topics and trends related to the Future of Work, the transformation of the workplace and how people and technology are driving that transformation. A transplanted New Yorker, she has learned to love life in the Midwest, and has firsthand experience that some of the most innovative minds and most successful companies in the world also happen to live in "flyover country."