Carving a Path to the Future with AI, Machine Learning, and High-Performance Computing – Futurum Tech Webcast Interview Series
Carving a Path to the Future with AI, Machine Learning, and High-Performance Computing – Futurum Tech Webcast Interview Series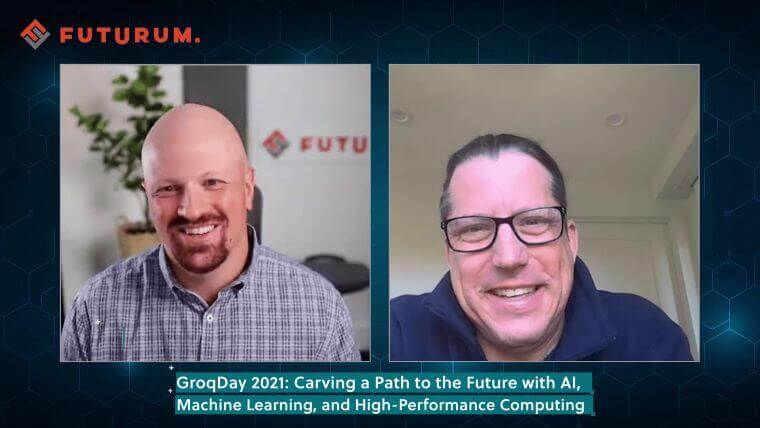 On this episode of the Futurum Tech Webcast – Interview Series I am joined by Adam Tachner, Vice President Corporate Development & Chief Legal Officer at Groq, for a conversation about the happenings at Groq Day 2021 and other exciting updates from the company.
Carving a Path to the Future with AI, Machine Learning, and High-Performance Computing
In our conversation we discussed the following:
A recap of Groq Day 2021
A deeper look into some use cases that were presented at Groq Day
The big takeaways from the event
If you missed Groq Day and are interested in checking out the highlights, be sure to check out the event website. You can also listen to the full episode for an overview of what you missed.
Watch my interview with Adam here:
Or listen to my interview with Adam on your favorite streaming platform here:
Don't Miss An Episode – Subscribe Below:
Disclaimer: The Futurum Tech Webcast is for information and entertainment purposes only. Over the course of this webcast, we may talk about companies that are publicly traded and we may even reference that fact and their equity share price, but please do not take anything that we say as a recommendation about what you should do with your investment dollars. We are not investment advisors and we do not ask that you treat us as such.
Transcript:
Daniel Newman: Hey, everybody. Welcome to the Futurum Tech Webcast. I'm your host, Daniel Newman, principal analyst, founding partner at Futurum Research. Excited for this Insider Series following from Groq Day, where I've got Adam Tachner, the company's head of corporate development, vice president corporate development. He does a lot of things. Despite the fact that this is a $1 billion plus valuation startup company in the semiconductor and AI space, this is also a company that's moving fast, has a small, but growing executive team, and I am excited to have Adam here join the show. Now, before Adam joins the show to talk all about what happened at Groq Day, just a quick set of disclaimers. This show is for information and entertainment purposes only, so please do not take anything that we are saying here on the show as investment advice. And I am an advisor to Groq, so that should be known. All right. Rock and roll, Adam.
Adam Tachner: Hi, Daniel. It's a pleasure to be here. Thank you so much for having me.
Daniel Newman: Yeah. I noticed, funny that I did that video with you right before Groq Day, and I put the same dress shirt back on. So anyone that watches this might want to go back and see that and notice that I actually must really like this plaid look. But one was before Thanksgiving, this is now a little bit after, because Groq Day on December 2nd, what a great day, so much happened. Company had the chance to really re-introduce itself in a big way, has had a lot of press lately about talent acquisitions, some really significant wins. But this was a chance to give the whole shebang to people who attended Groq Day. So I guess first and foremost, do me a favor, because I did set as the guru of many things, but just a quick introduction of yourself since I've got you here on the longer form show and just what is a person in your role at a company like Groq do every day?
Adam Tachner: Yeah, absolutely. It's a pleasure. So yeah, my background is patent law. I started out in the 1990s. I'm trained as an electrical engineer, although I've never practiced as one, went straight to law school from there and was a patent attorney for a while. And then I got pulled into the chip business. Andy Rappaport who's now on our board of directors called me up when I was at a law firm and said, "Hey, I've got this little company that has this new idea called wifi." I jumped into that. That became Atheros Communications, and we grew that and sold it to Qualcomm. Then I went is at InvenSense in the MEMS business, sold that to TDK.
Then I was at Google for a few years. And it was when I was at Google, actually, that I was talking to some of the really influential computer scientists there about the future of compute. And they told me about Jonathan and his work on the TPU and that he had left and really taken this clean slate of approach to a whole new way of doing things. And that became Groq. And we met in 2018 and I joined the company the following year.
Daniel Newman: Absolutely. It's a great story. Jonathan Ross, by the way, fascinating guy. If you haven't checked it out, I did a six five summit pod series video at our event last year with Jonathan. He talked about bringing the cost to compute down to zero, one of the big thesis of the company and Groq and what you guys are doing. And yeah, it is a real exciting company. I rarely very selective with advisory relationships where I get involved in early stage companies. But after spending some time with him, I was pretty blown away and I said, "Look, this is the rocket ship, want to get involved." And so really pleased at what I've seen so far. Like I said, been tracking the wins. Been really interesting because most of my work on the vendor side is with the big, established tech companies.
So seeing some of talent that you guys had brought in, there was a press recently I was quoted in, because you guys had basically amassed a number of pretty high profile technology elite experts across the Silicon Valley and worldwide that are coming over to Groq to help work with you and Jonathan and the team on solving the problem. And then just after that, you guys had this big announcement about a partnership with Argon where you guys had some real breakthrough results that you guys could really beat your chest about, which, in the startup world, is huge. So that was really exciting. Talk a little bit about the overall storyline that you gave at Groq Day, and what was the picture you were painting for the and technology enthusiasts that showed up?
Adam Tachner: Yeah, this was really an opportunity for us to talk a bit openly, relative to our relatively quiet stance the last couple years since we exited stealth mode, about not only what our products are capable of, but what our partners and our customers are achieving by working with Groq Technology, the press release from Argon National Laboratories. Argon is a relatively neutral arbiter of what's possible in compute. They maintain relationships with most of the companies in the space, both the startups and the well-established companies. And for them to come out and really say, "Look, this is a multiple hundred X accelerant on a really important public policy and public health issue, like COVID-19 drug discovery," was just a fantastic endorsement of the fundamental acceleration that the Groq architecture brings to market.
And then yesterday, we also talked about all of the other areas where we're seeing this financial risk analysis, linear algebra acceleration for scientific computing, LSTMs in the different models that this function at a home new level that people haven't really seen before. So it was an exciting opportunity for us to really come out and help people understand what's possible with this blank slate approach. We're very excited we were able to do it.
Daniel Newman: Yeah. I was really glad that you're able to talk and really share so much. One of the benefits of being a private company and in the startup is until you go public, there's the opportunity to keep some of the work and the development that you're doing a little bit more private. But at the same time, you always want to be making sure the market is aware, "Hey, we're out there. We're making of things happen. We got to plant our flags from time to time that we're doing breakthrough stuff so that people don't forget that while there are incumbents and there are the companies that everybody's hearing from regularly, there are other companies that are out there doing really important work trying to change the world. Again, I mentioned Argon as an example. At Groq Day, you guys were able to both theoretical and directly point to some customers and some customer examples. What were some of the most interesting and exciting customer use cases, both generically and specifically, that you can share, or maybe that were shared at Groq Day that you could talk about a little bit to the audience?
Adam Tachner: Yeah, absolutely. So I'd say there are three categories. We definitely gave a few more details on accelerated drug discovery path that Argon had spoken about in the press release a couple weeks back. And so we were able to expand on that. Graham Steele and our marketing team talked about linear algebra and the breadth of acceleration that we offer. Peter Lillian on our engineering team talked about natural language processing and our ability to really accelerate [inaudible] based transformers. We talked a lot about the compiler. Andrew Ling, our compiler lead, terrific guy, who's really building our team in Toronto. We have, I don't know, 25 or 30 people up there now. And they were able to talk really about the magic of the Groq compiler. And this is at the core of so many of these capabilities, because the Groq architecture was a derivative of the compiler.
First, we built a model of our compiler. Then we started designing the chip that would optimally produce executed code at low latency and at massive scale. And so that's really where it all started. And he was able to show not only what we're capable of doing today, but that second derivative of growth, that massive acceleration, such that every time we can support a new mathematical operation, we'll be able to fan that out to many different workloads that are going to have a lot of utility and in different verticals. So while others in this space might focus in on custom kernels for a particular vertical and they'll put hundreds or even thousands of engineers on those kernels, we just don't need that. We have the opportunity to actually support a whole lot of verticals with really intelligent, low level engineering at the compiler level. And then the compiler can handle all the customizations that are required for your particular vertical. So it's really that second derivative, that acceleration of support and the ability to fan out that I think is one of the most exciting things to come out of Groq Day.
Daniel Newman: Yeah, absolutely. It was a, like I said, really encouraging day. And Adam, by the way, are people able to watch this back if I put a link in the show notes? Is it possible for people to get any of the highlights or is there going to be any highlight real? Because I imagine some people want to do that.
Adam Tachner: I don't know that it'll be available yet, but yeah, there'll definitely be ways for people to look at a lot of this stuff. My guess is most of the content will end up on YouTube. I just don't know what the turnaround time is going to be for Mark and his team.
Daniel Newman: Absolutely. I know you're not in the production team, but I think if and when everybody out there that's watching this, what I will do is I'll definitely take this show notes and I'll add a link to the Groq Day highlights or any write up from Groq Day. That's out there for people to digest it. But I like getting the cliff notes here. It's really good to hear from, from you on this. Let's end this with a simple, quick, punchy thematic question that probably will be harder to answer than you would want it to be. But what is the one or two big takeaways you'd want somebody who spent Groq Day with you or that maybe spent this time and this conversation to be thinking about when it comes Groq?
Adam Tachner: Yeah, absolutely. It's a great question. I think first and foremost, that you don't actually have to deal with all of the difficulties of moving from one platform to another, that companies like Groq, and I think exclusively, are really out to make this easy for you. And so if you're looking for a path for a partner in the long term that can really make compute relatively easy to use and support a broadening set of applications that make sense for your space and give you incredible acceleration, then Groq is really the company exclusively that's going to do that for you. Second is that there's going to be more and more companies that are building out the Groq ecosystem that you're going to be able to partner with that will further accelerate and ease the ability to working with us.
Daniel Newman: Well, there you go, everybody. Groq Day. What a good solid con conversation to the market. Like I said, depending whether you're an enthusiast, you're an investor that's tracking the semiconductor space, you're a competitor, I think there was a lot to be seen and heard from the company, and I'm expecting more. I'll be candid. I expect more. I expect continued innovation, continued disruption.
Semiconductors eat the world. I say it now, I say it all the time, and I'd say that this is the technology. Everybody likes the software, but you got to run it on something. And the more we can get all this data working, the more we can accelerate it, the more the software, these experiences can reach next levels. That could be solving next generation challenges in chemistry and compounds in developing drugs. That can be making cities smarter, or that could just be making shopping online better.
But all those things happen with the support of companies like Groq that are doing things to constantly challenge the incumbents and to build disruptive technologies to change the world. Adam, thanks so much for taking the time. Awesome job on Groq Day. Hope everybody out there had a chance to tune in. Hit those show notes. There'll be some definite links for you to learn more about Groq or to keep in touch with this topic. And I'll expect to see you or Jonathan or others from the Groq team joining me here more often on the Futurum Tech Webcast. But Adam, I'll make it easy and I'll say, thanks a lot for joining me. Thanks, everybody, out there for tuning in. See you later.
Adam Tachner: Thank you, Daniel.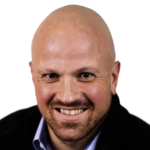 Daniel Newman is the Chief Analyst of Futurum Research and the CEO of The Futurum Group. Living his life at the intersection of people and technology, Daniel works with the world's largest technology brands exploring Digital Transformation and how it is influencing the enterprise. Read Full Bio