APTIV Succeeds in Getting Critical Tasks Done More Rapidly, Along with Bringing Security and IT Ops Closer with Tanium
APTIV Succeeds in Getting Critical Tasks Done More Rapidly, Along with Bringing Security and IT Ops Closer with Tanium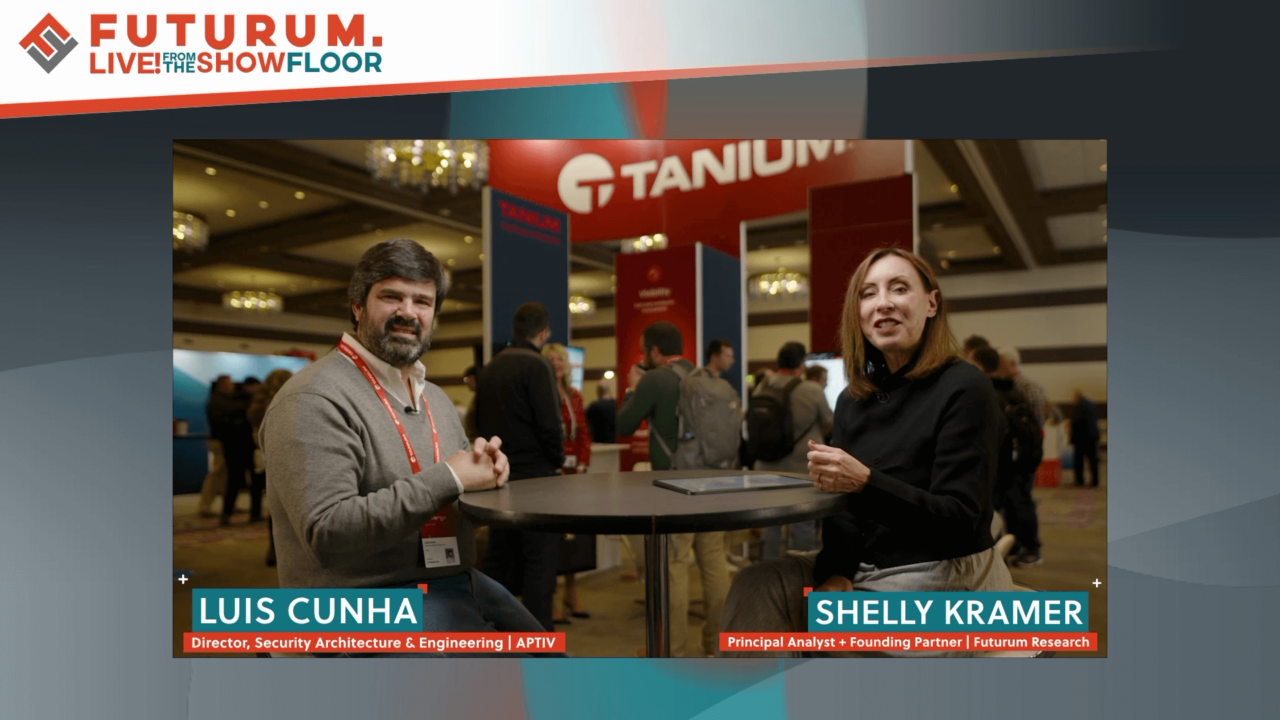 In this Futurum Live! From the Show Floor at Tanium Converge 2022 Luis Cunha, Director, Security Architecture & Engineering for APTIV, joins Futurum principal analyst Shelly Kramer. Their conversation revolved around increased cloud adoption and the rise in remote work, and the challenges IT teams face in bridging the gap between Security and IT Ops. APTIV has been using Tanium now for seven years, and Cunha shared real world insights into how he and his team at APTIV were able to navigate the shift to remote work, as well as the bottom-line benefits APTIV has been able to realize from using Tanium. Not only are they able to considerably shorten the time it takes to get critical tasks done, Tanium is helping APTIV bring the Security organization closer to IT Ops, which is an important gap to bridge.
Watch the show here:

Or grab the audio here:

If you've not yet subscribed to the Futurum Tech Webcast, hit the 'subscribe' button while you're there and you won't miss an episode.
Disclaimer: The Futurum Tech Webcast is for information and entertainment purposes only. Over the course of this webcast, we may talk about companies that are publicly traded and we may even reference that fact and their equity share price, but please do not take anything that we say as a recommendation about what you should do with your investment dollars. We are not investment advisors and we do not ask that you treat us as such.
Transcript:
Shelly Kramer: Hello and welcome to this episode of Live From the Show Floor. I am Shelly Kramer, principal analyst and founding partner at Future and Research. I'm here at Tanium Converge Event in Austin, Texas. I'm joined today by Luis Cunha from Aptive. We are going to have a conversation about remote work and the shift that has been required over the course of the last couple of years and how the shift to remote work changed how we think about security. Welcome.
Luis Cunha: Thanks Shelly. It's my pleasure to be here and wow, what a subject. Remote working, so I think that the big bang was two years ago with the COVID. That was the big difference. We knew, and we have a lot of cybersecurity people that say that the security of the future, there are no boundaries as we knew them around the offices and things are getting much more remote and much more closer to the end user and suddenly we had to do that shift like this.
Shelly Kramer: Overnight?
Luis Cunha: Right.
Shelly Kramer: Which I think is good and terrible. When I talk about the things that change as a result of the pandemic, what I always look for silver linings and I think that sometimes we had things on a list of things we needed to do and we just weren't getting to them. We weren't allocating budget, we weren't making it a priority, other things were getting in the way. Because of this pandemic, we had to. I look at that as somewhat of a silver lining.
Luis Cunha: 100%. Adding to that, I also look at a very good opportunity to change it and to make it better.
Shelly Kramer: Kind of assess everything?
Luis Cunha: Exactly. Exactly. Basically what we had to do was to create very, let's call it individual security around the users that were working from home. How can we do it? Different security architectures, different security engineerings based on the tools, challenging our vendors. We ended up in doing it and let me tell you, quality experience for the end user has improved a lot. The message that we are getting from the end user has improved a lot, which is extremely good for us security people knowing that [inaudible 00:02:34]. That's exactly
Shelly Kramer: That's what you want, right? Happy customers.
Luis Cunha: That's exactly it.
Shelly Kramer: Absolutely. Tell me a little bit, I mean you touched on it briefly, but there had to be so many nuances, so many tiny details that you had to deal with as you were navigating this shift. Talk with me a little bit about sort of how did you prioritize things? How did you roll things out and make this a reality?
Luis Cunha: The first thing that definitely we had to learn was to how to manage our endpoints knowing that the endpoints are not connected to our infrastructure, but actually right now and today they're connected to each one of the users home network. That's one of the things that we had to understand and how the tools were helping us are adapted to this new reality and the ones that were not adapted, we started challenging the vendors for that.
The second thing was, so every network where the user is connecting today needs to be considered a secure network. Their home network is an interested network. That minds or that concept that we had that people when they left the office and going to airports or to coffee shops or something connecting from those networks, so those security concepts had to be brought over to new reality, which is their homes, and at the same time knowing that I need to bring the same quality of experience for the user independent if he's in the office or at home.
Actually, we tried to expand it a little more and I started to challenge my team and I challenged them. We don't care and we must not look at where the user is connecting from from a location perspective and from a device perspective. We need to make sure so that we can give them that liberty and flexibility to connect from anywhere, but making sure that our security controls are in place and we are protecting our data as we should.
Shelly Kramer: As you should. Absolutely. Let's talk about Tanium. You have been working with Tanium for kind of a long time. I mean it wasn't a pandemic inspired shift. Talk with me a little bit about how Tanium got on your radar screen, what your early experiences were and how that has evolved.
Luis Cunha: I've been working with Tanium for the last seven years. Actually only for the last five years, but I know that they have been using Tanium for the last seven years. The big surprise for me, and I didn't knew Tanium when I [inaudible 00:05:17], was the level of visibility that the tool gives.
Shelly Kramer: It's really cool.
Luis Cunha: It is really nice. The first thing that any security professional looks for is visibility. It's understand the landscape so that then we can start designing the proper security architectures, engineering, you name it. It's to understand the foundations, what we have. Tanium helped us a lot. When you knew about our landscape, then we started to understand how can we do more? Where can we go into automations? How can we help the other teams like business teams active has a lot of manufacturing plants. How can we help the manufacturing teams to get into, for example, good patching levels, give them the ability to use the tool. Let's tell them, let's show them that this is a different security tool that can be used by them. They are in drive of the changes. We give the ability.
Shelly Kramer: They like that?
Luis Cunha: They loved it.
Shelly Kramer: They love it. Absolutely.
Luis Cunha: That is one of the good things about Tanium is that it gives the ability for people to drive it. Security teams prepare it, but then it's for people to drive it, and that's a big change.
Shelly Kramer: That is huge. Absolutely.
Luis Cunha: That is really big.
Shelly Kramer: If I asked you to tell me beyond visibility what your favorite thing about Tanium is, what will you leave us with?
Luis Cunha: I would say that it is the automations or the actions that you can take with the tool. When you look at something that is very concerning today for any security professional is risk management. You have the vulnerability management. One thing is knowing about the vulnerabilities. The other thing is remediating the vulnerabilities. That's where Tanium comes in. It is really cool the way that they action based on the vulnerabilities that are known and the fastness. It is really fast to deploy.
The other thing that's Tanium for me is a differentiator. Let me go back again to the remote working. We certainly had to send 30,000 people home to work in our [inaudible 00:07:35] definitely didn't have the capacity, neither licenses to do it. All right?
Shelly Kramer: Sure.
Luis Cunha: We had to go to another solution, but we had the challenge to, so for that solution, we need to deploy 20,000 or 30,000 agents across our endpoints. Tanium helped us to do it and we did it in two hours.
Shelly Kramer: Oh my gosh.
Luis Cunha: Two hours. We created the packets, we deployed two hours. Everybody was ready to connect.
Shelly Kramer: That's awesome.
Luis Cunha: It's really good.
Shelly Kramer: That's really good. That's what you want, something that's fast that people love, that gives you immediate access data.
Luis Cunha: One of the secret team security is fastness because the other bad guys, they are very fast.
Shelly Kramer: They're fast. They are very fast and we don't like them. Luis, thank you so much.
Luis Cunha: Thank you Shelly.
Shelly Kramer: It's been a lovely conversation. I really appreciate you spending time with me. To our audience, thank you for spending time with us as well, and we'll see you next time.
Luis Cunha: Thank you.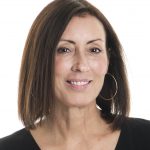 Shelly Kramer is a Principal Analyst and Founding Partner at Futurum Research. A serial entrepreneur with a technology centric focus, she has worked alongside some of the world's largest brands to embrace disruption and spur innovation, understand and address the realities of the connected customer, and help navigate the process of digital transformation. She brings 20 years' experience as a brand strategist to her work at Futurum, and has deep experience helping global companies with marketing challenges, GTM strategies, messaging development, and driving strategy and digital transformation for B2B brands across multiple verticals. Shelly's coverage areas include Collaboration/CX/SaaS, platforms, ESG, and Cybersecurity, as well as topics and trends related to the Future of Work, the transformation of the workplace and how people and technology are driving that transformation. A transplanted New Yorker, she has learned to love life in the Midwest, and has firsthand experience that some of the most innovative minds and most successful companies in the world also happen to live in "flyover country."