Futurum Research's 2018 Digital Transformation Index is packed with new data about business technology adoption.
Olivier Blanchard
/ May 7, 2018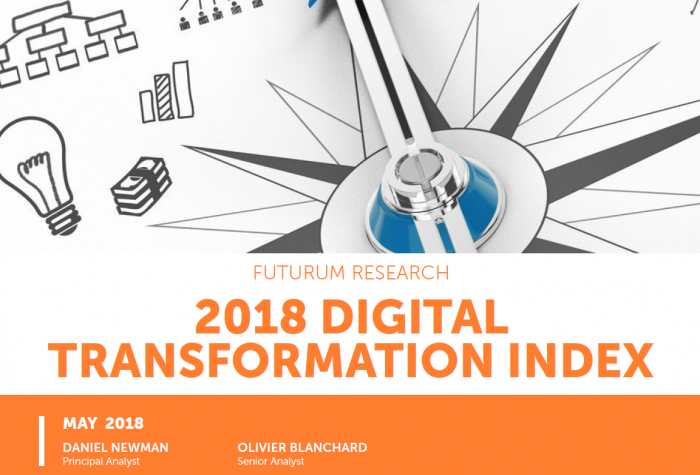 Futurum Research is proud to release its 2018 Digital Transformation Index – the most comprehensive report of its kind on the current state of Digital Transformation by businesses in North America and Western Europe.
What to expect from this report:
2018 benchmarking data on the state of Digital Transformation within small, medium and enterprise-class businesses.
An analysis of attitudes from the business community about the value and importance of Digital Transformation and key technology investments.
Important data on shifts in investments relating to digital technologies between the last three years and the next three years.
Insights into the impact of effective and ineffective Digital Transformation programs on on employment, competitiveness, and profitability over the last three years.
A ranking of the 10 core digital technology categories currently driving Digital Transformation across the business world.
A comprehensive list of the most common factors and organizational traits shown to contribute to the success of Digital Transformation programs.
A comprehensive list of the most common obstacles preventing organizations from successfully implementing Digital Transformation programs.
Insights into how to troubleshoot, reboot, and accelerate Digital Transformation programs.
Data points of note:
2 out of every 3 companies appear to be generally capable of adapting to technology disruption inside of three years.
67.8% of companies report that technology disruption has had a neutral-to-positive impact on job creation, with 37.3% reporting an increase in net new jobs. 31.3% of companies report that technology disruption has had a negative impact on job creation. Among them, 15.7% report that technology disruption has been "a job killer."
1 out of every 3 companies is currently incapable of keeping up with the pace of technological change.
Roughly 1 out of every 5 companies currently qualifies as a Digital Laggard: an at-risk, change-averse, technology-challenged company unable to cope with technology disruption or the pace of change.
64.5% of companies feel positive about their ability to adapt to technological disruption in the next 3 years, while 35.4% of companies are worried about their ability to adapt to technology disruption for the same time period.
Download your copy of Futurum Research's 2018 Digital Transformation Index now.

Senior Analyst
at
Futurum Research
Olivier Blanchard has extensive experience managing product innovation, technology adoption, digital integration, and change management for industry leaders in the B2B, B2C, B2G sectors, and the IT channel. His passion is helping decision-makers and their organizations understand the many risks and opportunities of technology-driven disruption, and leverage innovation to build stronger, better, more competitive companies. A trusted source of analysis and insights on digital business and digital innovation, Olivier also travels the globe speaking about business technology, Disruption as a Model (DaaM), and the impact of innovation on markets and culture. He is also the best-selling author of Social Media RIO: Managing and Measuring Social Media Efforts in Your Organization, and co-author of Building Dragons: Digital Transformation in the Experience Economy. Blanchard is based in Greenville, South Carolina.

Latest posts by Olivier Blanchard (see all)