6 Approaches to Future-Proofing the CIOs Office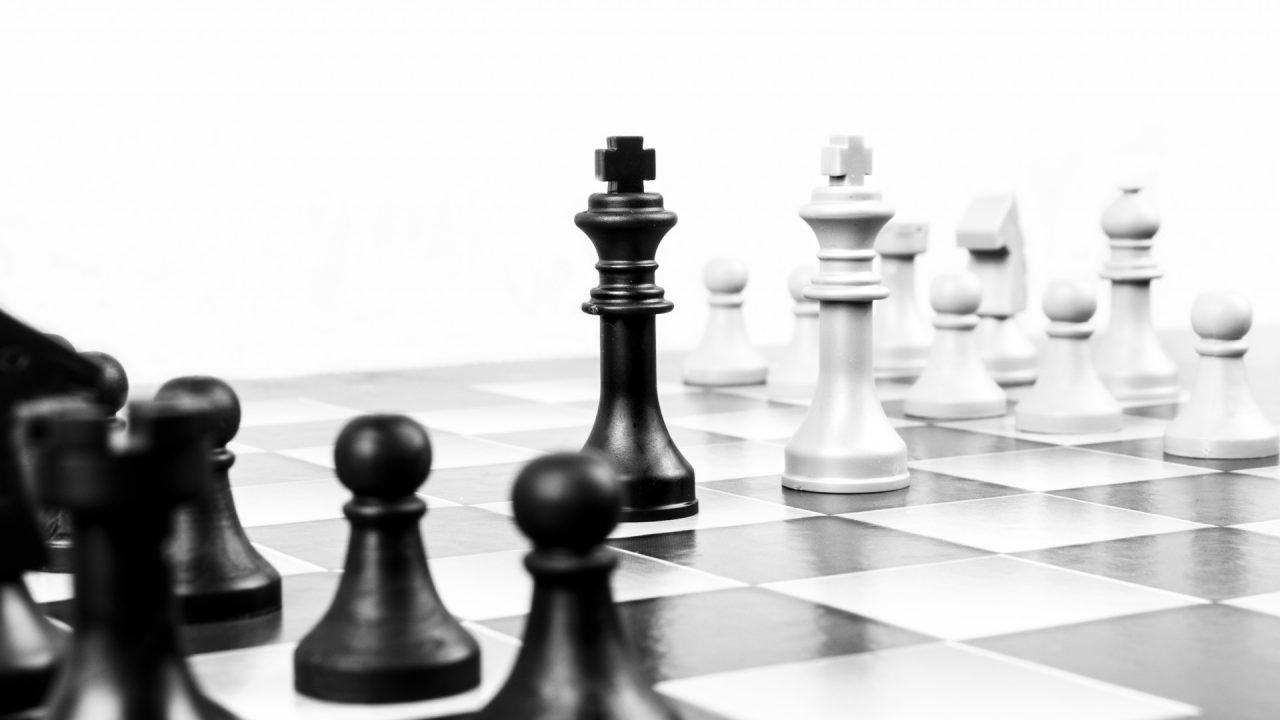 Listen to this article now
"Software is eating the world"  – Marc Andreessen
"What do we do about it?"  – Every CIO
We live in the digital age. It's a phrase that we hear or say often (I'll raise my hand here). But what does it mean to live in a digital age? To many it's about the technology we use. It's about convenience. It's about having the Internet 24×7 wherever we go. About bringing agility to the consumer. Technology has upended our lives, our businesses, and our culture – it's become a way that we can get or achieve more, faster. But the flip-side is that technology isn't a steady state, it's  advancing fast, making planning for agility and transformation a challenge.
As Marc Andreessen pointed out, software is eating the world. Hardware is important, and continues to advance, but processing power—thank you Moore's Law—is a commodity. It's the software that's really taking off, allowing us to do more every day (and often requiring more/faster hardware to keep up).
How fast is software developing or evolving? Look at the ease with which social giants like Facebook replicate the features and functions of competitors like Snap. Or the rapid progress we see with AI (artificial intelligence), machine learning, predictive analytics, or blockchain.
But increasingly, software is not just what we write or code, rather it's the tools we use to code, the tools we use to monitor and learn about the software we code, and (increasingly) the mechanism whereby new software is created. It's not just software that is eating the world, but the software that writes the software that's eating the world.
Advances in software are allowing for faster advances in software.
And therein lies the challenge: how do we anticipate, plan for, and budget for what's coming next? Not just for software, but for the IT hardware and services needed to stay on pace with the market, competitors, and consumer demand.
For technology and business professionals, this is a real challenge. As the pace of technology and software development increases, the risk of faster tech obsolescence increases as well. For those driving technology development and deployment within the enterprise, e.g., the chief information officer (CIO) or chief technology officer (CTO), the challenge becomes one of future-proofing your organization and it's technology to stay agile and one step ahead of obsolescence.
Despite the competitive advantage technology can bring to the enterprise, we know tech execs are facing many challenges in advancing the use of technology to drive new value. Barriers, roadblocks, and even management itself can derail or delay even the best of technology plans.
I was recently speaking with a group of colleagues when the question came up: what strategies could enterprises be thinking about now to stay one step ahead, advance the use of technology to transform business processes, and continue to drive new business value, all while working within increasing budget constraints?
We do a lot of primary research at Futurum, diving into the challenges encountered and successes achieved by organizations on a day-to-day basis. Based on our research, here are six approaches to help future-proof an organization, and in particular, allowing a CIO or CTO's office to stay one step ahead. Consider them a starting point to be adapted to an organization's needs.
ONE: Think Agility First
Okay, customer-first is always first, but agility must be second. 65 percent of the organizations we engage with look to leverage agility to improve speed to market for new products and ideas. Every decision should improve (or at least preserve) both short & long-term business agility. That includes information technology, services, apps, hardware, contracts, staffing, and more.
TWO: Know Your Assets & Data
Shadow IT exists. It's out there—tech, software, apps, cloud accounts, and data, lots of data—and it's putting organizations at risk. Chances are it's there for a reason, but you need to know what, where & why. Then use the data: 58 percent of tech execs encourage agility via data-driven decisions, and we believe this is spot on.
THREE: Transform With Purpose
Digital Transformation is an ongoing process that can, and should, leverage legacy systems and investments that still provide value. Pumping digital technology into an organization, and merely replacing old systems with new, is not answer. Extending selected legacy usage can allow budgets to be redirected into high-value areas, or into innovation labs. We live in a hybrid world. For example, while shift to the cloud is hot, over half of all organizations still use a combination of cloud and on-premises solutions. Use what you can, and transform with purpose and process, not just technology.
FOUR: Focus on Process & Trust
There is no shortage of emerging and valuable technology. AI (artificial intelligence); predictive analytics; blockchain; augmented, virtual and extended reality (AR/VR/XR); cloud; 3D; biometrics and more–all good tech. But business units don't need tech, they need outcomes in a secure, trusted environment. Focus on innovating processes that are inherently more secure, agile, and efficient to promote digital trust. If processes are not addressed first, with security baked in, business value is hard to achieve with any technology.
FIVE: Shift Costs to Values
Technology isn't free, and money doesn't grow on trees. But budget barriers are often value barriers, with executives and corporate boards often focused on tech budgets as cost centers and not ROI enablers. Over 40 percent of tech professionals cite budgets as barriers, with 37 percent viewing executives themselves as barriers to technology adoption. New tech should be an investment, in partnership with business units, that drives measurable ROI.
SIX: Find the Right (New) Partners
Less than 30 percent of the professionals we engage with say their current vendors or providers are true partners–they merely provide a service. Corporate boards (as well as financial and contracting officers) love predictable costs, long-term discounts, and fixed, highly-defined KPIs. That's not always going to work moving forward. To remain agile, you need shorter contracts, flexible metrics, and a way to incentivize technology and service providers to collaborate with you as equal partners, to lead innovation efforts, labs and proof-of-concepts, and share in both the risks and the rewards.
<click on graphic to enlarge>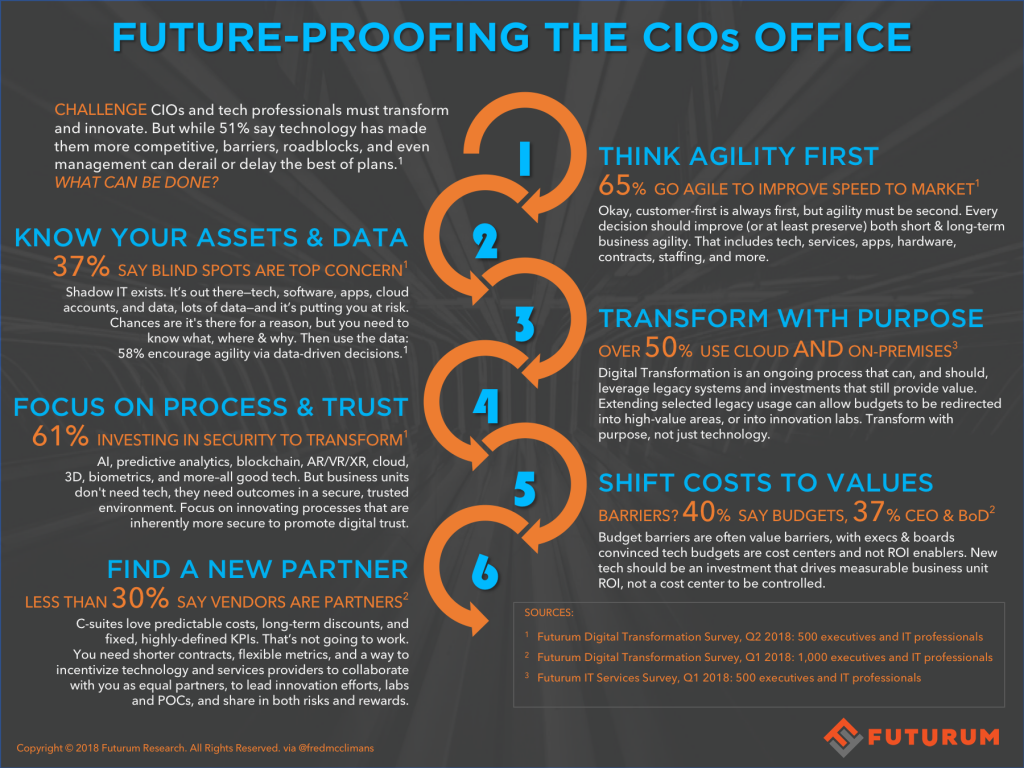 Additional reading:
4 Digital Transformation Trends You Need to Know
Developing an Agile Business Model in Today's Ecosystem
Futurum 2018 Digital Transformation Index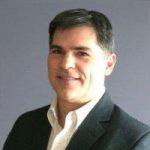 Fred is an experienced analyst and advisor, with over 30 years of experience in the digital and technology markets. Fred launched the equity research team at Samadhi Partners and provides marketing strategy through the Wasabi Rabbit digital agency. He previously served as an EVP and Research Vice President at HfS Research, launching its Digital Trust practice and coverage of emerging "trust-enabling" technologies. Read Full Bio.