Digital Transformation Road Map for Late Adopters
Listen to this article now
Haven't gotten on board with digital transformation yet? Still holding on to your industrial-age principles, technology, and management techniques? It's time to catch up to the present. Change can be scary thing and transformation can seem overwhelming, but, in my experience, it's a lot less scary than the alternative—being left in the dust by competitors, possibly with a dying business. Take the digital leap.
If you are unsure where to start, think of your transformation as the X at the end of a treasure map. Follow this map, and you'll be able to easily and successfully navigate the transformation your business needs.
Identify Areas that Need to Change—But Be Flexible
It's natural that your employees and other internal stakeholders will have questions and concerns about the risks and challenges of digital transformation. Approach their concerns with openness and understanding—fear makes people obstinate. Flexibility is your job—and it is key to a successful transformation. Once you've identified the areas that need to adjust and innovate, invest mid- and lower-level team managers in the transformation and be flexible, taking their feedback into account in your organization's long-term plans for change.
Openly Communicate with Employees, the C-Suite, Shareholders, and Customers
There's no better way to boost employees' buy-in around digital transformation than through open lines of communication at all levels of your organization. C-suite executives and others involved in the decision-making processes need to be in honest and open communication with those who aren't sitting around the table in meetings. Clear lines of communication help prevent employees from feeling management has sprung something new on them. When they're privy to the conversation, they can be prepared for and invested in the changes when they arrive.
People First: Figure Out What Can Make Business Easier
Ultimately, the changes you're driving at through digital transformation are not about the process itself. The changes are about the people involved, both the employees doing the work and the shareholders and customers your organization serves. It's important to take a people-first approach to transformation, thinking about ways to build buy-in at all levels. As I've said before, one of the most obvious changes managers can make is in their thinking—digital change is about the people, not the technology.
Educate your stakeholders about how the changes will benefit them. This is particularly important for organizations that are late in adopting new technologies because it demonstrates how the competition is using these tools to their benefit.
Create Benchmarks and Goals
Take the process one step at a time, especially when there's uncertainty or reluctance about digital transformation. Leaders from the C-suite down should be adaptable and excited about the change. They can help establish clear benchmarks and goals for when key changes will take effect.
Help stakeholders understand the timeline and how each step affects them and their work. And make sure employees understand how meeting those goals will benefit them personally, as well as the company, in the long run. They want the company to do well, but it's easier to adapt when they see immediate advantages.
Start Using Data to Make Decisions
One of the good things about being a late adopter is that you'll likely find a lot of data available about how the new technology you're implementing will benefit your organization. Use that data to reach smart decisions about the digital transformation. Share this data widely, both within your organization and with external stakeholders—it will increase everyone's understanding of the rationale behind the changes.
Be Open to Constant Feedback
Everyone loves it when things go perfectly according to plan, but there are often hiccups in even the best-laid plans. As the transformation gets rolling, organizational leaders need to be open to upward feedback from those farther down the line. In my experience, it's the team who will see issues first, so their feedback should be your first line of defense against bigger issues. If something's not working, take that feedback into account and adjust the process accordingly. Not only does this benefit your business, but it also boosts employee morale and company culture when people feel their concerns are heard and addressed.
Digital transformation requires more than a decision to change the way things are run. It must consider employees from every level of the business, and leaders should encourage an attitude of positive change—once you get the digital ball rolling, you'll be shocked how long it took to finally take advantage of what's out there.
photo credit: sant.o io sto bene via photopin (license)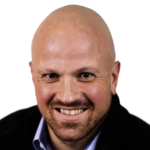 Daniel Newman is the Principal Analyst of Futurum Research and the CEO of Broadsuite Media Group. Living his life at the intersection of people and technology, Daniel works with the world's largest technology brands exploring Digital Transformation and how it is influencing the enterprise. Read Full Bio