How Digital Assistants are about to become a key differentiator for automotive brands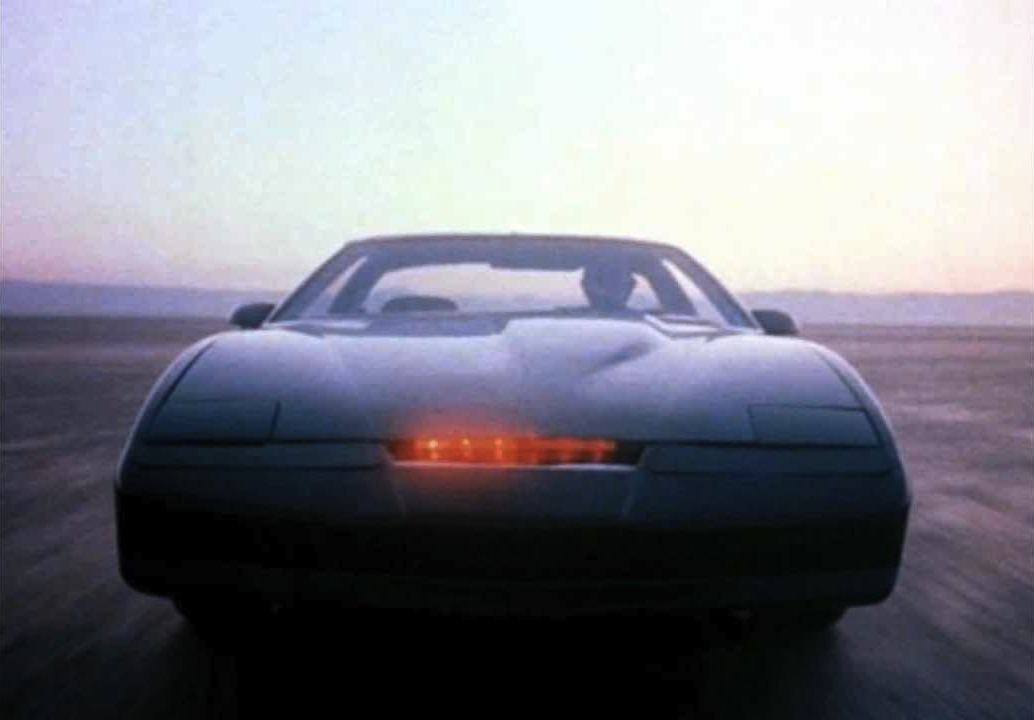 Listen to this article now
Alexa. Cortana. Siri. Google Assistant. Jarvis. Watson. Over the last few years, thanks to a convergence of technologies that include cognitive computing, natural language processing, artificial intelligence, connected devices, and the IoT,  we have all watched voice become the next hot trend in digital user interfaces, with Digital Assistants emerging from the fray as the app to bring it all together for consumers.
Quick recap:
1) Hands-free computing is here. No buttons to push and no layers of menus need to get between a user and a computer. Requests and commands that used to require a keyboard or a touchscreen to put a request to a computer now only require voice commands.
2) Natural language processing is no longer limited to supercomputers. Thanks to cloud solutions, high speed data transfer speeds, connected devices, and AI, Digital Assistants haven't only become a reality, they have also become entirely portable.
3) Digital Assistants occupy a very specific place in the digital utility space, and transcend hands-free computing. While Digital Assistants already help users with search, calendar management, task management, device management (kitchen appliances, wearables, toys, etc.), environmental management (smart homes, smart vehicles, smart hotel rooms, etc.), navigation, and shopping, we will see them quickly evolve to more social roles traditionally performed by humans. That evolutionary arc is already moving towards personal health and fitness management, personal financial management, personal relationship management, professional development, and companionship. (I find myself especially interested in the latter: Digital Assistants playing companion to children, pets, patients, and the elderly, but that is a topic for another day.)
For the better part of the past year, we have also talked about digital assistants mostly as:
a) an exciting and quickly maturing user interface, and
b) an endpoint-agnostic user experience capable of naturally integrating into connected products (like mobile phones, laptops and smart objects) and more complex systems and environments (like smart cities, smart homes, and smart vehicles).
After this year's Consumer Electronics Show, we note a clear and aggressive focus by automakers to integrate popular Digital Assistants into in-car experiences. This suggests not only an industry-wide interest in what some refer to as "cognitive mobility platforms," but also into a deeper strategic play involving a long tail of digital services, from search and content to commerce and productivity. (More on that soon. For now, let's focus on how those partnerships are already shaking out.)
In case you missed it, here is a short list of Automotive Digital Assistant partnerships that have caught our eye so far: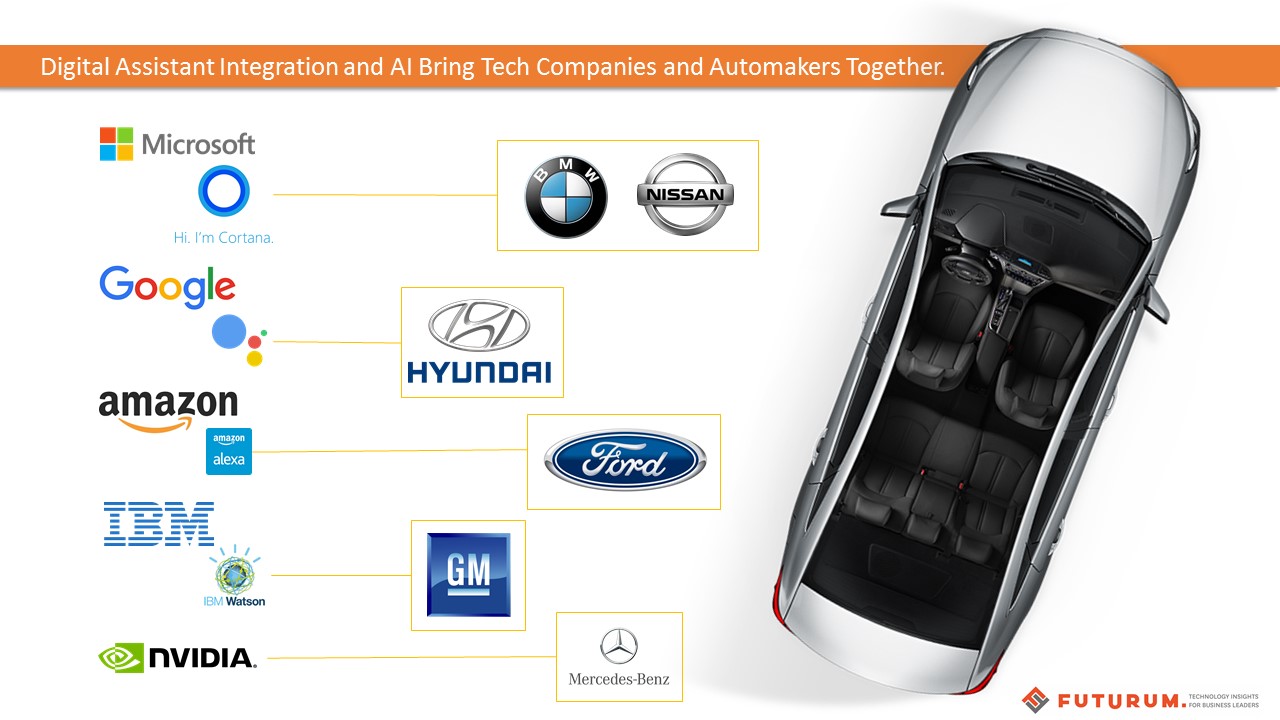 It seems that only yesterday, we were still talking about "Google cars." How far we have come in such a short amount of time.
Obviously, the connective tissue between Silicon Valley and Detroit (metaphorically-speaking) doesn't stop at self-driving technology. Somewhere between "what else can we work on together besides self-driving cars" and "how can we help autonomous vehicle passengers be more productive," technology and automotive giants appear to have settled on developing talking cars… or at the very least, on bringing cloud-based Digital Assistants and AI into the in-car experience, which is essentially the same thing but with a lot fewer headaches.
But what about Apple and Siri?
Just a quick set of notes regarding Apple and Siri:
1) Apple doesn't usually announce anything at CES, so don't read anything into the tech giant's current radio silence on this.
2) CarPlay already allows Siri into the in-car experience, so it seems like a natural automotive beachhead for Apple. So far though, CarPlay is fairly brand-agnostic, so it will be interesting to see if any of the above partnerships between automotive brands and non-Apple Digital Assistant vendors have an impact on CarPlay's open sandbox strategy. If Apple goes this route, expect a rebranding exercise for CarPlay in the next year or so, as the current branding speaks more to accessing digital media than interfacing with an in-car Digital Assistant / AI platform. (CarPlay's current direction plays well against Alexa's SYNC3 integration, but it will be a little thin against the kind of productivity that Cortana and Watson bring to the table.)
3)  Project Titan (Apple's super top secret car project) was originally rumored to be a complete vehicle concept, but scuttlebutt about a reboot makes us hope that Apple will opt instead for an autonomous vehicle + AR + AI technology platform for select automotive partners. It makes sense that an onboard AI would be at the heart of that kind of platform, so Apple's play into the automotive world could turn out to be richer and more revolutionary than merely integrating a more robust version of Siri into smart vehicles.
What does this all mean?
All of this to point you to the rather sudden wave of partnerships between major automotive brands and major tech companies, which appears to focus, at least for now, on integrating Digital Assistants into the in-car experience.
Two quick observations: First, looking at how quickly this happened, and how many major automakers are already seizing on the opportunity to build Digital Assistant functionality into their vehicles, it looks like AI may soon become a standard feature on most (if not all) smart and autonomous cars. Second, if built-in AI platforms do, in fact, become a standard feature in connected vehicles, both the specificity and competitive undertones of the partnerships we are already seeing suggest that Digital Assistant and AI platforms could become key market differentiators for automotive brands.
What does this mean? Let's ask tomorrow's car buyers to give us a hint:
"I really love Kia, but Hyundai has Google Assistant."
"Yeah. I was thinking about getting a Lexus, but BMW has Cortana."
Whether or not that industry-wide bet will pay off remains to be seen, but if what we saw at #CES2017 is any indication, automakers seem to think so.
We will of course follow this topic (and dig deeper into it) in the coming months, so expect regular updates from us about it. In the meantime, you might want to download our premium reports on Cognitive Computing and Artificial Intelligence, and The State of IoT (Opportunities with IoT 2016-2020) to get caught up on how this fits into the broader scope of technology disruption and digital transformation. Also follow us on Twitter for more insights and commentary about technology disruption and digital transformation.
Cheers,
Olivier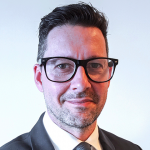 Olivier Blanchard has extensive experience managing product innovation, technology adoption, digital integration, and change management for industry leaders in the B2B, B2C, B2G sectors, and the IT channel. His passion is helping decision-makers and their organizations understand the many risks and opportunities of technology-driven disruption, and leverage innovation to build stronger, better, more competitive companies.  Read Full Bio.