Commercial Drones: How Unmanned Aircraft are Changing the Face of Business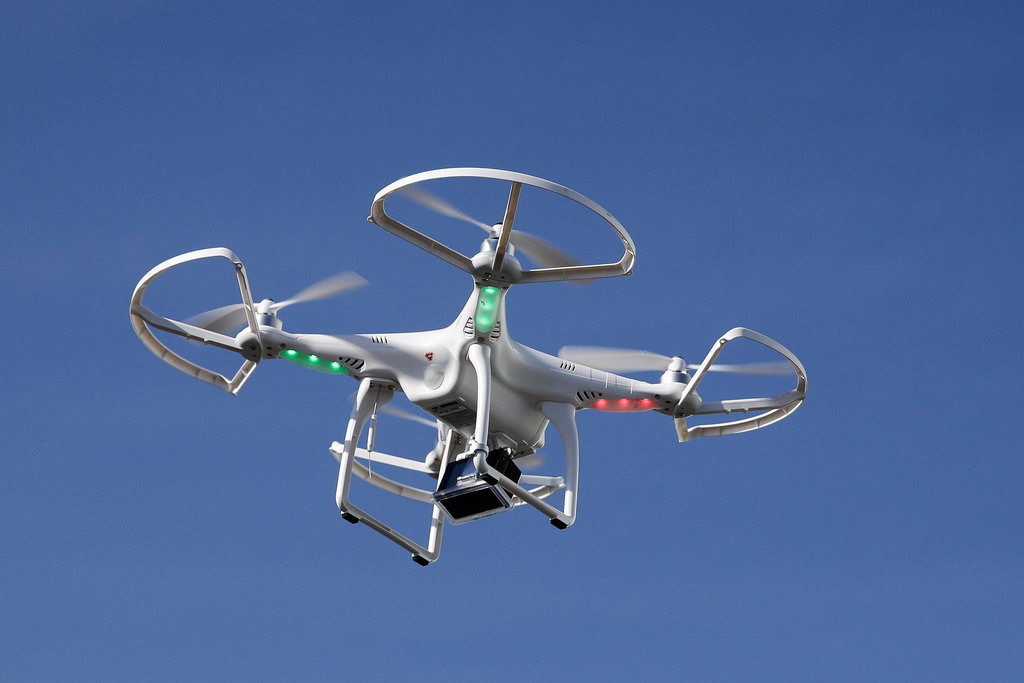 Listen to this article now
Look up in the sky! It's a bird, it's a plane, it's… probably a drone. Over the course of the next few years, drones will no doubt have a big impact on the business sector and will change the way we do business. With a myriad of uses for drones ranging from defense (the obvious), to agriculture, real estate, construction and infrastructure, emergency assistance and disaster management, traffic or weather management, entertainment and advertising (so many applications here), shipping and delivery systems and many others, drones are game changers.
Game changing? Absolutely. With the ability to deliver on big data, security, and asset management, drones are a not-so-secret weapon for businesses of all sizes. Here are some thoughts on the possible implications the drone industry, and the mobility and data collection capabilities drones offer, will have on the national economy.
A $127 Billion Giant Offering Much Value
On May 9, 2016, PwC released a study valuing the global market for business services using drones at a whopping $127 billion. While at first blush it's easy to think about your Amazon products or Domino's pizza arriving at the doorstep by way of a drone, that's really pretty far down the line in terms of the real value drones can deliver. Commercial uses are child's play compared to the aforementioned benefits drones can deliver on mobility, big data, security, and asset management for the enterprise. Here's a glimpse of the potential estimated by Business Intelligence back in 2014: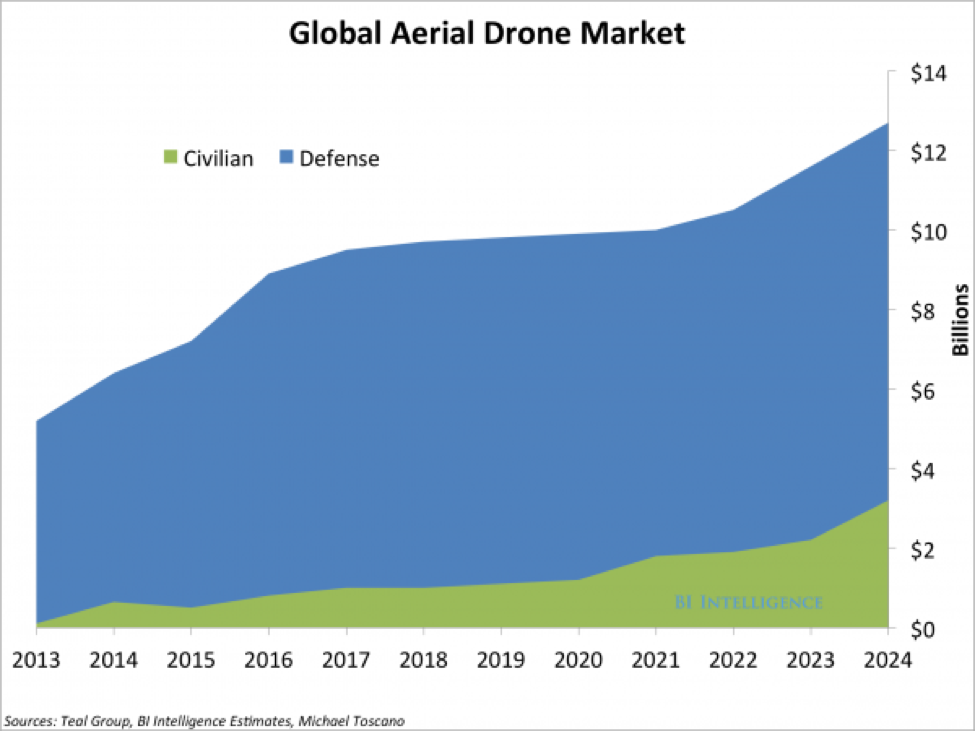 The FAA—Regulations, They Are a'Changing
The back story—in 2007 the FAA banned all commercial drones, citing them as a potential threat to American airspace, only granting companies permission to use them on a case-by-case basis under Section 333 of the FAA Modernization and Reform Act of 2012.
In August of 2016, the FAA implemented new drone rules establishing nationwide rules governing small commercial drones. These regulations mean that instead of applying and waiting for the FAA to process requests on an individual basis, new applicants can dive in without first getting approval, as long as they comply with the limits established in the rules. That spelled great news for the rapidly growing drone development market and gives the FAA some much-needed relief as well.
With some 600,000 operators expected to begin operating under the new rules, that's a surefire affirmation of the possibilities ahead. With the drone market being so robust, the challenge for the agency is twofold: A focus on safety and regulations that mitigate risk versus the need for innovative thinking and rapid movement, neither of which federal agencies are particularly good at.
What Industries Stand to Benefit Most?
Referred to as either Unmanned Aircraft Systems (UAS) or Unmanned Aerial Vehicles (UAV), the market is projected to flourish around a couple of specific areas. They include the markets I mentioned above: defense, security, agriculture, infrastructure and construction, media and entertainment, insurance, telecoms, mining, and energy. Thinking logistically, drones are the most efficient way to manage resources that are geographically spread out, and are exponentially less expensive to get from one place to another than humans, and much more efficient. Mobility is key, and drones are able to do things humans can't and go places humans can't—they only make sense.
In line with the FAA's decisions, e-commerce and package delivery will not be an early focus of the global market, but there is no dearth of opportunity in this space, commercial uses will come in no time.
And the Floodgates Open….
While we are still at the early stages, as the FAA focuses on reforming its current UAS regulations, the industry floodgates are opening, and will continue to open. Venture capitalists are already lining up to fund successful drone startups, as well as companies that will support and possibly even disrupt the industry. SkySafe is just one such startup that is aimed at safety with an offering targeting public safety customers with the ability to take control of a rogue drone and safely land it. Seed funding has reaching up to $3 million with potential customers including prisons, stadiums, and airports—essentially any entity with restricted airspace.
There are some other interesting drone-focused startups on a list developed by NetworkWorld, including PrecisionHawk, a data and safety platform-provider, and Zipline, which raised $18 million from the likes of Microsoft co-founder Paul Allen, Yahoo! founder Jerry Yang, Google Ventures, and Stanford University, to provide drone-dropped medical supplies to places such as Rwanda. Zipline just last week announced another $25 million for expansion in Africa, taking its total capital raised to $43 million. For a peek at the application here, Zipline allows Rwandan clinics to place emergency blood transfusion orders by way of SMS, which are delivered by drones called Zips. The company predicts it will soon be making between 50-150 flights a day to deliver blood to 21 clinics across the country. This newest funding will allow Zipline to expand into other African countries. Zipline reports hope to soon be collaborating with the White House and the FAA to turn its instant delivery services to use in the U.S. There's much afoot at the White House these next few months, so it will be interesting to see whether these aspirations come to fruition.
Another especially noteworthy startup in the drone industry is Airware, funded in part by retired Cisco chair John Chambers who sits on the board and is working with the company on its enterprise sales strategies. Reported to have raised some $70 million to date, Airware's aspiration is to be the "Windows of the drone world." Adding yet another component of the Internet of Everything, this move on the part of Chambers is no surprise and it won't be at all surprising to watch Cisco move more fully into the drone market as well.
Now the challenge for the U.S. is to keep pace with global innovation as it relates to the drone industry.
Photo Credit: Louis Holden Flickr via Compfight cc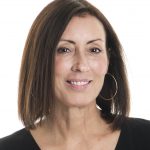 Shelly Kramer is a Principal Analyst and Founding Partner at Futurum Research. A serial entrepreneur with a technology centric focus, she has worked alongside some of the world's largest brands to embrace disruption and spur innovation, understand and address the realities of the connected customer, and help navigate the process of digital transformation. She brings 20 years' experience as a brand strategist to her work at Futurum, and has deep experience helping global companies with marketing challenges, GTM strategies, messaging development, and driving strategy and digital transformation for B2B brands across multiple verticals. Shelly's coverage areas include Collaboration/CX/SaaS, platforms, ESG, and Cybersecurity, as well as topics and trends related to the Future of Work, the transformation of the workplace and how people and technology are driving that transformation. A transplanted New Yorker, she has learned to love life in the Midwest, and has firsthand experience that some of the most innovative minds and most successful companies in the world also happen to live in "flyover country."