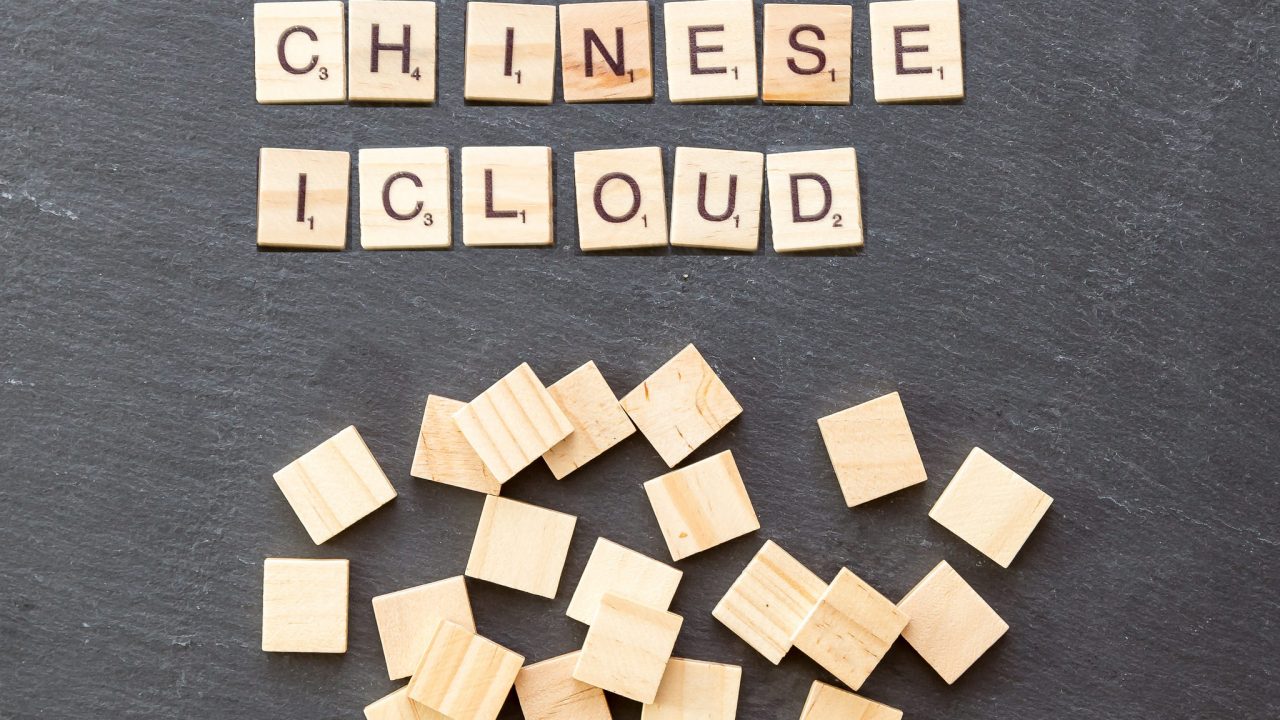 Listen to this article now
Apple, Inc. (AAPL) is set to announce its Q3 2018 earnings (scheduled for after the close on July 31, 2018). The firm has, under the guidance of CEO Tim Cook, shifted from an innovation-led company to one focused on excellence in operations, with its stock around an all-time high and a market capitalization of roughly $960 billion.
But Apple is not unchallenged. Here are four areas where we're concerned about the company – not from a financial perspective, but from an industry perspective – as it attempts to hold on to its leadership position and remain one of the dominant players in the tech industry.
1. China and the Great Wall of Privacy
While Apple is viewed as a relative strong backer of individual privacy rights, as demonstrated by its commitment to securing its iPhone products and its relatively low interest in mining excessive user data, the luster is off a bit when it comes to China.
Back in 2017, Apple (AAPL) announced it had entered into an agreement with Chinese firm Guizhau-Cloud Big Data (GCBD) to host its iCloud data for users based in China. It was not a popular move, but it was a necessary move to comply with Chinese law (which requires such partnerships from foreign firms looking to do business in China – it's a control mechanism). At the time, Apple worked very hard to counter the negative reaction, ensuring that it was working closely with GCBD to ensure the security and integrity of its user's data, including assurances that it would control all encryption keys, offering "strong data privacy and security protections in place and no backdoors will be created into any of our systems", even if GCBD had strong ties to (oversight from) the Chinese government.
We, and others, were not convinced this was a great idea. We were right.
On July 18, 2018, it was announced that China Telecom, the government run telco, had struck a deal with GCBD allowing it to assume control of the hosting operations, with data being stored by the firm's storage business unit (Tianyi). As part of this shift, it appears encryption keys for Chinese iCloud data will now be housed by China Telecom as well, and effectively controlled by the Chinese government.
Users can opt-out of storing their data in China, either by indicating they live in a different country or by deleting their iCloud account. Opt-out programs generally don't work as well as opt-in. In fact, they rarely if ever work, particularly when the choice is keep or delete your data. This is not a great move for personal privacy.
Apple has been a champion of personal data rights, often going head to head with the US government to reinforce its position that users, not companies, own their own data (or at least their privacy, to an extent). Meanwhile, increased disclosures of data breaches and data sharing continue to paint tech companies as the bad guys (or at least accomplices – think Facebook and Cambridge Analytica).
Apple had been somewhat above this fray. But now the perception is that Apple cares, but not enough to walk away from profitable markets where personal data isn't necessarily secure. This whole year-long process has all the appearances of a highly predictable situation that should have been dealt with a bit more proactively and transparently.
2. Apple Can't Ignore China
Why did Apple agree to the GCBD deal in the first place? Apple needs the Chinese market. In May of 2018, Apple reported its Q2 2018 earnings, including just over $13b in revenue from the Greater China market (which includes mainland China, Hong Kong, Macau, and Taiwan). From a revenue perspective, this represents a hefty 21.3% of Apple's revenue, narrowly behind Europe (at 22.7%) while only half of its Americas revenue.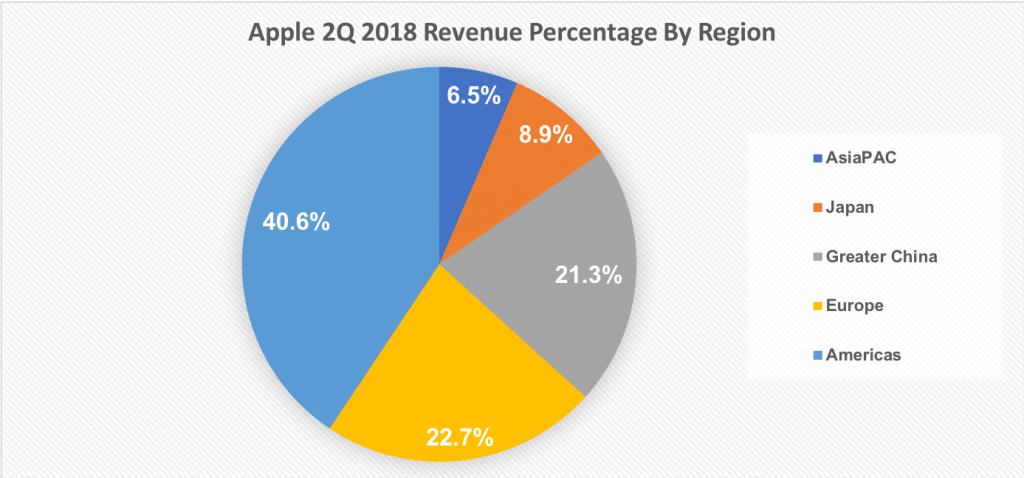 But while $13b is a lot, the more impressive number is the 21 percent year/year increase from the same quarter in 2017:

In contrast, revenue growth over the same period in the US (not shown) was only 17 percent. While off from its 2015/16 peak, Apple has managed to restore a bit of its revenue luster in the Greater Chinese market. But as rumors of lagging iPhone X sales spread, increased competition from in-country competitors have cost Apple market share.
Apple is now behind Huawei, Oppo, Vivo, and Xiaomi in the smartphone market, losing share in a market which contracted significantly going into 2018 (there are expectations it will rebound in the second half of this year).
But if Apple needs China, it also needs to find a way to increase its market share or risk falling further behind the in-country leaders. Note: we're very concerned that any ongoing escalation of the current US/China trade war will impact Apple significantly, not just in the Greater Chinese market but from an overall component price perspective (which would raise prices in the US). But as bad as this market is, India is worse.
3. India: A Market Out of Reach
While Apple has had success in the Greater China market, it has failed miserably in India. With a market share of around 1 percent (at best), Apple continues to attempt to sell over-priced iPhones into a market that is both massive and accustomed to spending a lot less than Apple's margins allow. Apple's iPhone X is at least 2x higher than the more popular Android-based competitors, and its older generation SE and 6 models (which it does manufacture in India to control costs) are, well, older generation.
Apple may already have lost its ability to make a dent. Ever.
In Q2 of 2017, the top three providers in India (Samsung, Xiaomi, Vivo) accounted for 53% of all smartphone shipments. By Q2 of 2018, that number had grown to 69%, primarily at the expense of the "other" players in the market (Apple has lost share over the past year).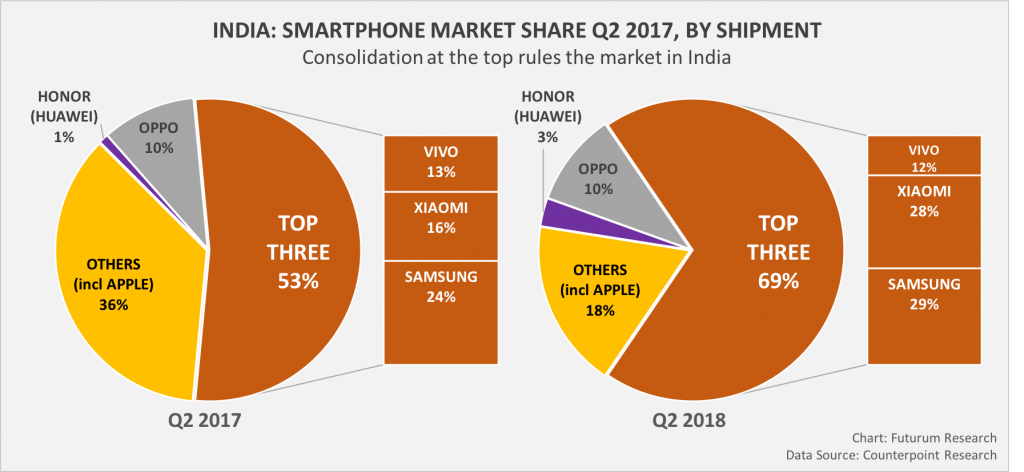 Despite Apple's attempts to manufacture its older generation phones in country, to target a lower price point, demand for Apple phones just isn't there in a meaningful way (note that aside from Samsung, it's top competitors are its Chinese competitors).
4. A Lack of Progress
The final area of concern deals with Apple's products in areas where it should be excelling, but isn't.
Siri and Homepod: Apple had an early lead in the growing intelligent assistant market. But it was extremely slow to bring Siri to the laptop and even into the home. And while it is finally there, Siri is underperforming, trailing both Google's top-performing Assistant and Amazon's Alexa.
iOS: I've been beta testing the new 12.0 release of iOS. Yes, I like it. A lot (some performance improvements and much better time/child management tools). But there's nothing in it that propels Apple into the leadership position it once owned outright.
MacBook Pro: I've been a die-hard Mac user since 1984 (I still have one of my first luggable Macs in the basement). But the 2018 edition is just okay. The software gets better every release, but the hardware has begun to feel like an experimental afterthought (e.g., the Touch Bar is a poor substitute for a touch screen, there seems to be a new USB/power port every year, etc.).
Apple is always nudging you in the direction of buying more accessories, dongles, or expanding services/software purchases. A good example here is the elimination of the data recovery port on the logic board. Apple long-ago began soldering the Solid-State Drive (SSD) to the logic board. In the event the board failed, a technician could connect to the data recover port to rescue (or migrate) a user's data. In the new 2018 MacBook Pro, this feature is gone. There has been some speculation that this was intended to improve data security (no port = no unauthorized access). But there's another impact: no recovery port means users have to back up their data in near-real time. What's the best way to do that? iCloud, with its highly profitable services revenue.
Bottom Line
As Apple gets set to release Q3 earnings on the 31st of July, we're not expecting any big surprises. Apple manages to beat estimates consistently and does a very good job of managing the investment analyst community. But there a few items we'll be tracking, questions we'll be asking:
Services Revenue: Can Apple grow its services revenue? Apple reported a 31 percent y/y growth in services revenue for Q2 2018. Services revenue is essential to keeping Apple's profitability and market opportunity moving in the right direction.
China Market Growth: Can Apple continue to grow not just its revenue in China but its market share as well? This will be a real test of the iPhone X in what has been a contracting market. We're also very interested in any further details about the iCloud hosting service and user privacy issues (from both an Apple and a "what can we learn" perspective).
India: Apple will likely not ever be a player in the market, but are there any signs of increased growth or uptake potential from the current local manufacturing strategy?
Revenue Mix: Can (or will) Apple show growth in the non-iPhone areas? Q3 is generally a down quarter for Apple, but consensus estimates expect around $52 billion in revenue. We know iPhone sales will go up, and MacBook Pro sales will likely go down. But what about all that other revenue? Apple Watch, iPads, Beats, etc. What products, and regions, are helping Apple diversify its revenue base.
New Revenue Guidance: What products are likely to arrive, and when? Here's the chance to get a peek at when the new iPhones and iOS will actually hit the market. If guidance is soft, and pushes into Q1, that likely means the iPhone is slipping a bit. A Q4 bump, on the other hand, might indicate a slightly earlier release.
The bottom line here is simple: watch and learn.
---
Image "Apple Moves Chinese iCloud Encryption Keys to China, Worrying Privacy Advocates" 2018, courtesy of Marco Verch.
Disclaimer: This information is intended as an informational newsletter only. No investment advice is offered, nor should any information provided be interpreted as investment advice.
---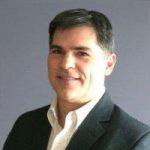 Fred is an experienced analyst and advisor, with over 30 years of experience in the digital and technology markets. Fred launched the equity research team at Samadhi Partners and provides marketing strategy through the Wasabi Rabbit digital agency. He previously served as an EVP and Research Vice President at HfS Research, launching its Digital Trust practice and coverage of emerging "trust-enabling" technologies. Read Full Bio.