Analyst Reaction: Competing in 2020
Listen to this article now
We talk a lot about digital transformation at Futurum, and it's no wonder why. Most businesses today—regardless of industry—believe they are in the middle of disruption. The companies that are succeeding in the midst of this change seem to share similar DNA. They're agile, have strong leaders committed to digital transformation, and they're focused on creating a unique customer experience—all things we've talked about before, especially in our book Building Dragons.
A new study by Microsoft and Harvard Business Review, "Competing in 2020: Winners and Losers in the Digital Economy," further illustrates these points. The team looked at things like the pace of innovation and how prepared business leaders were for the changes being presented. They also looked at different industries to see which were ready—and open—to change. The following is a brief overview of their findings.
The Change is Imminent
Digital transformation is here or soon will be—at least according to the vast majority of those who were surveyed. In a stunning statistic, almost half of those featured think their business model will be obsolete by 2020, and nearly 75 percent say they will be disrupted by digital trends in the next three years. Why is this important? Clearly the train has left the building. The companies currently lagging behind can no longer bury their heads in the digital sand, pretending their businesses won't be disrupted by digital technology.
CEOs are Leading the Charge
With so many new digital roles being created—from Chief Data Officer to Chief Analytics Officer—it can be difficult to understand who is truly charged with taking the reins in the digital transformation. The study helped give some clarity on this issue by showing that the companies most committed to digital have their CEO at the helm of digital transformation. In fact, 43 percent have tasked their CEO with the mission. Perhaps more importantly is what kind of leaders those CEOs are. They're people who make data-backed decisions, who are open to taking risks, and who are working to make their companies adaptable to change.
The Engine Needs to be Transformed
We've talked a lot about the impact culture will play in any one company's digital transformation, and HBR seemed to agree. They noted that while the CEO will play a huge role in leading the revolution, there also needs to be a consistent focus on transforming "the engine of the company"—creating a culture that truly embraces and can withstand the pace of digital change. Again, the cultures that thrive will be ones with limited silos, agile processes, and strong communication to keep employees engaged and inspired.
Customers are the Biggest Beneficiaries
The customer experience was cited as the biggest digital priority among those surveyed, with 72 percent saying digital would help build a closer relationship with their customer base. The customer era of business is something we touched on a lot in Building Dragons, and the trend is only getting stronger. Those companies willing to shift resources to digital projects, and design their organizations to be more customer-centric and responsive will have greater success in the digital era.
It All Starts with Strategy
Granted, it can be difficult to plan too tightly in an era of change. But a plan is still necessary. The HBR study showed, however, too few companies have successfully communicated a formal business strategy for dealing with digital (47 percent). Further, there is a large disparity between digital and non-digital companies, despite the fact that all industries will be impacted.
Why the Lag?
According to the study, businesses overwhelmingly see digital as more of an opportunity than a threat (86%)—so why the hesitancy to change? Resistance from managers and employees is one of the biggest barriers to digital change—perhaps they are worried about how their jobs will be impacted, or find it too difficult to change culture or adopt a new skill. The best leaders are overcoming this, however, through strong communication, letting their employees know how the changes will impact the company for the better.
All in all, the HBR study did not present too many surprises, but it did solidly back what many of us in the tech industry already know to be true: digital transformation is full-steam ahead, and the majority of the companies out there are not fully prepared for the changes they're about to experience. If they want to see 2020, they'd better hop on board, regardless of which industry they're in.
Disclosure: Futurum Research, like all research and analyst firms, provides or has provided research, analysis, advising, and/or consulting to many high-tech companies in the tech and digital industries. The firm does not hold any equity positions with  any other companies cited in this column. 
Photo Credit: digitalpitara Flickr via Compfight cc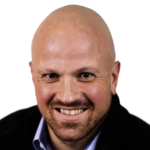 Daniel Newman is the Principal Analyst of Futurum Research and the CEO of Broadsuite Media Group. Living his life at the intersection of people and technology, Daniel works with the world's largest technology brands exploring Digital Transformation and how it is influencing the enterprise. Read Full Bio