FedEx Cancels Amazon Contract — Amazon Sets Its Sights on Logistics Vertical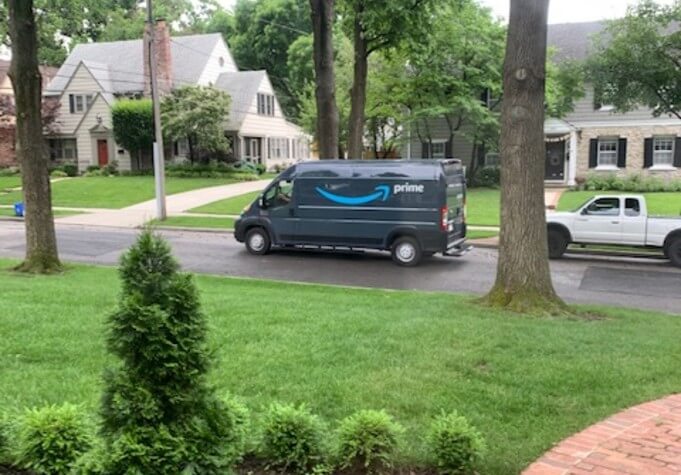 Listen to this article now
A few weeks ago, FedEx opted to not renew its US contract with Amazon for the transportation of packages on FedEx Express. The FedEx press release indicated the company plans to continue its focus on the broader ecommerce market and continue its partnership with customers like Target and Walmart. According to FedEx, its Amazon business amounted to a very small 1.3 percent of its total revenue in 2018. This non-renewal move applies only to its air transportation business. Read more at CNN. What I'm more interested in is Amazon and the logistics vertical, and the fact that Amazon is very clearly making its move.
Amazon Takes on Logistics Vertical
The logistics market is huge, with global revenue projected to reach $15.5 trillion by 2023 (Source: Transparency Market Research). Amazon has shown an interest in gaining ownership, or at least planting a pretty serious flag, in pretty much every vertical in which it operates, and Amazon and logistics is a no-brainer.
Amazon did the same thing with Amazon Web Service, creating a cloud offering to serve the company's own needs, then rolling it out to consumers. Today, AWS has become one of the biggest, if not the biggest, enterprise cloud providers in the US, posting a profit of some $7.3 billion in 2018. Amazon's Whole Foods purchase gave the company a much-needed presence in the grocery vertical, an additional way to "touch" its Prime customers (and add more along the way), and physical locations in markets all over the US that it can and will ultimately use in a variety of ways.
What Amazon Already Does in the Fulfillment – Logistics Arena
For Amazon, logistics makes sense. In fact, Amazon is already a fulfillment and logistics company, even if people haven't really noticed yet. The company currently offers fulfillment services, wherein customers ship their products directly to Amazon, who then stores and manages inventory, and packs and ships it for a fee.
The company also has an offering where it manages inventory in non-Amazon-owned warehouses.
The company also has a program called Amazon Shipping, a service offering that not only delivers Amazon's e-commerce products, but also picks up and delivers packages from other shippers.
In fact, the company's annual shareholder report included the addition of fulfillment and logistics services, and it's estimated that Amazon generated $42.5 billion in gross revenue from logistics services worldwide in 2018. Kind of makes the company's profits from AWS &$7.3b) pale by comparison.
What Amazon's Fulfillment and Logistics Footprint Looks Like — Today
Data compiled by MWPVL International shows that (today) Amazon has some 386 warehouse and distribution centers in the US alone, which includes 159 fulfillment centers, 47 inbound and outbound sortation hubs, 52 Prime Now hubs, and 115 local delivery stations. Worldwide, those numbers are equally impressive — 850 facilities, 22 countries, occupying 220 million square feet.
Compare that to UPS's 1,000 package handling facilities (68m square feet) and FedEx's 127 warehouses (35.4m square feet) in the US and by any assessment, Amazon is making serious inroads in the fulfillment and logistics business.
What Amazon's Share of Shipments by Carrier Looks Like — Today
In my Kansas City neighborhood, Amazon fulfillment trucks are everywhere. I grabbed the featured image shot here from my front door, as I nodded and said to myself "Here we go, Amazon is now a shipping company." Those trucks are on my street, they are all over town, and chances are good they're in your city. Or they soon will be. I read an article in Axios this morning that outlined Amazon's current share of shipments by carrier. Take a look —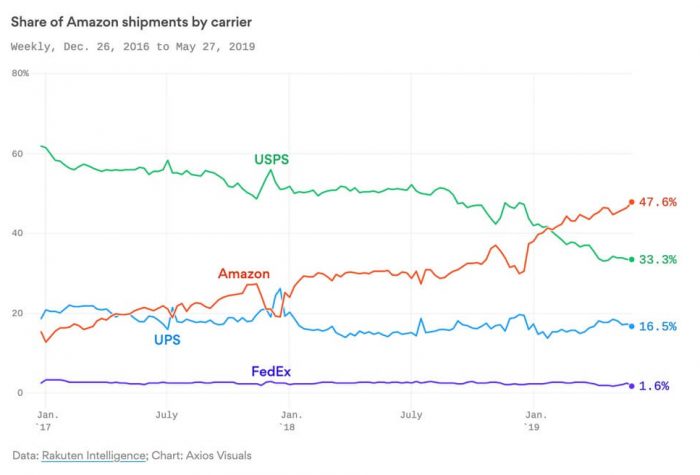 Let's talk again a year from now, or in six months' time, as we see what Amazon continues to do in the logistics market. My guess? The company will do with logistics what it did with AWS and blow it up.
Futurum Research provides industry research and analysis. These columns are for educational purposes only and should not be considered in any way investment advice.
Check out some of my other recent articles:
Best Buy Moves Deeper into Senior Healthcare with Acquisition of Critical Signal Technologies 
Walmart Taking on Amazon, Facebook, and Google With New Ad Platform [and Otherwise]
Salesforce Acquires Tableau — Aggressive and Smart Acquisitions by Benioff Continue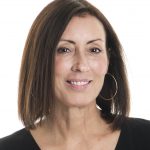 Shelly Kramer is a Principal Analyst and Founding Partner at Futurum Research. A serial entrepreneur with a technology centric focus, she has worked alongside some of the world's largest brands to embrace disruption and spur innovation, understand and address the realities of the connected customer, and help navigate the process of digital transformation. She brings 20 years' experience as a brand strategist to her work at Futurum, and has deep experience helping global companies with marketing challenges, GTM strategies, messaging development, and driving strategy and digital transformation for B2B brands across multiple verticals. Shelly's coverage areas include Collaboration/CX/SaaS, platforms, ESG, and Cybersecurity, as well as topics and trends related to the Future of Work, the transformation of the workplace and how people and technology are driving that transformation. A transplanted New Yorker, she has learned to love life in the Midwest, and has firsthand experience that some of the most innovative minds and most successful companies in the world also happen to live in "flyover country."